Asia-Pacific
Jimmy Carter's Mission to North Korea
Special Contribution
By Victor Cha
CSIS Korea Chair

Since Aijalon Mahli Gomes's incarceration in North Korea began in January, the U.S. State Department has been laboring along with the Swedish embassy in Pyongyang to secure his release. In July, the North Korean media reported that Gomes attempted suicide, and a few weeks later, a U.S. consular official and two doctors were allowed to visit him to assess his condition.They immediately called for his release on humanitarian grounds, and the State Department and President Obama have since expressed deep concern over his health. In the beginning of August, however, Philip Crowley, the State Department spokesman, stated that Washington had no immediate plans to send a high-ranking envoy to North Korea to negotiate Gomes's release.On August 25, former president Jimmy Carter flew to North Korea on what the State Department describes as a "private humanitarian mission" in the hopes of bringing Gomes back to the United States. But it is now unclear whether or not Carter will meet with Kim Jong-il, as he mysteriously slipped away to China the next day.Q1: Who is the U.S. citizen currently being detained in North Korea?A1: Aijalon Mahli Gomes, an English teacher and human rights activist from Boston, crossed into North Korea from China exactly one month after his friend and fellow activist, Robert Park, illegally entered the country on Christmas Day 2009. Park was released in February, but the North Korean authorities sentenced Gomes on April 6 to eight years in a labor camp and fined him about US$700,000 for illegal entry. On August 24, it was confirmed that former president Jimmy Carter would leave for North Korea the next day to negotiate Gomes's release.Q2: Why did Aijalon Mahli Gomes enter North Korea?A2: It is unclear why he crossed into North Korea. There has been some speculation that he may have intended to assist or show solidarity with Robert Park. His religious devotion may also have motivated him to enter the country with a mission to alleviate the human suffering there. We just won't know for certain until he explains his actions himself.Q3: Has the United States used former presidents in the past to negotiate the release of U.S. citizens from North Korea?A3: Yes. Former president Bill Clinton visited North Korea in August 2009 to retrieve two American journalists, Laura Ling and Euna Lee, who were arrested for illegal entry into the country. And Jimmy Carter visited North Korea once before as a private citizen in 1994, and he convinced Kim Il Sung to freeze North Korea's nuclear program in exchange for reopening channels of dialogue with the United States, eventually leading to the 1994 U.S.-DPRK Agreed Framework.Q4: Will Carter be involved in any other negotiations while in North Korea?A4: No. The administration has stated that the former president's trip is purely a private visit to North Korea and is not to be associated with official U.S. diplomatic missions or negotiations. North Korea had previously made it clear that it wanted a high-ranking U.S. official to personally retrieve Gomes, but the United States cannot be seen as making concessions to North Korea during this period of heightened tensions on the peninsula. Carter is a compromise: his status as a former president should satisfy North Korea, and he is not a sitting U.S. official, meaning his visit is not official U.S. diplomacy.Q5: Will Carter meet with Kim Jong-il?A5: Given his status as a former president and his past visit to North Korea, we would expect that Carter would meet with Kim. This could provide insights on the health of the North Korean leader. However, it appears that Kim Jong-il is now en route to China, making such a meeting uncertain. It would also be interesting to see whether Carter will be able to meet with the third son, Kim Jong-eun, who is the reported successor to his father.Victor D. Cha holds the Korea Chair at the Center for Strategic and International Studies in Washington, D.C.Critical Questions is produced by the Center for Strategic and International Studies (CSIS), a private, tax-exempt institution focusing on international public policy issues. Its research is nonpartisan and nonproprietary. CSIS does not take specific policy positions. Accordingly, all views, positions, and conclusions expressed in this publication should be understood to be solely those of the author(s).

Related Articles
Continued Expansion and Upgrade Work at ...
The Burgeoning North Korea Missile Threat
No Significant Activity Observed in N. Korea's ...
Sharp Focus: A Unique View of the Sinpo ...
Sharp Focus: A Unique View of the Mayang-do ...
Sinpo South Shipyard Update: North Korea Moves ...
N. Korea Shows Signs of Reprocessing Activity ...
Business as Usual: North Korea Restarts ...
Two Years since Singapore: Did Kim Outplay ...
Pyongsan Uranium Concentrate Plant Remains ...
Singapore Summit Assessed by Victor Cha
N. Korea Announces Successful Hydrogen Bomb ...
Reports of Another High-Level Execution in ...
US President Obama to Visit S. Korea April ...
North Korea Abducts American Senior Citizen
S. Korea President Park Geun-Hye Holds Summit ...
N. Korea Threatens to Strike the United States
CSIS Korean Chair Victor Cha Analyzes North ...
South Korea Elects President Park Geun-Hye
North Korea's Successful Rocket Launch
North Korea's Second Rocket Launch in 2012
Shake-up in Pyongyang
The Death of the DPRK Leader
Restart of U.S.-DPRK Negotiations
S. Korea Wins Bid to Host 2018 Winter Olympics
Beijing Acts Like North Korea's Defense Lawyer ...
"America's First Pacific President" Attends ...
Succession in North Korea
The Aftermath of the Cheonan
North Korean Leader Kim Jong-il's Visit to ...
The Sinking of the ROK Navy Vessel Cheonan
Obama's North Korea Conundrum"
Pyongyang Deserves Same Treatment as Seoul
"Seoul Government Needs to Conduct Its Own ...


Other Articles by Prof. Victor Cha
Continued Expansion and Upgrade Work at ...
The Burgeoning North Korea Missile Threat
Biden-Moon Summit: Rejuvenating and ...
Sinpo South Shipyard Update: North Korea ...
N. Korea Shows Signs of Reprocessing ...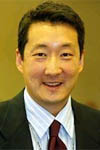 Dr. Victor Cha is Korea Chair of the Center for Strategic & International Studies (CSIS). He earned his MA from Oxford, and Ph.D. from Columbia. Many books he authored include the award-winning author of "Alignment Despite Antagonism: The United States-Korea-Japan Security Triangle." As prolific writers of articles on int'l relations in such journals as Foreign Affairs and The Washington Quarterly, he also interacts frequently with CNN, NYT, and Washington Post as well as Korean media.