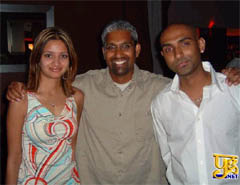 Immigrants from India's Gujarat state
You won't find workers at Ram Javia's Dunkin' Donuts in Westminster, Md., chatting behind the counter in their mother tongue, Gujarati. Gujarati is the dominant language of Gujarat state, on India's west coast, and it's the language Mahatma Gandhi used to communicate most of his doctrines on nonviolence. It's also the language most of the workers at the Carroll County doughnut shop, 60 miles north of the District, feel most comfortable speaking.But Javia has asked his staff to speak only English when customers are around. "If you speak in your native language in front of visitors, it's very rude," said Javia, himself an immigrant from India, who bought the Westminster franchise in 1997. Officials at Marriott International Inc., the Bethesda-based hotel chain, agree. "We try to encourage workers to speak in English," said Luis Ortuna, human resources manager at the Key Bridge Marriott in Arlington, which, like most hotels, relies almost entirely on workers born outside the United States for housekeeping and other entry-level jobs. "Otherwise [guests] might think workers are talking about them."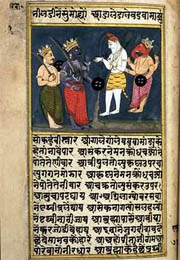 Gujarati language
A draconian policy? Maybe, especially when imposed on workers who speak little or no English at the time they are brought on board. And yet a growing number of employers say this kind of crackdown is vital if they are going to stay in business. "We believe the type of worker we're hiring is very hard-working," Javia said. "But we need to upgrade their interpersonal skills."
Addressing a Concern
In May, a McDonald's employee struggling with English was the catalyst for one of Maryland Comptroller William Donald Schaefer's notorious public outbursts. The former mayor and state governor complained the worker had difficulty taking his order. After the incident, he vowed, publicly, not to return to the restaurant. "I don't want to adjust to another language," Schaefer grumbled during a meeting of the state Board of Public Works, according to a transcript of the meeting published by the Baltimore Sun. "This is the United States. I think they ought to adjust to us." It's that kind of negative publicity that prompted the Chicago-based National Restaurant Association Education Foundation, the educational arm of the restaurant lobbying group, to launch a program for restaurant owners to address what is widely seen as the industry's Achilles' heel. It's not just an interest in appeasing fussy customers that's driving the initiative, said Mary Adolf, NRAEF's president. "We need to assure that these workers understand the procedures that are important for food safety and food consistency," she said. Many restaurateurs say traditional English as a Second Language (ESL) classes fall far short of their business needs. The cornerstone of the NRAEF initiative is the "language huddle" — a series of short daily language lessons given to small groups of non-English-speaking employees at the workplace by one of their peers, said Nathan Johnson, project manager for Daily Dose Language System Inc. of Salt Lake City, which partnered with NRAEF to develop course materials.Each lesson is built around a theme, and each of the 52 modules can be taught in about 10 minutes, Johnson said. Lessons cover such topics as hand-washing, food expiration dates, greeting customers and handling customer requests for condiments. "We're trying to make the classes fun and interactive," Johnson said. "It's not just verbs, conjugations and all those boring things you learn in school." The Westminster store, which began offering Daily Dose classes to workers five months ago, is one of 20 Dunkin' Donuts establishments around the country piloting the program.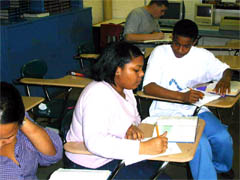 Hispanic students in class room
To lead the huddles, Javia turned to Darshi Patel, an ambitious 19-year-old part-time employee and community college student who moved to the United States from India six years ago. For about a half-hour each day, workers alternate between spending time with Patel in the huddle and practicing what they've learned by waiting on customers. "They've been learning so well," Patel said of her co-worker pupils. "I will point to something like paper towels and I'll be like, 'What's this called?' and then they'll tell me." Shawn Brady, human resources director for Harman Management Corp., a large KFC franchisee that has been using Daily Dose in western states for two years, credits the program for motivating some of his most disaffected employees. "It really gets the workers' interest up," he said. "When I saw these 30-year-old cooks sitting down on bags of flour in the back getting interested in learning English, I had a huge emotional reaction." Daily Dose is what Kevin McNamara, vice president of franchises for Allied Domecq, the parent company for Dunkin' Donuts, Baskin-Robbins and Togos, calls a "low- tech" approach to language training. In addition, the company plans to install computers that access English tutorial programs in all Dunkin' Donuts establishments. "You wouldn't normally think of a Dunkin' Donuts store as a center of high-tech learning," he said. "But I see this as something we offer on an ongoing basis. This is not a flavor-of-the-month program." At Marriott, ESL is still taught the old-fashioned way. At times, the company has hired instructors to teach at various properties, keeping workers on the clock while they attend class. Workers who opt to take ESL classes off-site can receive tuition reimbursement. Ortuna, a native of Bolivia who knew little English when he began at the hotel as a housekeeper 13 years ago, said that's how he mastered the language and rose into management.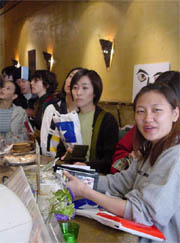 ESL students in the US
Ortuna remembers what it was like when he couldn't understand what his English-speaking co-workers were saying. "It made me feel like I didn't fit in, like I didn't belong," he said. "But now I do." Memories of these outsider feelings make Ortuna favor the Marriott policy of discouraging worker chat in languages other than English in front of guests.Limited to a few English phrases such as "Good morning" and "Good night" when she was hired as a housekeeper at the Key Bridge Marriott in 1992, she also took the classes Marriott sponsored."I am very loyal to the company," she said. "They paid me to learn English. I wouldn't want to work anywhere else."
Training Trainers
But some employers maintain that teaching workers English doesn't make sense — in part because demographics are shifting. They think the training should go in the opposite direction. With the Spanish-speaking population growing at nearly four times the rate of the general population, Target Corp., headquartered in Minneapolis, began offering free Spanish language classes to managers in Maryland and Virginia two years ago. The geographically limited pilot was so popular that beginning this month managers in all 1,200 stores in 47 states can study the language of Cervantes while at work via classes beamed over Target's intranet. Managers won't be required to learn Spanish, but doing so "is encouraged," said company spokeswoman Carolyn Brookter. "It really has to do with serving our guests," she said. "It's a way to get them to feel comfortable at our store." In addition, Brookter said, managers will need Spanish-language skills to keep the company competitive as an employer. "You have to be able to communicate with your workers," she said, noting that the company has no plans to teach English to workers who speak only Spanish or to teach languages other than Spanish to managers. J. David Edwards, executive director of the Joint National Committee for Languages, a D.C. language-skills policy group, maintains that second-language training for managers isn't common enough to be described as a trend. But it's something he's keeping an eye on. "You can sell more widgets to someone in their language than you can in yours," he said. In addition, it's increasingly common for companies to have a Spanish-speaking manager on board to help keep watch over worker safety, particularly on construction sites that have a high concentration of workers who speak only Spanish. "To be able to say 'Cuidado' ['Be careful' in Spanish] may be very important to keep someone from getting a brick on the head," Edwards said. Jack Duley, a health and risk manager for Clark Construction Group in Bethesda, said the company has trained several native English-speaking managers to speak Spanish. But it is more common for the company to hire bilingual Hispanic workers for its health and safety jobs. There are tools other than classes and huddles.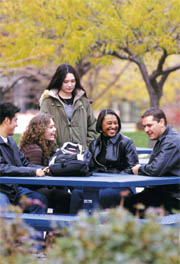 College students in the US
Sodexho Inc., a Gaithersburg company that relies mostly on Spanish-speaking workers to staff its cafeterias and provide laundry and housekeeping services, has developed a set of Spanish-English flashcards featuring words and phrases not part of a traditional language curriculum. Among them, "It stinks" and "recycling." The cards are used by managers and staff to communicate, said Leslie Aun, a Sodexho vice president. At Sibley Memorial Hospital in the District, where Sodexho oversees cleaning and bed-making services, workers are shown instructional videos — with voice-overs in Spanish and English — covering a range of procedures, including the handling of infectious materials and working with hazardous chemicals. "We do a lot of show and tell," said Robert Jewell, Sodexho's director of environmental services. "And then we show and tell again so that basic communication isn't an issue. Repetition is very big around here." Carolyn Harris, one of the few native English speakers on Sibley's housekeeping staff, said being in the language minority hasn't gotten in her way. "Most of the time I can understand what [co-workers] are trying to tell me," she said. "I think I understand them very well." And sometimes workers just take matters into their own hands. Carlos Figueroa, a maintenance crew member at Fairlington Villages in Arlington, said he relies on pointing and other hand signals to indicate when something's not right. Though he is fluent in both Spanish and English, from time to time he finds himself at a loss when trying to communicate with employees who speak Arabic and Korean. His work-team partner, Aron Jones, said he has resorted to drawing pictures in the dirt to get his point across. "You can get people to understand you if you really try," Jones said. "And that way, it's a lovely day."
The above article is from The Washington Post.