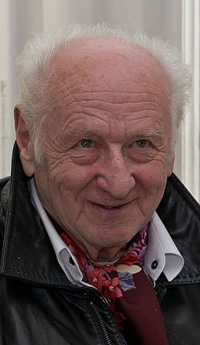 Arnošt Lustig
The Embassy of the State of Israel, the Embassy of the Czech Republic, the Israel Culture Center and the Seoul Literary Society will organize a presentation by Arnošt Lustig, a famous Czech Jewish writer of Holocaust at Seoul's Israel Culture Center on Sept. 13, 2010.The presentation, which will start at 6:30 p.m. on the day, will be preceded by a short film screening (app. 30 minutes).A session of questions and answers will follow the presentation to hear about the author's literature and life experiences.Mr. Arnošt Lustig (b. 1926) is widely recognized for his novels and short stories dealing withJewish holocaust during the World War II. They have been translated into many languages, mostrecently into Chinese, and virtually all of them – often originally written in his native Czech – are constantly in print in English translations in the United States.His first Korean translation will be also presented at the meeting. Mr. Lustig, himself a holocaust survivor, worked also as a war correspondent in Palestine and Israel in the 1940s and 1950s, he has been forced to emigrate from Czechoslovakia after theSoviet occupation and he settled in the United States, where he was teaching at various universities.For the last decade he returned back to his homeland, the Czech Republic.His major works are "A Prayer For Katerina Horowitzowa" (1964, English trans. nominated for US National Book Award in 1974), "Dita Saxova" (1962, English trans. 1979), "Night and Hope" (1957, English trans. 1985), and "Lovely Green Eyes" (2000, English trans. 2001).Time: 18.30 hours, Monday 13 September 2010
Venue: Israel Culture Center
RSVP by Monday 6 September to Mrs Kim Mi-young,
Embassy of Israel(phone: 02-3210-8503
email:ambas-sec@seoul.mfa.gov.il)
Who Is Arnost Lustig?
Arnošt Lustig (born 21 December 1926 in Prague) is a renowned Czech humanistand author of novels, short stories, plays, and screenplays whose works have often involved the Holocaust.As a 15-years-old Jewish boy in then Nazi-occupied Czechoslovakia during the World War II, he was sent in 1942 to the Theresienstadt ghetto, from where he was later transported to the Auschwitz and Buchenwald concentration camps.In 1945, he miraculously escaped from a rail transport of death to the Dachau concentration camp when the train engine was accidentially destroyed by an American fighter-bomber.Lustig then succeeded to return to Prague in time to take part in the May1945 uprising which ended the World War II.After the war, he studied journalism at Charles University in Prague. He was a war correspondent during the Arab-Jewish conflict which gave birth to the State of Israelin May 1948, later he worked for various Czech media.Following the Soviet-led invasion that ended the political reforms of the so-called Prague Spring in 1968,Lustig left Czechoslovakia, and via Italy, Israel and Yugoslavia he got to the UnitedStates in 1970.There he taught at universities and wrote many of his books.After the fall of communism in 1989, he divided his time between Prague and Washington, D.C. Following his retirement from the American University in 2003, hebecame a full-time resident of Prague. He was honored for his contribution to Czech culture on his 80th birthday in 2006 by president Václav Havel.In 2008, Arnošt Lustig became the eighth recipient of the Franz Kafka Prize.His books and short stories were published in more than 20 languages, most recently in Chinese. The most well-known are "A Prayer for Katerina Horowitzowa" (1964, nominated for a US National Book Award in 1974), "Dita Saxová" (1962), "Nightand Hope" (1957), and "Lovely Green Eyes" (2000).Five of his books has been filmed both in Czechoslovakia and the United States. Arnošt Lustig is a founding member and honorary president of Franz Kafka Society.