Media
Letters from India
When British Newspaper Tenders Apology to Indian Scientist
By Nava Thakuria
Special Correspondent

Months back, a leading British newspaper started a campaign against the Indian scientist Dr R K Pachauri, but it came down with an apology from the UK-based paper again. It made a statement addressing the Intergovernmental Panel on Climate Change chairman saying, "We apologise to Dr Pachauri for any embarrassment caused." The London based newspaper accused the UN climate body chief Pachauri of making a fortune from his links with carbon trading firms'. "On December 20 last year we published an article about Dr Pachauri and his business interests. It was not intended to suggest that Dr Pachauri was corrupt or abusing his position as head of the IPCC and we accept KPMG found he had not made 'millions of dollars' in recent years," the newspaper in its statement added.Dr Pachauri, who also serves at The Energy and Resources Institute, New Delhi as its director general, strongly denied the contents of the article and rubbished the allegations issuing legal notices to the newspaper. He argued that 'the accusations were coming from the same group of people, who had tried unsuccessfully to discredit the IPCC and the irrefutable science on climate change'.In fact the day after the Copenhagen climate summit came to an end, the personal attack followed on Dr Pachauri by the conservative right wing newspaper of Britain. The Telegraph (December 20, 2009 issue) made some serious (but unfounded) allegations against Dr Pachauri about business interests that he has 'with bodies which have been investing billions of dollars in organizations dependent on the IPCC's policy recommendations.But immediately after the article was published TERI officials rejected the allegation clarifying that the IPCC makes no policy recommendations. In a formal press statement issued by the Media Desk of TERI on December 22 said, "Just for the record, the Intergovernmental Panel on Climate Change (IPCC) makes no policy recommendations, and all its reports are in the public domain, widely distributed and disseminated across the world. There is nothing in these reports that could have any proprietary benefit."Written by Christopher Booker and Richard North, the article titled 'Questions over business deals of UN climate change guru Dr Rajendra Pachauri', also questioned Dr Pachauri's professional competence and credentials."Although Dr Pachauri is often presented as a scientist (he was even once described by the BBC as 'the world's top climate scientist'), as a former railway engineer with a PhD in economics he has no qualifications in climate science at all," the article narrated. The TERI statement, signed by JL Bajaj, RK Batra, C. Dasgupta, Nitin Desai, Prodipto Ghosh, Ashok Jaitly, K. Ramanathan, Prabir Sengupta and S. Sundar, said that Dr Pachauri's success lies in leading TERI for two decades and also contribution he made in 'substantial measure to its present eminence as an internationally recognized research institution of excellence'."Further, Dr Pachauri was elected twice to his post as Chairman of the IPCC on the basis of his record after a successful term as Vice-Chairman. He has wholly dedicated most of his working life to alerting the world on the basis of sound scientific evidence about the challenges of sustainable development including those posed by climate change. In recognition of this effort and of the work of the scientists under his leadership, the IPCC was awarded the prestigious Nobel Peace Prize in 2008," it pointed out.Soon after the United Nations Framework Convention on Climate Change summit during December 7-19 in the Danish capital resulted only in a deal (and not a legally binding agreement), the world media started making news-views-articles with their own perceptions. Many of them even did not hesitate to make nuisance with distorted news out of the negotiating process that involved the heads of the government and states of over 130 countries around the globe. It was amazing to note (this writer was one of the media observers in the Copenhagen summit), how a section of media persons behaved during and after the conference as if they (and only them) were there to seal the agreement.The Telegraph writers (Christopher Booker and Richard North) said in their joint report, "No one in the world exercised more influence on the events leading up to the Copenhagen conference on global warming than Dr Rajendra Pachauri, chairman of the UN's Intergovernmental Panel on Climate Change (IPCC) and mastermind of its latest report in 2007," the paper said.They even targeted Pachauri's call to opt for vegetarian food saying 'as a vegetarian Hindu, Dr Pachauri repeated his call for the world to eat less meat to cut down on methane emissions'. But his colleagues in TERI stood behind him here saying, "We stand by Dr Pachauri's advice for human beings to cut down on their meat consumption because the livestock and factory based meat supply industry of today is responsible for large scale emissions of greenhouse gases (GHGs)." In a letter, sent to the Telegraph, some distinguished fellows and colleagues of Dr Pachauri in TERI, rejected the claim that TERI continues to maintain close links with the Tata Group and assist the group in developing its carbon trading business worldwide. The rejoinder admitted that the 'Tatas do enjoy the envious reputation of establishing institutions of excellence like the Tata Institute of Fundamental Research, the National Institute of Advanced Studies, the Tata Institute of Social Studies, etc. and giving them autonomy in defining their agenda and the freedom to pursue their areas of interest'. TERI is one such institution established by the Tatas in 1974 as the Tata Energy Research Institute (initially it was led by Darbari Seth). In this respect the Tata group is in no way different from those who established institutions like Carnegie-Mellon University, Duke University and Stanford University in the US. Hence, in no way is TERI responsible for the work of the Tata Group just as the Tata Group is in no way responsible for the functioning of TERI, it added."As TERI's interest went beyond energy and included natural resources, TERI decided in 2001 to retain the acronym TERI but call itself The Energy and Resources Institute. This also enabled TERI to signify its independence from any direct Tata connection," the letter revealed. Answering to the queries of this writer on the issue, Abhijit Sinha, a former advisor –communications of TERI disclosed that Dr Pachauri did not gain anything personally from any of his advisory roles -or even from his directorship of the Yale (University) Climate and Energy Institute -as all the payments and honoraria go directly to TERI, which is a not for profit research institution and where he is the Director General. "Similarly, royalties or other payments for products and processes developed by scientists at TERI go to the Institute, which are scrupulously audited and both TERI itself and its international branches have charitable institution status with the authorities in several countries," he added. Claiming that 'neither the writers of the article nor any representative of the newspaper had bothered to approach Dr Pachauri or crosscheck with him on any of the allegations that have been made', the statement even demanded 'an unqualified apology from the Telegraph for this libelous piece of journalism', which was finally vindicated by the apology from the prestigious newspaper. In a recent interview, Dr Pachauri commented, "I do feel vindicated."In a recent interview, Dr Pachauri commented, "I do feel vindicated. Justice has been done, and I am happy about it." He also added, "To a large extent, justice has been done. I was symbolic of the larger cause of climate change science. The falsehoods that were being propagated were aimed at damaging climate change talks and attacking the IPCC. I was merely an emblem of the larger issue that these people wanted to harm and damage over the so-called errors in the IPCC's fourth assessment report."The author is a Guwahati (Northeast India) based senior journalist and associated with Asia Pacific Forum of Environment Journalists.

Related Articles
When Sarsanghchalak Emphasises on Nature ...
Worshiping Motherland as a Deity: An Indian ...
Durga Puja sans Idols at Kamakhya Temple
Searching for Roots through a Literature ...
Welcome to Pragjyotishpur Literature Festival
Questioning Credibility of Editors Guild of ...
When 177 Global Leaders Stand behind Prof. ...
Manifesting Patriotism on I-Day
Raising Demand for a Media Grievance Cell
India: Rhetoric Boycott Call by Separatist ...
Banning Polygamy with Consensus
No End to NRC Controversy
Protecting Rhinos in Manas National Park
When Scribes Face Corruption Charges and ...
Complainant to Re-approach Court on NRC Assam ...
My Unforeseen Journey as a Scribe
Converting Profit Hungry APDCL to Consumer ...
Dreaming of a World with Three Zeros
After Two Years of Military Coup Myanmar Heads ...
When India's Highest Court Faces an Unwanted ...
Riding City Buses in Guwahati
When Rumour Kills a Mainstream Newspaper!
Dissecting Assam NRC for Better Understanding
Vehicular Speed That Kills Millions of Indians ...
Intriguing Debate on Automobile Mishap
Projecting Guwahati as a Krira Prangan
New York Times: Editions, Visibility, ...
Northeast Celebrates I-Day with Full Patriotic ...
Marching Ahead with the Spirit of Swatantra ...
Time for Journalists to Be Cautious, Authentic ...
Prakash: Throwing Light on Tibetan Literature ...
When Repeated FIRs Lodged against an IAS ...
Developing Guwahati as a people-friendly city
Negating PSO Culture among Media Persons
Losing Public Goodwill: Assam Media's Way
Global Award to Journalist Nava Thakuria
India's Restive Region Sets to End 2021 ...
RSS Condemns Islamist Attacks on Hindu ...
When RSS Chief Bhagwat Articulates Agendas
Let's Talk about Self-Reform and Financial ...
'Self-reform and Financial Transparency in ...
Tibet Sympathizers to Lodge Protest against ...
Prof. Yunus Receives Laurel, Bangladesh Adds ...
India Practices Secularism, Democracy and ...
Needed a Scientific Probe into Bamunipahar ...
Pandemic-Hit Book Publishers Eye for Openings
India: Persisting Vulnerability to Scribes
Bharat: Nurturing Nationalism with National ...
POK Editor Bats for More Exchanges
Cries Mounted for Reviving Nabin Chandra ...
Scam, Media Outburst and Its Aftermath
Amidst Chinese Threat Dalai Lama Concludes ...
Asserting Media Person's Rights in India
China's Myanmar Bonanza Sans Responsibility
Manufacturing Misguided Protests in Assam
Assam Forum Bats for Work Permits to ...
Bhupen-da Came alive with Dhola-Sadiya Bridge ...
Remembering My Principal Sir!
Saluting Tricolour to Defy Militants' Diktat ...
Underlining India's Productive Engagement in ...
A Conservator Constitutional Head in Northeast ...
Young Journalist Killed in India, ...
Unpaid Media Employees of Northeast India
Journalist Body Urges Political Parties to ...
Saving the Tigers from Extinction
Glorious Tribute to Bhupenda
Burmese Students Term New Government Bogus
Burma Turns Hostile to Indian Separatist Groups
Northeast India Rediscovers Tricolour
Indian People's Win Inspires Burmese Activists
Nobel Support for a Noble Cause
Activists Condemn India's Arm Deal with Burma
Protest Note from Guwahati Press Club
Journalists' Killings: Justice Eludes in ...
Games Gogoi Played In Assam Polls
Remembering Parag: Assam's Way
Helicopter Missing from Northeast Indian Sky
Allegations Poured on Indian Premier
Allegations Fired at Indian Premier
Rising Resentment against Corruption in India
Satellite News Channel Launched in Northeast ...
Looking at Burma's Forthcoming General ...
Burma Election, Refugees and Media's Role
TST Contributor Honored with Excellence Award
Burning Rhino Horns: Creating Controversy
Condemning Military Election in Burma
Protest against Military Election in Burma
Burmese Demonstrates Anger against Junta
Assam: A Pretending Warrior and Peace ...
Southeastern Bangladesh Erupts in Violence
Grim Picture of Human Rights in India
Burma on Radar as New Delhi Prepares for ...
Assam: Where People Defy Militant's Diktat
Bangladesh Readies to Hang Bangabandhu Killers
International Film Festival Begins in Guwahati
RK Pachauri under Attack from British Media
Selling News Space Culture in India: Concerns ...
Asian MPs Insist on a Free & Fair 2010 Burma ...
Guwahati Festival to Highlight Terrorism
Assam: Brutal Armed Group, Incompetent ...
Without Suu Kyi, 2010 Polls Have No Meaning
Beijing Eyes Northeast India !
Bumpy Road to Copenhagen
Nava Thakuria Elected Assistant Gen. Sec. of ...
Northeast India: People Defy Militant's ...
Northeast India: Waiting for Justice for 18 ...
Northeast India : Where Protector Turns Killer
Raising Support for Democracy in Burma
Indian Muslims Raise Voices for Uighurs
Will Captive Breeding of Vultures Work?
Northeast India: Trailing a Notorious Rebel
Is Burma Junta Learning from Cyclone Nargis!
Is a Nepali Fugitive Winning Indian Election?
When Politician Uses Scribe for Vested Interest
Assam Editor Killing: Protest Continues
Freedom under Chinese Boot in Tibet
Pride and Poverty: India's Amazing Blending
Sri Lankan Crisis: Shelling on Hospital ...
Northeast India Defies Militant's Diktat:
Woman Journalist Killed in Nepal
Urging for Insurance Coverage to Media Persons
Bangladesh: Waiting for a Stable Democratic ...
ULFA Leader Appeals UNHCR for Political Asylum
Assam Mourns Death of Mumbai Terror Attack
When an Assamese Magazine Rejects ...
Bangladesh Polls: Apprehension on Final Outcome
Manipur Asks for CBI Probe into Scribe's ...
Scribe's Killing in Northeast: Demand for ...
'Suspend Burma from BIMSTEC'
Guwahati Citizens Meet to Discuss Terrorism
Group Clashes Shock Northeast India
When Media Distorts Facts to Manufacture News
Where Editors Swindle Reporters
Calling upon Comprehensive Packages for ...
Highlighting Media's Challenge and ...
Media on Media' Glitch: An Exercise of ...
An Ignited Assam Baffles ULFA
Assam Defies Militant's Diktat to Celebrate ...
Journalists Dare to Defy Militants' Diktat
When Bangladeshi Influx Ignites Assam
Nepal Can Expect a Consensus of Government Soon
Victorious Maoists Lose Battle for Kathmandu
India: Assam Party Waits for an Opportunity
Burma after Nargis: Devastated, Depressed and ...
When a Disastrous Regime Continues
Exposing Corrupt Journalists of Our Time
Nepal Waits a Republic Regime: Diasporas Don't ...
Waiting for Consensus on Government in Nepal
Condemnation Pours on Burmese Junta as Suu ...
American-Assamese Preparing White Paper on ...
Assam Government Bows Down to Public Outrages
Shaky Start to Druk Democracy
India and Burma Push Joint Project
Bhutan Turns Democratic
Disregarding Public Outcry: Assam Government's ...
Army, Police Heads Become Governors in North ...
Rhinos Dwindle as Poaching Thrives in India
Taste of Democracy in Bhutan Is Not for ...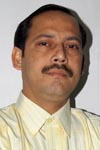 Nava Thakuria, who serves as a special correspondent for The Seoul Times, is based in Guwahati of Northeast India. He also contributes articles for many media outlets based in different parts of the glove, and can be contacted at navathakuria@gmail.com