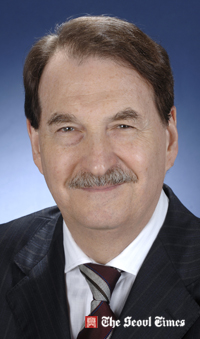 Mr. Sam Gerovich, the ambassador of Australia to South Korea
Mr. Sam Gerovich, the ambassador of Australia to South Korea, spoke recently with The Seoul Times in an exclusive interview. The ambassador covered topics ranging from trade and FTA to Cheonan incident and denuclearization of North Korea. The ambassador shared the Australian government's view on the presidential statement released by United Nations over the Cheonan tragedy. Below is the complete text of the interview:
Q1: Mr. Ambassador, can you walk us through your life? Tell us something about your family. What made you venture into foreign services?
A1:
As a young person I had interest in international relations and foreign policy, which became the basis for my studies at the university. Therefore it was natural to look at foreign services as a career and I was lucky enough to be selected in a very competitive process and join foreign services in 1972. I have served predominantly in North-East Asia with three postings in Beijing, one in Shanghai, one in Taipei and one in Hong Kong, and also a posting in Tokyo. This is my eighth assignment and I was very pleased when I was appointed the Ambassador to Korea in 2009 with dual accreditation to Democratic Republic of Korea and Mongolia. Past eighteen months in Seoul have been a very pleasing experience. My wife is a retired teacher and I have two grown up children both of whom are in investment banking.
Q2: What cultural differences or similarities do you observe between Australia and Korea? Is Australian culture perceived as a "Western" culture by Korea?
A2:
I think the critical thing to note is that Australia and Korea share much in common. Australians and Koreans are hardworking people and very direct in the way they address issues. You know where you stand with them. So, I think there are more similarities than the differences between the two nations. We have been very close partners for many years. I think, more importantly, one needs to recognize that Australia is a multicultural society and the way we have drawn our strengths from the immigrant communities that have settled in Australia. The Korean community, along with many other communities, has made a strong contribution. Korea, now, itself is embarking on a multicultural agenda and I should say that when I accompanied President Lee to Australia, he talked about the challenges that multiculturalism poses to Korea today. More and More non-ethnic Koreans are settling in Korea and embracing the Korean society and there are arrays of challenges involved in integrating these people into the Korean population. I think, in that regard there are lessons that Korea can learn from the Australian experience. More importantly, Australia and Korea place a greater emphasis on importance of education and this is an area where there is a potential of greater engagement as large number of young Koreans are studying in Australia. This exchange has added an extra strength to an already strong relationship that is going to be enhanced even further in the future.
Q3: How strong is the cultural exchange between Australia and Korea? What are some of the initiatives undertaken by your embassy and the embassy of Republic of Korea in Australia to ensure the cultural exchange?
A3:
Well, next year is the 50th anniversary of the diplomatic relations and that year has been designated by our respective governments as the 'Year of Friendship' and we expect that during course of that year cultural, scientific and other forms of exchange will be taken to an even higher level. We expect everything from high brow cultural programming such as opera, classical music, street theater, contemporary dance, visual arts, Youth Theater and Australian painting. There is a range of activity being planned during the course of the next year to raise the profile of Australia in Korea and allow the Koreans to understand that Australia is a highly sophisticated country from a cultural, scientific and educational point of view. Personally, I want to highlight the science and technology because even though we have a very small population of 22 million we have twelve Nobel Prizes including eleven in Science and Medicine. Also, Korea for its part will want to do those things that will raise Korea's profile in Australia. Sports, of course, both Korea and Australia are competing to host the 2022 Football World Cup Finals. Both Australia and Korea are competitive, and I wish Korea well, and I obviously hope Australia wins and if Australia does not win, I will be very happy to see Korea as the host of 2022 Football World Cup Finals. Also, there has been lot of cultural exchange in the past forty nine years. There have been Australian art exhibitions in the past and the Australian art scene is well known particularly some of our prominent movie stars such as Hugh Jackman, who is a household name in Korea, and he, in fact, acts as a goodwill ambassador of Seoul as Seoul was one of his first overseas destination travel when he was a young man. Barry Marshall, one of the most celebrated scientist who won the Nobel Prize. In the past few years some of the festivals such as Sinchon festival would have the Australian participation. We have the Australia-Korea foundation operating for 20 years and which has been supported by government. This organization has provided an impetus for the promoting cultural and other forms of exchange between Australia and Korea.
Q4: How welcoming has been the Korea to the Australian investors? How much has Korea opened up to the Australian service industry, especially the financial service?
A4:
Australia and Korea have very strong commercial relationship which has been getting stronger and stronger every year. Korea is our third largest merchandise export market. We have very strong relationship in services area including education and tourism and importantly the financial services. From our perspective, Korea has been relatively open because we have got Australian companies such as Macquarie and ANZ Bank that have been very successful in Korea and they have plans to further grow their market presence. What would we like to see is the conclusion of the FTA that we are in the process of negotiating and we hope that we would conclude it in near future. What we believe is the FTA will deliver not only growth in traditional sectors but also allow for further opening of two-way investments and further range of opportunities in the services sector. We think that the presence and success of Macquarie and ANZ Bank here has led to changes in the way that Korea perceives the financial services sector. These two companies have brought fresh thinking and new ideas to the way that the financial services sector operates. I think, with a FTA, there will be an exponential growth in people's attitude towards Australia whether in goods area or in services area.
Q5: Is Australia, as one of the investigators of the March 26th incident – the Cheonan tragedy, satisfied with the United Nations' statement released on 9 July 2010?
A5:
I think, we, like Republic of Korea, would have liked to see a UN Security Council resolution rather than a statement. The reality is that at United Nations the compromises have to be reached for a range of reasons. Importantly, there was a condemnation of North Korea for what was a premeditated act of brutality that resulted in the death of 46 young Korean sailors. The Australian government made very clear that it detested this act and it would stand side by side, shoulder to shoulder with Republic of Korea. I think, it's important in instances such behavior occurs, the international community is able to condemn it and the Presidential statement, though not as potent as the Security Council resolution would have been, served that purpose. We, as a part of the investigation team, came to a very clear conclusion that there was only culprit in this incident and therefore it is extremely important that the international community condemn the culprit for this premeditated action. The fact that the Presidential statement identified North Korea is perfectly appropriate and that has got a strong support all over the world.
Q6: What does a nuclearized Korean peninsula mean to Australia? What role is Australia playing or intends to play in denuclearizing North Korea?
A6:
Our core national interests are at stake in North-East Asia including the Korean peninsula and therefore it is very important to see Korean peninsula denuclearized so that we have security and stability in this region. Two-thirds of Australia's trade is conducted with North-East Asia, and we want stability in this region. Anything that affects Korean peninsula will also affect Australia. Thus, our position on this is very clear – we want to see a denuclearization. I, as the Ambassador to Democratic Republic of Korea, have always conveyed our view, in very firm terms, towards the denuclearization. I have made those points every time I have visited North Korea. We believe that this is the only basis for stability and security on the Korean peninsula. Only denuclearization can take the peninsula forward and can ensure that there is prosperity and well-being of all the Korean people on both sides and this is the message I convey in forthright fashion every time I visit Pyongyang. We convey our message directly to the North Korean government that we are able to do because we have diplomatic relations with North Korea and that allows us to conduct the dialogue on this issue. The dialogue needs to be resumed at some stage in the future at the time that Republic of Korea deems appropriate. Recently, we had Cheonan tragedy and we need to give Republic of Korea time to determine when they wish to resume dialogue and under what terms. The Australian government will support Republic of Korea in determining when and under what circumstances should the dialogues resume.
Interviewer: Thank you very much, Mr. Ambassador.Ambassador: Thank you.