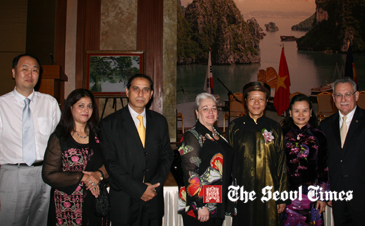 Vietnamese Ambassador to Seoul Tran Trong Toan (3rd from right) poses with guests. At far left is President Lee Jin-Poong of "Space Plus Design."
Vietnamese Ambassador to Seoul Tran Trong Toan hosted a reception on August 31, 2010 at a Seoul hotel on the occasion of its national day "Independence Day (1945)."Vietnamese "Independence Day" normally falls on September 2. On this day in 1945 Vietnam proclaimed its independence from Japan and France.A number of guests — from South Korean government and business circles, scores of top foreign envoys serving in Seoul, and other friends of Vietnam as well as Vietnamese expats — were invited to the dinner reception.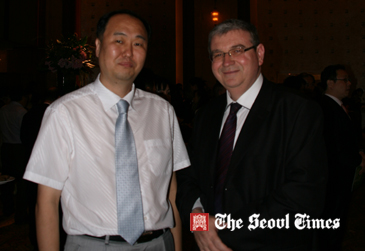 President Lee Jin-Poong (left) of "Space Plus Design" poses with Israeli Ambassador to Seoul Tuvia Israeli.
Among the South Korean VIPs invited to the reception was its Defense Minister Kim Tae-Young, and Mr. Lee Jin-Poong, president of "Space Plus Design."Minister Kim Tae-Young made a congratulatory speech for the gathering.Ambassador Toan is considered as one of the five foreign ambassadors in Seoul, who speak the local Korean language fluently.Others include US Ambassador Kathleen Stephens and Japanese Ambassador Masatoshi Muto, and Uzebek Ambassador Vitali V. Fen.