America
Succession in North Korea
Special Contribution
By Victor Cha
CSIS Korea Chair

Kim Jong-il's stroke back in August 2008 and his continued frail health have brought the succession question to the center of the North Korean political/military agenda and to the forefront of global discussion and speculation regarding the insular communist state.Though North Korea has yet to officially announce who will succeed the "Dear Leader," several signs point to Kim Jong-il's third son, Kim Jong-un. If the youngest son is indeed appointed successor, he would mark the third generation of the Kim dynastic rule in North Korea, and his ascent to power would solidify the fact that North Korea is the only communist nation to tolerate hereditary successions.Optimists hope that with a new leader, positive change may be brought about in North Korea. However, North Korea may be a quintessential example of Plato's postulation that bad states produce bad leaders. Moreover, if the rumors of Kim Jong-un's personality are true, then it can be expected that his regime will be much the same as if not worse than his father's dictatorship.Q1: What is known about Kim Jong-un?A1: Kim Jong-il's third wife, Ko Young-hee, gave birth to Kim Jong-un on January 8. His exact year of birth, however, is not known for certain. It is assumed that he was born in 1982, 1983, or 1984, making his estimated age from 26 to 28 years. He reportedly attended the International School of Bern in Switzerland, graduating in 1998. He later returned to North Korea and studied military science at Kim Il-sung Military University between 2002 and 2006. It is also reported that he speaks some English, German (Bernese), and French. According to Kim Jong-il's former personal chef, of the three sons, Kim Jong-un is the most like his father in attitude and appearance.Q2: What are the indications that Kim Jong-un is the intended successor?A2: It seems that Kim Jong-un's rise to power is following the same trajectory as Kim Jong-il's. In 2006, badges with Kim Jong-un's face were reportedly distributed among senior North Korean officials. In 2007, the youngest Kim was reportedly working in either the Organization Guidance Department, where his father got his start in the Workers' Party, or the Korean People's Army's General Political Bureau. Both departments are responsible for monitoring members of the party and military. On January 8, 2009, South Korean media reported that Kim Jong-il had indeed appointed Kim Jong-un to be his successor, but these reports remain unconfirmed to this day. His name reportedly appeared on the ballot for election to the Supreme People's Assembly in early 2009. In December, his birthday was made an official holiday. Songs of praise for Kim Jong-un are reportedly sung on special occasions in North Korea, and he has been given the public title of "Brilliant Comrade," much like his father, the "Dear Leader," and his grandfather, the "Great Leader." Recent reports indicate that the term "party center" has started to reappear in North Korean official documents. This term was used to refer to Kim Jong-il before he was officially appointed the successor of Kim Il-sung, and many believe it now is being used to refer to Kim Jong-un in the same way.Q3: Are there any other possible candidates for succession?A3: Though the appointment of Kim Jong-un as successor seems inevitable, his youth may necessitate a regent to rule in his stead for an undesignated period of time. The most likely candidate for regent would be Kim Jong-un's uncle and Kim Jong-il's brother-in-law, Jang Sung-taek, who is vice chairman of the National Defense Commission and second in command. Jang Sung-taek has reportedly been punished in the past for his personal ambitiousness. He was removed from power between 2004 and 2006 and was later reinstated with a lower position. It has also been reported that Kim Jong-il personally asked Jang Sung-taek to take care of his family, including Kim Jong-un. Jang's role in the leadership is supported by his wife, Kim's sister Kim Kyung-hee. She has become increasingly important to the family behind the scenes as Kim Jong-il's health has worsened. Despite what may seem to be a relatively set succession process, a power struggle after Kim Jong-il's death is not outside the realm of possibility.Q4: Will U.S. policy toward North Korea change when the new regime comes to power?A4: It is safe to say that U.S. policy toward North Korea will remain steadfast with the new regime, barring any catastrophic events or miracles. One reason is the basic lack of information. The party conference's results may indicate a power transition, but there is little information as to what stage of the transition the conference represents. In short, we may see smoke, but we do not know whether this is the beginning of the fire or the end of it. U.S. sanctions on North Korea will not be eased until the regime takes significant steps toward denuclearization. The United States and South Korea will also not be likely to return to the Six-Party Talks without some resolution of the attack on the Cheonan. Only when the new regime shows its willingness to cooperate with the international community and denuclearize will U.S. policy toward North Korea change in any significant way.Victor D. Cha holds the Korea Chair at the Center for Strategic and International Studies in Washington, D.C.Critical Questions is produced by the Center for Strategic and International Studies (CSIS), a private, tax-exempt institution focusing on international public policy issues. Its research is nonpartisan and nonproprietary. CSIS does not take specific policy positions. Accordingly, all views, positions, and conclusions expressed in this publication should be understood to be solely those of the author(s).

Related Articles
Continued Expansion and Upgrade Work at ...
The Burgeoning North Korea Missile Threat
No Significant Activity Observed in N. Korea's ...
Sharp Focus: A Unique View of the Sinpo ...
Sharp Focus: A Unique View of the Mayang-do ...
Sinpo South Shipyard Update: North Korea Moves ...
N. Korea Shows Signs of Reprocessing Activity ...
Business as Usual: North Korea Restarts ...
Two Years since Singapore: Did Kim Outplay ...
Pyongsan Uranium Concentrate Plant Remains ...
Singapore Summit Assessed by Victor Cha
N. Korea Announces Successful Hydrogen Bomb ...
Reports of Another High-Level Execution in ...
US President Obama to Visit S. Korea April ...
North Korea Abducts American Senior Citizen
S. Korea President Park Geun-Hye Holds Summit ...
N. Korea Threatens to Strike the United States
CSIS Korean Chair Victor Cha Analyzes North ...
South Korea Elects President Park Geun-Hye
North Korea's Successful Rocket Launch
North Korea's Second Rocket Launch in 2012
Shake-up in Pyongyang
The Death of the DPRK Leader
Restart of U.S.-DPRK Negotiations
S. Korea Wins Bid to Host 2018 Winter Olympics
Beijing Acts Like North Korea's Defense Lawyer ...
"America's First Pacific President" Attends ...
Jimmy Carter's Mission to North Korea
The Aftermath of the Cheonan
North Korean Leader Kim Jong-il's Visit to ...
The Sinking of the ROK Navy Vessel Cheonan
Obama's North Korea Conundrum"
Pyongyang Deserves Same Treatment as Seoul
"Seoul Government Needs to Conduct Its Own ...


Other Articles by Prof. Victor Cha
Continued Expansion and Upgrade Work at ...
The Burgeoning North Korea Missile Threat
Biden-Moon Summit: Rejuvenating and ...
Sinpo South Shipyard Update: North Korea ...
N. Korea Shows Signs of Reprocessing ...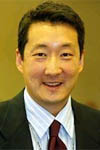 Dr. Victor Cha is Korea Chair of the Center for Strategic & International Studies (CSIS). He earned his MA from Oxford, and Ph.D. from Columbia. Many books he authored include the award-winning author of "Alignment Despite Antagonism: The United States-Korea-Japan Security Triangle." As prolific writers of articles on int'l relations in such journals as Foreign Affairs and The Washington Quarterly, he also interacts frequently with CNN, NYT, and Washington Post as well as Korean media.