Asia-Pacific
Letters from India
Burma Election, Refugees and Media's Role
By Nava Thakuria
Special Correspondent

A day-long media workshop on the forthcoming military sponsored election in Burma (Myanmar) and its implication on hundred thousand Burmese refugees will take place in the Indian capital on September 27.Organised by Burma Centre Delhi and Burma Center Prague, the workshop will accommodate journalists from both Europe and Asia. The workshop on September 27 will be followed by a press conference in the Press Club of India, New Delhi. It may be mentioned that the military regime of Burma named State Peace and Development Council has recently announced November 7 as its poll date. After 1990, the Southeast Asian country is witnessing the general election for the first time. Shockingly, the main opposition party of Burma, National League for Democracy is out of the electoral exercise. Its acclaimed leader, the pro-democracy icon Aung San Suu Kyi is also serving house arrest for years and she will not be entitled to stand as a candidate in the proposed election. Dr Tint Swe, an exiled Member of Parliament, NCGUB will speak on the Burmese perspective on 2010 election. Dr Swe is living in India for many years and pursuing with the Indian media and civil society for supporting the pro-democracy movement in Burma. The workshop will also be graced by Miloslav Stašek, the Ambassador of the Czech Republic to India. "Burma is ruled by one of the world's harshest regimes, which have attracted criticism for its poor human rights record, the suppression of ethnic minorities, and an economy that excludes the large majority of Burma's population from its benefits. Several million of Burma's citizens have been forced to leave the country in search of safety and to make a living," said in a statement from Burma Center Prague. Sangtae, editor of Khonumthung News will highlight on the situation inside Burma with a focus on Chin state and Burma's election, where as Sumit Chakravarty, editor of Mainstream, Jyoti Malhotra, senior editor & freelance Indian journalist, Vijay Jolly, an Indian politician will discuss about India's probable role in the developments. K. Yhome, associate fellow, Observer Research Foundation will specifically speak on New Delhi's policy on Burma election keeping an eye on the Burmese refugees in India. Soe Myint, editor of Mizzima News will elaborate about the role of Independent Media in the Burma polls, where as N. J. Thakuria will speak about the expected role of Northeast Indian media in the forthcoming Burma election. Burma's giant neighbour India, which has emerged as an important business partner is seemingly competing with China for its influence on the military regime led by Than Shwe. New Delhi honoured Suu Kyi, the daughter of general Aung San, with prestigious awards. Later, of course, New Delhi adopted Look East Policy and started engaging the military rulers of Burma in various strategic options. "We have chosen the topics according to their urgency and the apparent disproportion between their high relevance and at the same time low visibility in the media: first, the elections in Burma, scheduled for November 7, and, second, the situation of Burmese refugees living in India. We encourage participants to take a fresh look at these issues from the angle of humanity and to help us in fostering tangible cooperation and partnership on the local level for mutual benefit in the entire region," commented Christoph Amthor of Burma Center Prague. Amthor, however, admitted that while most possible solutions to the problem have been probed by regional and global players and found ineffective, recent developments have prompted the regime to call elections, which are criticized for entrenching present power constellations under the pretence of democracy. Still, many observers are optimistic that any change, even if only superficial, could increase the chances of actual transformation, Amthor concluded. "It is the need of the hour to organize such workshop before the election in Burma and we anticipate that the Indian media will be well informed about the upcoming election in Burma through this workshop," said Alana Golmei of Burma Centre Delhi commented adding that the main target (of the initiative) is to highlight about this issue in the mainstream Indian media with an effective and progressive way.

Related Articles
Welcome to Pragjyotishpur Literature Festival
Questioning Credibility of Editors Guild of ...
When 177 Global Leaders Stand behind Prof. ...
Manifesting Patriotism on I-Day
Raising Demand for a Media Grievance Cell
India: Rhetoric Boycott Call by Separatist ...
Banning Polygamy with Consensus
No End to NRC Controversy
Protecting Rhinos in Manas National Park
When Scribes Face Corruption Charges and ...
Complainant to Re-approach Court on NRC Assam ...
My Unforeseen Journey as a Scribe
Converting Profit Hungry APDCL to Consumer ...
Dreaming of a World with Three Zeros
After Two Years of Military Coup Myanmar Heads ...
When India's Highest Court Faces an Unwanted ...
Riding City Buses in Guwahati
When Rumour Kills a Mainstream Newspaper!
Dissecting Assam NRC for Better Understanding
Vehicular Speed That Kills Millions of Indians ...
Intriguing Debate on Automobile Mishap
Projecting Guwahati as a Krira Prangan
New York Times: Editions, Visibility, ...
Northeast Celebrates I-Day with Full Patriotic ...
Marching Ahead with the Spirit of Swatantra ...
Time for Journalists to Be Cautious, Authentic ...
Prakash: Throwing Light on Tibetan Literature ...
When Repeated FIRs Lodged against an IAS ...
Developing Guwahati as a people-friendly city
Negating PSO Culture among Media Persons
Losing Public Goodwill: Assam Media's Way
Global Award to Journalist Nava Thakuria
India's Restive Region Sets to End 2021 ...
RSS Condemns Islamist Attacks on Hindu ...
When RSS Chief Bhagwat Articulates Agendas
Let's Talk about Self-Reform and Financial ...
'Self-reform and Financial Transparency in ...
Tibet Sympathizers to Lodge Protest against ...
Prof. Yunus Receives Laurel, Bangladesh Adds ...
India Practices Secularism, Democracy and ...
Needed a Scientific Probe into Bamunipahar ...
Pandemic-Hit Book Publishers Eye for Openings
India: Persisting Vulnerability to Scribes
Bharat: Nurturing Nationalism with National ...
POK Editor Bats for More Exchanges
Cries Mounted for Reviving Nabin Chandra ...
Scam, Media Outburst and Its Aftermath
Amidst Chinese Threat Dalai Lama Concludes ...
Asserting Media Person's Rights in India
China's Myanmar Bonanza Sans Responsibility
Manufacturing Misguided Protests in Assam
Assam Forum Bats for Work Permits to ...
Bhupen-da Came alive with Dhola-Sadiya Bridge ...
Remembering My Principal Sir!
Saluting Tricolour to Defy Militants' Diktat ...
Underlining India's Productive Engagement in ...
A Conservator Constitutional Head in Northeast ...
Young Journalist Killed in India, ...
Unpaid Media Employees of Northeast India
Journalist Body Urges Political Parties to ...
Saving the Tigers from Extinction
Glorious Tribute to Bhupenda
Burmese Students Term New Government Bogus
Burma Turns Hostile to Indian Separatist Groups
Northeast India Rediscovers Tricolour
Indian People's Win Inspires Burmese Activists
Nobel Support for a Noble Cause
Activists Condemn India's Arm Deal with Burma
Protest Note from Guwahati Press Club
Journalists' Killings: Justice Eludes in ...
Games Gogoi Played In Assam Polls
Remembering Parag: Assam's Way
Helicopter Missing from Northeast Indian Sky
Allegations Poured on Indian Premier
Allegations Fired at Indian Premier
Rising Resentment against Corruption in India
Satellite News Channel Launched in Northeast ...
Looking at Burma's Forthcoming General ...
When British Newspaper Tenders Apology to ...
TST Contributor Honored with Excellence Award
Burning Rhino Horns: Creating Controversy
Condemning Military Election in Burma
Protest against Military Election in Burma
Burmese Demonstrates Anger against Junta
Assam: A Pretending Warrior and Peace ...
Southeastern Bangladesh Erupts in Violence
Grim Picture of Human Rights in India
Burma on Radar as New Delhi Prepares for ...
Assam: Where People Defy Militant's Diktat
Bangladesh Readies to Hang Bangabandhu Killers
International Film Festival Begins in Guwahati
RK Pachauri under Attack from British Media
Selling News Space Culture in India: Concerns ...
Asian MPs Insist on a Free & Fair 2010 Burma ...
Guwahati Festival to Highlight Terrorism
Assam: Brutal Armed Group, Incompetent ...
Without Suu Kyi, 2010 Polls Have No Meaning
Beijing Eyes Northeast India !
Bumpy Road to Copenhagen
Nava Thakuria Elected Assistant Gen. Sec. of ...
Northeast India: People Defy Militant's ...
Northeast India: Waiting for Justice for 18 ...
Northeast India : Where Protector Turns Killer
Raising Support for Democracy in Burma
Indian Muslims Raise Voices for Uighurs
Will Captive Breeding of Vultures Work?
Northeast India: Trailing a Notorious Rebel
Is Burma Junta Learning from Cyclone Nargis!
Is a Nepali Fugitive Winning Indian Election?
When Politician Uses Scribe for Vested Interest
Assam Editor Killing: Protest Continues
Freedom under Chinese Boot in Tibet
Pride and Poverty: India's Amazing Blending
Sri Lankan Crisis: Shelling on Hospital ...
Northeast India Defies Militant's Diktat:
Woman Journalist Killed in Nepal
Urging for Insurance Coverage to Media Persons
Bangladesh: Waiting for a Stable Democratic ...
ULFA Leader Appeals UNHCR for Political Asylum
Assam Mourns Death of Mumbai Terror Attack
When an Assamese Magazine Rejects ...
Bangladesh Polls: Apprehension on Final Outcome
Manipur Asks for CBI Probe into Scribe's ...
Scribe's Killing in Northeast: Demand for ...
'Suspend Burma from BIMSTEC'
Guwahati Citizens Meet to Discuss Terrorism
Group Clashes Shock Northeast India
When Media Distorts Facts to Manufacture News
Where Editors Swindle Reporters
Calling upon Comprehensive Packages for ...
Highlighting Media's Challenge and ...
Media on Media' Glitch: An Exercise of ...
An Ignited Assam Baffles ULFA
Assam Defies Militant's Diktat to Celebrate ...
Journalists Dare to Defy Militants' Diktat
When Bangladeshi Influx Ignites Assam
Nepal Can Expect a Consensus of Government Soon
Victorious Maoists Lose Battle for Kathmandu
India: Assam Party Waits for an Opportunity
Burma after Nargis: Devastated, Depressed and ...
When a Disastrous Regime Continues
Exposing Corrupt Journalists of Our Time
Nepal Waits a Republic Regime: Diasporas Don't ...
Waiting for Consensus on Government in Nepal
Condemnation Pours on Burmese Junta as Suu ...
American-Assamese Preparing White Paper on ...
Assam Government Bows Down to Public Outrages
Shaky Start to Druk Democracy
India and Burma Push Joint Project
Bhutan Turns Democratic
Disregarding Public Outcry: Assam Government's ...
Army, Police Heads Become Governors in North ...
Rhinos Dwindle as Poaching Thrives in India
Taste of Democracy in Bhutan Is Not for ...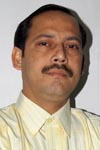 Nava Thakuria, who serves as a special correspondent for The Seoul Times, is based in Guwahati of Northeast India. He also contributes articles for many media outlets based in different parts of the glove, and can be contacted at navathakuria@gmail.com