Medical Tourism
Letters from Europe
"Artificial Beauty Overshadows Natural Beauty"
Girls in Macedonia Cross Borders for Plastic Surgery
By Antonina Veljanovska
EU Correspondent

In the last few years in the Balkans, more and more girls and women have made adjustments to themselves whether it was ears, nose, chest, lips, or liposuction. Most plastic surgeries are ...
What Is the Ring?
Special Contribution
By Shobha Shukla


The dapivirine vaginal ring is a female-initiated option to reduce the risk of HIV infection. It is a silicon ring impregnated with 25mg of the drug dapivirine (a non-nucleoside reverse transcriptase inhibitor). It ...
Disability Is Not Limited to the Body, It Is Also about Mindsets
Special Contribution
By Shobha Shukla


Very often it is our disabling attitudes that make life difficult for people with disabilities, rather than their own physical impairments. More than the disability itself, it is its psychological effects that take a ...
UAE Embassy Takes Part in 2020 Gangnam Medi Tour Festa

His Excellency Abdulla Saif Al Nuaimi, UAE Ambassador to Seoul, delivered a congratulatory speech on video technology on the occasion of 2020 Gangnam Medi Tour Festa, which is held by ...
Tobacco-Caused Diseases Are a Bane to the Pandemic

Grappling with a pandemic that has impacted humanity is no mean task. Scientists, doctors, governments, civilians — the entire world — have adorned their respective uniforms and stand united in this war ...
Accelerating Progress on Sexual & Reproductive Health & Rights, Key for SDGs
Improvements in the health sector, as well as in other sectors such as infrastructure development, economic growth and poverty reduction, play a major role in improving not only health and ...
Stop This Shaming of Menstruation
This disgustingly shocking and audacious signpost appears in a country where women value their bodily autonomy and rights fiercely, or so do I believe. This seems to be the work of some ignorant and ...
Do It Right the First Time, Every Time!
Are we losing grip on the evidence-based basic principles that were in the core of fighting tuberculosis? Challenges like drug resistance which are posing a threat to global health security warrant a review. ...
Asia-Pacific Should Bolster Health Systems
Asia-Pacific countries should strengthen their health systems and sharply increase spending to deliver effective universal cover. The share of the population aged 65 years and over in Asian countries is ...
ESMO Hosts 2nd ASIA Congress in Singapore
SINGAPORE: The European Society for Medical Oncology (ESMO), the leading professional organisation for medical oncology, has successfully concluded the ESMO Asia 2016 Congress ...
Complacency Breeds Failure: Consolidate Efforts to End AIDS by 2030
US Medical Team Observes SELD Procedure
For Age Is Opportunity No Less Than Youth itself
New Study Pegs the Number of TB Cases in India at Double the Current Estimates
New York-Presbyterian/Queens Appoints Dr. Benjamin Lee as Chief of Thoracic Surgery
Self-stigma: Let Us Do More Than Just "Ttalk about It"
We Cannot Eliminate TB If We Leave Children Behind
MDR-TB Treatment Rgimen: Short Indeed Is Beautiful
Screening for Breast and Cervical Cancer Is a Public Health Imperative
Asthma -- Can We Live with It?
Strike at the Root of the Problem to Kill TB
Antibiotic Use Is Driving Antibiotic Resistance
Big Push for Transgender and Hijra Welfare
Nepal Leading Tobacco Control in S. Asia: Will It Spiral Domino Effect on Other Nations?
Lung Cancer: Difficult to Diagnose, Difficult to Treat, Easy to Prevent
Tobacco Smoking Ruining Lives: Lung Cancer Rates Alarming
Regular HIV Prevention Counselling Reduces Risk of Infection
Strong Tobacco Taxation Policy Adopted despite Industry Interference
Medical Malpractices: Is There Light at the End of the Tunnel?
Overcoming Roadblocks in Translating Evidence-Based Healthcare into Public Health Gains
Indian Doctor Trupti Gilada to Get Fellowship Award at AIDS 2014
Koreans Visit Leading Health and Safety Body to Learn More about the Profession
Management of Respiratory Diseases beyond Drugs: Pulmonary Rehabilitation
Gender Justice to Be at the Heart of Development Justice
Connecting the Dots: Tobacco Use, Diabetes, and Tuberculosis
It Is Time To Control Asthma
Call for No More New HIV Infected Children
Break the Silence around Cancer
How Can You Treat Your Illness Unless You Take Your Medicines?
Biggest Killer of Kids Under 5 Is Pneumonia
Asthma Medicines Still Unaffordable for Many
Stem Cell Therapy Shows Promise in Repairing Brain Damage Even Hours after Stroke Occurs
Scaling Up Natural Fertility Awareness Methods Increases Access to Family Planning
Tip the Scale in Favor of Quality
Should Asthma Control Us or We Control Asthma?
New Technique to Prevent Diabetic Lower-Limb Amputations
Stem Cells Might Beat Drugs in Delivering Relief Faster
Cycle Beads: The Bead String for Family Planning
"2013 EU Gateway Programme Healthcare and Medical Technologies" Held at COEX in Seoul
S. Korea Is the King of Cosmetic Surgery
S. Korea, No. 1 Plastic Surgery Nation
Faster Help for Stroke Victims
Global Network to Target Asthma
Grand Meets Patients with Perfect One-Stop Medical Service
Gangnamgu Sweeps 3 Awards at AFHC Global Conference Held in Brisbane, Australia
Beware: All Forms of Tobacco Are Harmful!
Stem Cell Graft Restores Memory and Mood
Dr. Lee Sang-Chol: Global Healthcare Provider
Gangnam Mayor Shin Puts Signboard on JK
Director Kim Sung-Nam Cures Cancer Patients with Enzymes
Raoncell Medical Clinic Signs MOU with Shanghai AYJ Bio Research Center
KHIDI President Ko Kyung-Hwa Opens Medical Tourism CEO Course
New Nurses Welcomed by Hospitals, Clinics
Lee, Magic Oriental Doctor
Mother's Milk Is the Best Nutrition for the Child
Gangnamgu Mayor Shin Yeon-Hee Leads South Korea's Medical Tourism
Where Is The TB Quilt, Nay Mask?
Gangnamgu Leads Medical Tourism
Time for Critical Thinking and Action?
Tuberculosis: Ugly Scar on Beautiful Childhood
S. Korea's Inbound Medical Tourism Revenue Exceeds Outbound in 2011: IMTJ Reports
Globalizing Korean Oriental Medicine: Ariang TV
Towards A More Enabling Environment for Effective HIV/AIDS Responses
"The Boy Who Became Successful"
More Medical Tourists Visit South Korea
Medical Korea's Medical Policy Improvement Project for Foreign Patients
Dr. Paik Nam-Sun Calls Self "Super Surgeon"
"Wooridul, Korea's Best Spinal Surgery Clinic"
The Growth of Medical Tourism in the UK
Lee Gil-Ya Gets Science Award
S. Korea: Growing Medical Tourism Destination
S. Korea Makes Inroads Into Medical Tourism
Feed Your Child Well: Prevent Pneumonia
Sports and Sprains -- a Bad Combination!
Affluence Spurs Asian Medical Tourism
Medical Tourism Big Business in Asia
Why Do Americans Go Abroad for Surgery?
Costly Medicines Mean Debt or Death for People with Hepatitis C
Why Your Doctor May Be Acting Differently?
Back to the Top
Director Maricon Basco-Ebron says
1 Mil. Koreans to Visit Philippines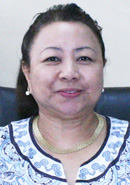 "This year my goal is to increase the number of Korean tourists visiting the Philippines to 1 million," said Ms. Maricon Basco-Ebron, the head of Philippine tourism office in Seoul, in a recent interview. "We will achieve this with our new campaign 'It's More Fun in the Philippines'" In the interview held in her office in Seoul on Feb. 3, 2012 the tourism director said that the new campaign will be ...more>