Photo News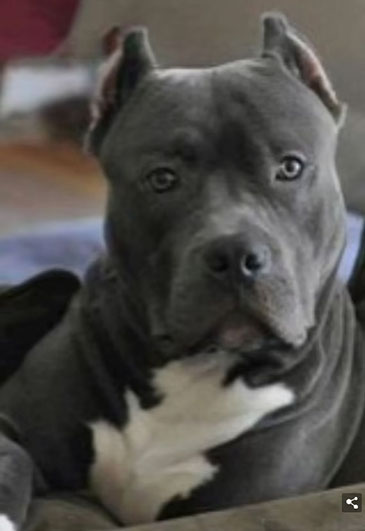 American Bully Rings Doorbell of Neighbor in Wee HoursHomeowner is stunned to find "Bruce" the dog pushing ring doorbell at 4 am staring at the screen of the door in Great Britain a few days ago, reported the writer, Joe Hutchison of the Daily Mail on its internet edition of July 27, 2023 (local time).

The British newspaper said that a homeowner has been left stunned after a cute dog pushed her Ring doorbell at 4 am on the same day.

The cute dog is known to be rather "aggressive" breed of American Bully, though. This breed, developed as a companion dog, gives people "impression of great strength for its size."

The TikTok user, known only as their username @omg_its_char, shared their footage of a grey American Bully known as Bruce pushing her Ring doorbell.

In the adorable video, which has now gone viral, Bruce can be seen excitedly panting as he jumps up towards the bell.

He then manages to paw the button and triggers the doorbell noise, to which he hilariously tilts his head seemingly in time.

After the ringing stops, Bruce stares directly at the camera recording the whole exchange before barking.

In an update to the video, the original poster said: 'So after Bruce rang the doorbell of course I got out of bed and let him inside, this wasn't the first time he stopped by to say hello.

'He helped himself with a toy that belongs to my cat as he had the zoomies for a good 10 minutes and then finally decided to make himself comfortable on my couch.

'I called the neighbors but nobody answered. So I left them a message that he was safe and sound on my couch.

'The morning after, my neighbors came by to pick up their boy'

Earlier the British mass-circulation daily reported that a majority of Britons are opposed to keeping the "aggressive" breed.

Most British folks want this breed outlawed, as bite cases by this breed increase. Its government is under pressure to ban this aggressive American bully dogs blamed for a wave of vicious maulings in recent years.

Almost two thirds of Britons want the breed outlawed after a sharp rise in horrific attacks.

Daily Mail went on to say that Bully dogs share genetic stock with banned pit bull terriers but have been cross-bred to add size and muscle. The largest weigh more than nine stone.

Dog attack campaigner Dr. Lawrence Newport, who commissioned the poll, said bully dogs have been responsible for nine fatalities since 2021.
ST Photo Gallery
Photo News
Embassy Events
Econo People 2005
Fashion Images
New Movies
Travel Images
Nayan Sthankiya's Photo Features New
Abuses of Iraqi Prisoners of War
Academy Awards Photos 2004
Adolf Hitler
Aishwarya Rai-Indian actress
Buddha`s Birthday 2004
Cannes 2004 — 57th Cannes Film Festival
Choi Tae-Ji Photo Gallery
Comfort Woman Picture Gallery
Crown Prince Felipe of Spain
Dokdo Photo Gallery
Erotic Paintings of Hyewon and Danwon
Franz`s Art Exhibition
Gando Photo Gallery
Geisha in Japan
Gwangju Massacre
Jeju Island
Kim Jong-Il and Kim Il-Sung
Koguryo Murals
Korean War (1950-53)
Madonna
Miss Universe 2004
Miss World Contest 2003
Mt. Kumkang or Mt. Diamond New
Natural Beauty of Korea
Rape of Nanjing (Nanjing Massacre)
Rio Carnival 2004
Ronald Reagan`s Life in Pictures
ST Family
Sonia Gandhi and Gandhi Clan
Taj Mahal Photo Gallery
Ukrainian Embassy
World War Two
Photo Gallery of World Newspapers/Media
Times of India
Hindustan Times
SantaBanta.com
Straights Times (Singapore)
Chicago Sun-Times
Moscow Times