Embassy Events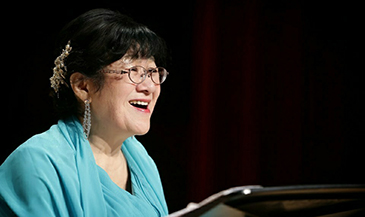 SALARUM, Rock Salt for Human HealthCEO Park Ji-Young Leads Pristine, Premier Salt Market

Park Ji-Young is a South Korean businessperson who imports what she calls "uncontaminated" "100-percent pure" Russian rock salts from the salt deposits as deep as 1,500 meters underground near Lake Baikal, the deepest, oldest, and largest freshwater lake in the world.

"These days most salts selling in Korea and in many parts of the world are not suitable for human health, the 54-year-old businesswoman said in the recent interview with The Seoul Times. "That's why I am importing the premium Russian salts which are as old as 500 million years old.

She went on to day that the Russian salts were formed from time immemorial when the Earth and the environment was not polluted at all.


| | |
| --- | --- |
| | SALARUM CEO Park Ji-Young in Seoul — President & CEP Park Ji-Young of SALARUM in Seoul leads the movement of using healthy natural rock salt in South Korea. She imports 500 million-year-old premium rock salt taken from Tiretsky rock salt mining in Russia's Far East near Lake Baikal as part of her efforts to use uncontaminated 100 percent pure natural salt for human health. |


Park serves as the president and CEO of SALARUM, premier salts importer and manufacturer, located in Namyangju City in Gyeonggi Province just east of Seoul.

Surprisingly she set up her SALARUM company only four months ago while most businesspeople are downsizing or closing their business. Her audacity pays off now.

Park already secured a host of retailers and clients in the nation with a high expectation of exporting SALARUM salts after some processing.

It was actually her 85-year-old father, Park Bong-Chun, who went to the Russian Far East to import salts. He signed the MOU with Tiretsky rock salt mining plant for the exclusive import of its salts. He serves as its chairman.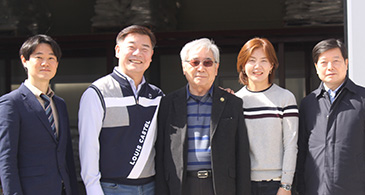 President & CEO Park Ji-Young (2nd from right) of SALARUM poses with Chairman Park Bong-Chun (center), Vice President Park Kwang-Hee (2nd from left), and with other directors in their office in Namyangju City, Gyeonggi Province just west of Seoul.



Located in region of Irkutsk, the capital of Russia's Irkutsk Oblast (State), Tiretsky rock salt mining plant is the largest salt supplier in Siberia and the Russian Far East, according to Park.

SALARUM was established as a corporation on Nov. 16, 2020 by Park with the assistance of her father.

Park said she chose her company's name SALARUM herself. She coined SALARUM from the latin word "salarium," "salt money" given to the soldiers during Roman period.

The modern English word "salary" came out of salarium," according to Park's explanation.

Park said that more 100 tons of imported Russian salts are stored in her warehouse in Namyangju City now.


Various SALARUM salt products

"Our salt products will be used in markets of sports drink, cosmetics, and health food domestically," Park said. "But also we plan to export our processed salts to the world markets"

Her salt products come in a variety of forms and styles. Among others tablet-shaped ones are for athletes, workers of the steel factory like Hyundai Steel and
POSCO, and others who sweat a lot.

"Our tablet-shaped salt products are easy to carry," Park added. "I am sure they will be popular for those who sweat a lot"

"In short, our salts are top quality," Park went on. "Our natural rock salts are free of salty water thus taste sweet whereas others are bitter"

Park added that SALARUM salt products one of the healthiest table salts as they are most helpful for detoxification and blood circulation.

"One of its immense effects is the medical one," Park stressed. "Ours can be used for an injection of Ringer's solution, according to the expert"

Above all, we plan to introduce our best-quality natural rock salts to people around the world," Park said. "We are making efforts for that"

She said her company secured the exclusive rights for the imports from Russian salt mine for two years from now.

Prior to the establishment of her SALARUM Park worked at various sectors of businesses including department store sales manager and as the sales director of shopping malls.

Park wants to inherit the long experience of her father's business in nation's salt industry. SALARUM's future will depends on Park the junior and Park the senior after all.
ST Photo Gallery
Photo News
Embassy Events
Econo People 2005
Fashion Images
New Movies
Travel Images
Nayan Sthankiya's Photo Features New
Abuses of Iraqi Prisoners of War
Academy Awards Photos 2004
Adolf Hitler
Aishwarya Rai-Indian actress
Buddha`s Birthday 2004
Cannes 2004 — 57th Cannes Film Festival
Choi Tae-Ji Photo Gallery
Comfort Woman Picture Gallery
Crown Prince Felipe of Spain
Dokdo Photo Gallery
Erotic Paintings of Hyewon and Danwon
Franz`s Art Exhibition
Gando Photo Gallery
Geisha in Japan
Gwangju Massacre
Jeju Island
Kim Jong-Il and Kim Il-Sung
Koguryo Murals
Korean War (1950-53)
Madonna
Miss Universe 2004
Miss World Contest 2003
Mt. Kumkang or Mt. Diamond New
Natural Beauty of Korea
Rape of Nanjing (Nanjing Massacre)
Rio Carnival 2004
Ronald Reagan`s Life in Pictures
ST Family
Sonia Gandhi and Gandhi Clan
Taj Mahal Photo Gallery
Ukrainian Embassy
World War Two
Photo Gallery of World Newspapers/Media
Times of India
Hindustan Times
SantaBanta.com
Straights Times (Singapore)
Chicago Sun-Times
Moscow Times