Embassy Events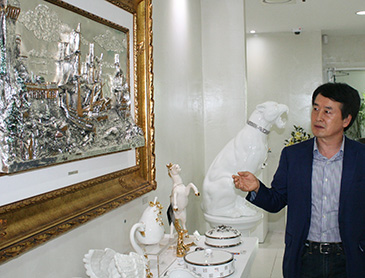 Jade Flowers Alternatives to Real Flowers?"We cannot enumerate the merits and benefits of jade flowers we produce," emphasized CEO Hong Young-Wook of "atojade" in a recent interview with The Seoul Times. "The effects of jade are well proven for the healthy life of human beings"
Hong argued that many royal families of countries including China preferred jade to other precious objects for the good luck and health reasons.

He added that medicinal and other healing effects of jade are immense – detoxification, releasing the stress, pain relieving, neutralizing effect of harmful electromagnetic waves, and lessening the allergies to flowers.

Hong explained that jade flowers come in various kinds of colors and forms in general. Between 50 and 60 different kinds of jade flowers products are selling currently at his "atojade" shops.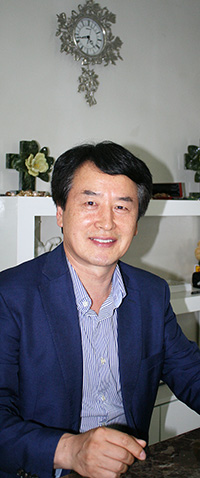 CEO Hong Young-Wook of "atojade"

"Yellow, green, white, and peony color jade flowers are among the scores of 'atojade' products at our shops," Hong said.
"Real flowers will soon wither, and this makes our jade flowers attractive to and popular among the consumers," CEO Hong said. "Our jade products can be purchased at prices as low as 100,000 won"

As Hong argued, his jade flowers products are being sold at a price no higher than actual flower basket.

He said that their products are not expensive considering that the artistic jade flowers can last almost permanently and they are made out of ornamental precious stones.

In actuality, prices for the jade flowers range from 120,000 all the way to a million won at "atojade."

A full basket of ornate peach blossom jade can be fetched at 550,000 won for a good example.

The various jade flowers are made out of green jade, yellow jade, white jade, Mandarin-calcite, fluorite, and serpentine, all carefully chosen by the top executives of "atojade."

"Atojade" produces not only jade flowers but also many other luxury and exquisite home decoration works of art hand-made by artists or artisans in European countries particularly in Italy.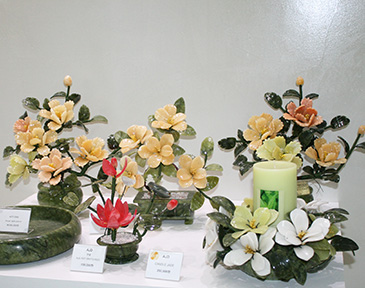 "Atojade" office in upscale Ganganm office in Seoul




Up to 100 items are decorating rather spacious walls and floors of showrooms of "atojade" in its upscale Gangnam office. Many of them are silver ornaments and home and office decoration pieces including picture frame with some of them shaped in sale ships, leopards, turtles, and other animals.

"We are Korea's No. 1 company dealing with luxury home decorative pieces of art," Hong was proud of his company. "We used to target only 1 percent of the nation's richest population"
He said that main customers have been big corporations, top foreign envoys on Seoul's diplomatic stage, and top politicians and their spouses.

"But we are going to change this trend as the quality of living for South Koreans is rapidly enhancing," Hong added. "We are now going to aim at the upper middle-class customers as well"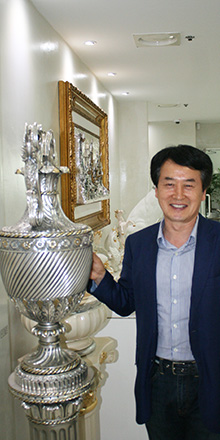 CEO Hong Young-Wook of "atojade"

For this "atojade" is already bolstering its online marketing strategy, overhauling its website in foreign languages.

As its top executive, CEO Hong is in charge of strategic marketing of "atojade."

"We are keen on expanding Chinese market in particular," said Hong, who is also fully aware of the potential of the online marketing.

Established in 1996 by its Chairwoman Chang Hye-Soon "atojade" has been leading South Korea's luxury decorative works of art including home decoration pieces.

Since its inception "atojade" has been operating its showrooms at such places as Hyundai Department Store, Shinsegye Department Store, Lotte Department Store, and AK Plaza in Bundang.

CEO Hong had long been a noted public relations expert in the nation before he joined "atojade" three years ago.

He retired as an executive from Cheil Worldwide, nation's top public relations company affiliated with Samsung Business Group after he spent whopping 16 years with Cheil.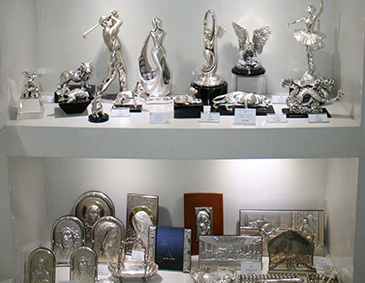 "Atojade" office in upscale Ganganm office in Seoul



Hong graduated from Inha University in Incheon and moved onto his graduate study at Hanyang University in Seoul. He received a master's degree in mass communications from Hanyang.

Socially Hong has long served as the president of a retired officers' association of ROTC (Reserve Officers' Training Corps) in South Korea.

CEO Hong can be contacted at 010-8549-2838 or his office number is 02-542-9269 or at his Email of bestbrand2003@hanmail.net
ST Photo Gallery
Photo News
Embassy Events
Econo People 2005
Fashion Images
New Movies
Travel Images
Nayan Sthankiya's Photo Features New
Abuses of Iraqi Prisoners of War
Academy Awards Photos 2004
Adolf Hitler
Aishwarya Rai-Indian actress
Buddha`s Birthday 2004
Cannes 2004 — 57th Cannes Film Festival
Choi Tae-Ji Photo Gallery
Comfort Woman Picture Gallery
Crown Prince Felipe of Spain
Dokdo Photo Gallery
Erotic Paintings of Hyewon and Danwon
Franz`s Art Exhibition
Gando Photo Gallery
Geisha in Japan
Gwangju Massacre
Jeju Island
Kim Jong-Il and Kim Il-Sung
Koguryo Murals
Korean War (1950-53)
Madonna
Miss Universe 2004
Miss World Contest 2003
Mt. Kumkang or Mt. Diamond New
Natural Beauty of Korea
Rape of Nanjing (Nanjing Massacre)
Rio Carnival 2004
Ronald Reagan`s Life in Pictures
ST Family
Sonia Gandhi and Gandhi Clan
Taj Mahal Photo Gallery
Ukrainian Embassy
World War Two
Photo Gallery of World Newspapers/Media
Times of India
Hindustan Times
SantaBanta.com
Straights Times (Singapore)
Chicago Sun-Times
Moscow Times