Embassy Events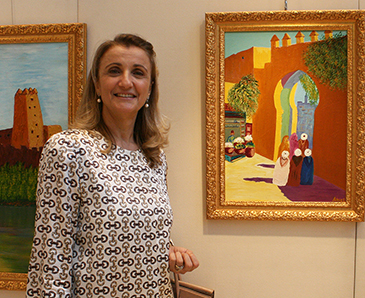 "Colors of Morocco" Impresses Local KoreansEnvoy's Wife Introduces Morocco through Paintings

By Julie Lee
Staff Reporter

Cities, people, and landscapes of the majestic Morocco are now being introduced to the local Korean people in the form of acrylic paintings by Moroccan envoy's spouse serving in Seoul.

A total of 32 acrylic paintings of Moroccan artist Amal Lahlou, wife of Moroccan Ambassador to South Korea Mohammed Chraibi, are presently on display at the Raemian Gallery in Unni-dong near Anguk Subway Station in Seoul.

Dubbed "Colors of Morocco" her solo exhibition opened on August 5 (Tuesday) and will run until August 14 (Thursday), 2014.

The opening reception, held at 6:30 p.m. on the first day of her exhibition attracted over 100 guests both local and international.

Among the guests were many top foreign envoys and their spouses.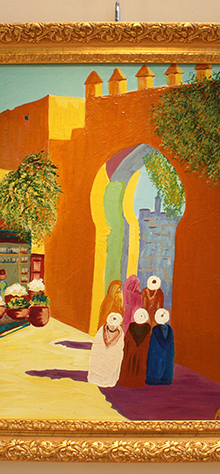 "The Door of the Old City"
by Moroccan artist Amal Lahlou

In a brief interview with The Seoul Times Mrs. Lahlou said that she named her exhibition "Colors of Morocco."

"I called it 'Colors of Morocco' because I used lots of colors and Morocco is very colorful country," she said. "And here I start with Rabat and Rabat is the textile city."

The Moroccan artist said that there are three parts of her exhibition – City of Morocco, People of Morocco, and Landscape of Morocco.

"There is 'city of Morocco' so we have many cities of Morocco and here we have 'people of Morocco' and after that we have 'landscape of Morocco," she explained.

"Here we start with Rabat. Rabat is the capital and after that I have Marrakech the pink city," she added. "So all the city is pink and it is very interesting city."

She said that Marrakech is touristic destination and a number of tourists visit Marrakech.

The second city she introduced is Essaouira, which used to be a part of former Portuguese colonization.

"And here we have Ouarzazate," she went on.

She said that Ouarzazate, not far from the desert, is the city of movie making, and many famous movies are produced in the city.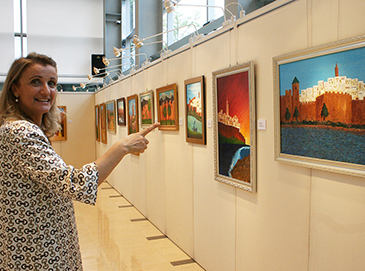 Moroccan artist Amal Lahlou shows her works of art at the opening ceremony of her 1st solo exhibition "Colors of Morocco" held at Raemian Gallery in Seoul on August 5, 2014. The artist is the spouse of Moroccan Ambassador to Seoul Mohammed Chraibi.



"Gladiator" was filmed in Quarzazate, according to the artist.
She said that tourists and travelers can see very famous Arabic architecture in Meknes.

Asked about the purpose of her exhibition the artist said that she wanted to introduce Morocco to the local Korean people as the travel destinations.

"My goal is to give an idea to our Korean friends what is Morocco and what's happening in Morocco," she said. "So I have chosen exhibition and talking about Morocco and many Moroccan cities."

"I'm talking about many cities — Rabat, Meknes, Marrakech, Essaouira, Fes, Ouarzazate, and Tetouan — all are very important cities in Morocco," she continued. "And also I am taking about Moroccan people and landscapes and other destinations of Morocco like Casablanca."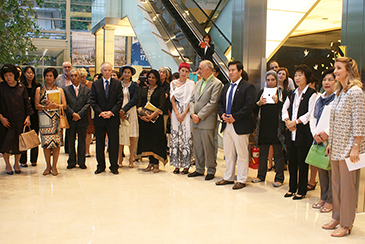 Scores of guests including foreign ambassadors and their spouses gather at at the opening ceremony of Moroccan artist Amal Lahlou's 1st solo exhibition "Colors of Morocco" held at Raemian Gallery in Seoul on August 5, 2014.



She explained that her exhibition can give people an idea what is Morocco and an idea of why Morocco is tourist destination.

"So many people go there to discover Morocco," she stressed. "For examples, Casablanca as you know means white city and Marrakech is pink city, so these cities are different from the others."

Her interest in arts harks back to her early childhood.

"When I was young I was always drawing," she said. "My son is also a designer,' she said.

She emphasized that as the wife of Moroccan ambassador representing the Moroccan country she wanted to give an idea of the North African country to her friends, particularly to the Koreans.

She pointed out that bringing artists from Morocco to Korea is so difficult for hotels and for other logistic reasons.

"So I decided to do this myself," she said. "Preparation for this exhibition took me six months since January this year and "It's my first solo exhibition in Korea."

Regarding her future plans she said that she would participate in a group international exhibition to be held at Hanyang University in Seoul on August 27, 2014.

The group exhibition will be joined by some 40 other artists, according to the Moroccan artist.

The Raemian Gallery is located at 114-2 in Unni-dong, Jongno-gu, Seoul, Korea. Exit No. 4 of Anguk Station of Subway Line No. 3 is the nearest stop. It is opposite of Hyundai Building & Changdeok Palace and Raemian phone number is 02-765-3304.
ST Photo Gallery
Photo News
Embassy Events
Econo People 2005
Fashion Images
New Movies
Travel Images
Nayan Sthankiya's Photo Features New
Abuses of Iraqi Prisoners of War
Academy Awards Photos 2004
Adolf Hitler
Aishwarya Rai-Indian actress
Buddha`s Birthday 2004
Cannes 2004 — 57th Cannes Film Festival
Choi Tae-Ji Photo Gallery
Comfort Woman Picture Gallery
Crown Prince Felipe of Spain
Dokdo Photo Gallery
Erotic Paintings of Hyewon and Danwon
Franz`s Art Exhibition
Gando Photo Gallery
Geisha in Japan
Gwangju Massacre
Jeju Island
Kim Jong-Il and Kim Il-Sung
Koguryo Murals
Korean War (1950-53)
Madonna
Miss Universe 2004
Miss World Contest 2003
Mt. Kumkang or Mt. Diamond New
Natural Beauty of Korea
Rape of Nanjing (Nanjing Massacre)
Rio Carnival 2004
Ronald Reagan`s Life in Pictures
ST Family
Sonia Gandhi and Gandhi Clan
Taj Mahal Photo Gallery
Ukrainian Embassy
World War Two
Photo Gallery of World Newspapers/Media
Times of India
Hindustan Times
SantaBanta.com
Straights Times (Singapore)
Chicago Sun-Times
Moscow Times