Embassy Events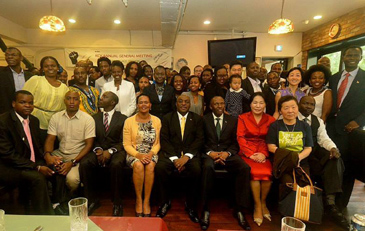 Kenyans in S. Korea Celebrate Life, Times of Their Outgoing AmbassadorKenyans in South Korea gathered for a special Annual General Meeting on Sept. 27, 2014 at Ankara Palace Restaurant in Seoul. The meeting was special because Kenyans from all over Korea were bidding farewell to their Ambassador Ngovi Kitau. Ambassador Kitau has been Kenya's ambassador to South Korea for the past five years and he is credited for numerous achievements regarding Kenya-Korea bilateral relations.

The life and times of Ambassador Kitau was well captured in Jambo Kenya Korea, a newsletter for Kenyans in Korea which was specifically designed as a souvenir for the outgoing ambassador. The newsletter carried the title, "Our Outstanding Envoy: Ngovi Kitau" and also published several articles and an exclusive interview. Perhaps the best way to understand the man that Kenyans in Korea as so proud of, is through Ambassador Kitau's last interview with Christine Kathurima, a senior editor of Jambo Kenya Korea.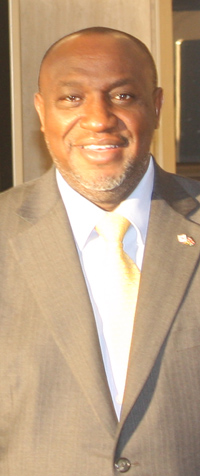 Kenyan Ambassador to Seoul Ngovi Kitau

Briefly introduce yourself: My name is Kitau and I'm 54 years old. I've been in Korea for five years now. I am married and we have three children, two of whom are in Nairobi and one lives with us here in Korea. My back ground is in the automobile industry. I started my career in the oil industry and moved to the automobile industry and then went into diplomacy. I was born Kitui, Kenya. That was in 1960 therefore I'm a little bit ahead of Kenya in term of when Kenya became independent (Kenya became independent in 1963).

What was your childhood like? It was not easy in those days. I remember vividly when I went to school in our hometown we were the first generation to go to what was then known as nursery school or kindergarten. At that time, grown up men with beards enrolled to nursery and I was not only the youngest but the smallest. I was forced to stay in kindergarten for three years because the opinion of many, I was still underage. I don't regret because the experience laid a good foundation. For the next seven years I was able to maintain the 1st position three times a year.

Where did you go to school and what did you major in? I went to Lenana School and I was there for six years. I did my 'O' levels like everybody else at the time. Then for my 'A' levels I did Mathematics, Physics and Chemistry. I later opted to join Kenyatta University for a Bachelor of Education in Science where I majored in Physics and Mathematics. From there I did several other trainings including, diploma in Sales, Business Administration, Marketing and MBA (although I did not do the thesis). After graduation, I probably took 20 other certificate courses in various fields, including Journalism. I've published more than 100 articles globally.

As a young person did you always have dreams and aspirations of being a diplomat?

My dream was... I didn't know what terminology to use but my dream was to make a difference for Kenya. Before becoming a diplomat, I was the Sales & Marketing Manager for East and Central Africa and I was able to do so much for so many countries, except Kenya. After my involvement in a high ranking meeting during India-Africa Summit I realized that I could contribute to my country.

What was the impetus for establishing a Chancery here? Kenya started diplomatic relations with Korea way back on Feb 7, 1964 – that relationship was signed between the late Park Jong Hee and President Jomo Kenyatta but after signing that they agreed each can open an embassy or chancery in each other's capital. Korea went ahead and did that but Kenya did not open a chancery here, they continued to oversee Korea from Japan until July 2007. That is the time Kenya came with the 'Look East Policy' where Kenya felt that the experience and the

knowledge in the East was closer to the needs of Kenya and Africa – which made a lot of sense because if you look at a country like Korea, they have seen absolute poverty like we have, they've crossed the bridge and they knew what works. I came in 2009 – as the first ambassador because of my background in business since Kenya moved on to Economic Diplomacy. We started looking at how tourism was progressing but there were some interruptions in our development in 2008. Well, after an assessment, we saw that Kenya-Korea relationship was not optimal. We discovered two 2 reasons why: Firstly, there had not been senior-level interaction between Kenya and Korea. We initiated discussion and we got the Korean Prime Minister to visit Kenya in July 2012 and the Kenyan counterpart came to Korea in November, same year.

Then things started picking up. Korea's Speaker of the National Assembly went to Kenya and his counterpart come to Korea and a lot of things have taken place since then. The second challenge facing the relationship was communication. It took us two years to convince Korean Air that it is safe and intelligent to fly to Kenya. When that was realized, a lot of things moved very quickly. Tourism rose from 4,000 to close to 10,000 arrivals a year. Trade also picked up momentum although it is heavily skewed. It's almost one way but Kenya exports to Korea increased form 5.5 million to almost 30 million last year. Then Korea's investments to Kenya have tripled. In a nutshell, that's the situation came out of establishing those two initiatives.

Could you share a few milestones that the Kenyan embassy in the Republic of Korea has achieved during your leadership? In addition to that trade and tourism, we have signed three treaties that are most important to this relationship especially if we are going to take the relationship to the next level. As we speak, we have Ambassador Gathogo Chege who is coming from Trade background with a lot of experience and in a time when we have singed the treaties.

The first treaty is 'Promotion and Protection of Investment.' This is additional to the fact that Kenya has a constitution which guarantees investments; Kenya is a member of the Multilateral Investment Agency of the World Bank. In addition, Kenya is a member of the Committee on Trade Disputes, based in New York. We signed a bilateral – both at international level, Korean level and Kenyan level any investment by a Korean in

Kenya or by a Kenyan in Korea is fully protected – and that's a very, very important treaty. The second one, which is also significant, is 'Avoidance of Double Taxation' because that has been a challenge for investors. Where do you pay tax? Do you pay tax in Kenya or do you pay in Korea? In most cases, you ended up paying in both but that has been sorted out in this treaty. The third one is the 'framework of grant aid', as to how we're going to work together in Official Development Aid, ODA. That has come at a very important time where we feel the Korean model of industrialization is crucial to Kenya. There are two important elements that need to be put in place. One, a master plan for industrialization at a national level. With that, we've requested $4 million to prepare the master plan and as I talk to you, it's gone through KOICA level, the Ministry of Foreign Affairs, and it's now at the Ministry of Strategy of Korea. On the Kenyan side, the Ministry of the Treasury has said it's in order.

As soon as we get the master plan for industrialization we have a framework/ pilot clusters – as we want to base that on Gumi, which is more like what we need. It's a challenge but it's manageable. We need about 2,000 acres of land to start that cluster – that's about 8 kilometers square of land and that will be the pilot and I believe it's going to work The second one is that we need institutions for shaping focus to Science & Technology. You know MIT in America, Korea's equivalent is called KAIST (The Korean Institute for Science & Technology) - we have already made a proposal for KAIST Kenya and it will cost us $78 million to make it happen. We've had the 1st meeting in Kenya, the 2nd meeting has taken place in Korea, the third meeting will take place in Kenya and the completion time should be around February next year. I believe with KAIST in Kenya, knowledge sharing and knowledge transfer from Korea will be complete. Keep in mind that in this pilot for the Gumi complex we already have 100 Korean companies interested in investing in Kenya. We need somebody to produce personnel, human resources and that is why the timing of KAIST is very important. It has to move hand in hand with the pilot of industrialization. I just focused on the economic side.

What are the main challenges you faced as an Ambassador? Life is about problem solving, so we'll not focus on problems but on changing the challenges into opportunities, because that's what really matters. As I told you, I came from a private sector background and you are asking about issues of culture change. That has not been easy – it takes time for cultural change to occur. What I want to tell you and I also mentioned to Ambassador Chege, is the principal of management. In the private sector especially we believed that "good people are found". If you want capable people, you find them. "You don't change them – you find them". Meaning that if you want motivated people, you have to find them – you don't motivate them. That has been the challenge and that's why I'm happy with ambassador Chege because he has been found. I'm very comfortable that we will go to the next level. We've made a lot of ground in that area because it's an issue of knowledge sharing. We do have Korean students in Kenya now. We signed an MOU between Korea Foundation and University of Nairobi, several universities in Korea with Kenyatta University and Jomo Kenyatta. We also have an MOU with Korea University and Hanguk University so we do have Korean students in Kenya and Korean professors in Kenya all living together with their Kenyan counterparts and I believe that is the way to go.

You were passionate about working with and supporting Kenyans in Korea. What is your view of the Kenyan Community in Korea, KCK? I said that motivation has an intrinsic value, its indigenous, it comes from within. It comes from people who are committed to each other. People who desire to flourish and people who are able to cement their friendship – and that's where KCK comes in. The commitment of KCK members to each other, the desire of KCK members to flourish and the ability of KCK members to strengthen themselves and I'd like to say that KCK has grown a lot compared to where I found it. KCK was more of a social club. There was no interaction between KCK and the Embassy initially. It seemed hostile – no KCK member would sit where you are seated today.

No KCK member would be discussing anything like this but that is history now. The association now runs very professionally with clear leadership structure.

In addition, there is an effective communication channel among members across the cities. We have really moved forward. Today I see a KCK with members committed to support each other. I see a KCK where people want their friendship to flourish and I see a KCK where people want to be actively involved in cementing that friendship and with that we've seen KCK opening branches across Korea. I monitor the communications and it has been impressive in its frequency and impact. In fact I can see KCK, very soon, an association that is able to negotiate with a mayor or a governor – like other people do in Song-buk-dong – you negotiate with the governor to allow you to use part of that road every Sunday to sell your products, sell your foodstuff or hold a cultural event. I think KCK has become very strong; you have very committed members. Having observed such a significant transformation, one cannot fail to be impressed and support whenever necessary. I urge KCK to remain united, focused and professional it its undertakings. No doubt that you will all be successful.

Great leaders usually have unique driving force, or a set of principles that guide them. Could you please share your philosophy?

I will answer that question in two ways – at a personal level and at a national level. At a personal level, I strongly believe in success. The question is what is success then? Success is embracing a worthwhile goal and employing all your powers for achieving that goal. Yes, I do have that goal. At a national level, I strongly believe in trust-building because of the level of diversity of Kenya. I feel that is a lesson Kenya can learn from Korea. So when you look at what's happening in Korea, which I think we can share – is that, they are basing their trust on

Confucius. Confucius said that, without trust, there is no foundation for existence. If you look at that – let me use some commercial language, "why we need trust. What is trust for. Trust is an asset for cooperation and an indispensable element for prosperity. And you can look at cost as a social capital to eliminate the cost of mistrust and to promote efficiency – that's from an economic point of view. Let us look philosophically at what is Korea's President Park Geun Hye's trust politicking? The first politic of Park Geun Hye and her government is that they are aiming at coming up with an infrastructure of trust among the countries in North East Asia – to use that infrastructure to build high quality cooperation. One in the trust-building process in the peninsular – you can equate that to what is happening in Kenya. Secondly, is the peace initiative and cooperative in North East Asia. Then, you already heard of the Eur-Asia initiative. It's the same thing we are doing in Kenya. We are trying to get the country together – which we are doing very well in terms of nationalism, although the element patriotism is a big mission, but I think it's doable. East African community integration. We're working on a tripartite – the East African community, the COMESA and the SADDAC and we're trying to make one continent – just as the Euro-Asia initiative at a continental level. So I feel that we can learn the lesson of trust from Korea.
ST Photo Gallery
Photo News
Embassy Events
Econo People 2005
Fashion Images
New Movies
Travel Images
Nayan Sthankiya's Photo Features New
Abuses of Iraqi Prisoners of War
Academy Awards Photos 2004
Adolf Hitler
Aishwarya Rai-Indian actress
Buddha`s Birthday 2004
Cannes 2004 — 57th Cannes Film Festival
Choi Tae-Ji Photo Gallery
Comfort Woman Picture Gallery
Crown Prince Felipe of Spain
Dokdo Photo Gallery
Erotic Paintings of Hyewon and Danwon
Franz`s Art Exhibition
Gando Photo Gallery
Geisha in Japan
Gwangju Massacre
Jeju Island
Kim Jong-Il and Kim Il-Sung
Koguryo Murals
Korean War (1950-53)
Madonna
Miss Universe 2004
Miss World Contest 2003
Mt. Kumkang or Mt. Diamond New
Natural Beauty of Korea
Rape of Nanjing (Nanjing Massacre)
Rio Carnival 2004
Ronald Reagan`s Life in Pictures
ST Family
Sonia Gandhi and Gandhi Clan
Taj Mahal Photo Gallery
Ukrainian Embassy
World War Two
Photo Gallery of World Newspapers/Media
Times of India
Hindustan Times
SantaBanta.com
Straights Times (Singapore)
Chicago Sun-Times
Moscow Times