Embassy Events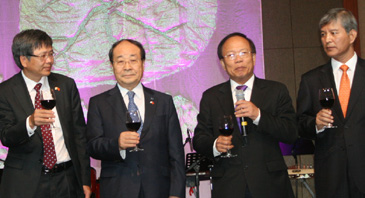 Vietnam, Strong Destination for TravelersTourism Minister Hoang Tuan Anh Visits S. Korea

"Both Vietnam and South Korea have long history and I want to develop already cordial mutual ties even further," said Vietnamese Tourism Minister Hoang Tuan Anh when he was in Seoul recently.

He made the remarks at a gala dinner held held on Sept. 17 at the Lotte Hotel in downtown Seoul on the occasion of "Vietnam Tourism and Culture Festival 2014."

Mr. Hoang Tuan Anh is the minister for culture, sports, and tourism of the Socialist Republic of Vietnam. He also serves as president of the Vietnam Olympic Committee.

"We want to attract more Korean tourists to Vietnam," the Vietnamese minister said. "We would like to develop the bilateral ties based on the strategic partnership formed years ago"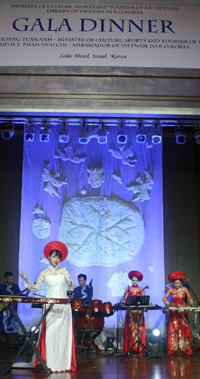 Gala dinner reception held at Lotte Hotel in Seoul on Sept. 17, 2014 on the occasion of its national day

The dinner event thrown by the Vietnamese Ambassador to Seoul Pham Huu Chi as part of the "Vietnam Tourism and Culture Festival 2014" drew some 200 guests from political, business, and tourism sectors of both Vietnam and South Korea.

Among the guests were several top foreign envoys and their spouses including Russian Ambassador to Seoul Konstantin Vnukov and his wife Madam Yulia Vnukova.

Various kinds of traditional Vietnamese dances and other cultural performances captivated the guests during the gala dinner.

Earlier in the day the "Vietnam Tourism Forum" was held at the same hotel with the theme of "Vietnam Tourism Potentials and Golf Tourism." The minister attended the forum as well.

"This annual Vietnam Tourism and Culture Festival is aimed at introducing to the local Koreans various cultural aspects of Vietnam," Minister Anh added.

Prior to the tourism seminar and gala dinner on the day the Vietnamese minister met with his South Korean counterpart, Mr. Kim Jong-Deok, minister of culture, sports, and tourism and discussed with him the ways of promoting mutual cooperation and exchanges.

On Sept. 18, 2014 the Vietnamese minister and his delegation visited South Korea's cultural city of Gwangju for a variety of cultural performances at the city. The minister met with Gwangju Mayor Yoon Jang-Hyun for talks to promote tourism and cultural exchanges.

The number of Koreans visiting Vietnam has been on a sharp increase in the past decade or so.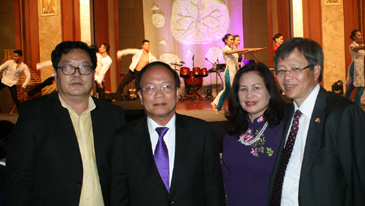 Vietnamese Tourism Minister Hoang Tuan Anh (2nd from left poses with Vietnamese Ambassador Pham Huu Chi (right), and with the envoy's wife Mrs. Pham at its reception held at Lotte Hotel in Seoul on Sept. 17, 2014 on the occasion of its national day. At left is Managing Editor Joseph Joh of The Seoul Times.



In 2007 more than 400,000 South Koreans travelled to Vietnam. But three years later the number of South Korean visitors increased to 520,000.

In 2013 over 700,000 South Koreans visited Vietnam. In the same year over 100,000 Vietnamese visited South Korea.

South Korea has emerged as one of Vietnam's six strategic cooperation partners.

In 2011 South Korea became the largest investor in Vietnam with over 25 billion US dollars in over 2,500 projects.

Two years earlier the bilateral trade volume reached 13 billion US dollars, making South Korea Vietnam's fifth largest trade partner.

Also South Korea is Vietnam's second largest ODA donor country with 300 million US dollars in 2010 and 411.8 US dollars in 2011, respectively.

Presently, more than 100,000 Vietnamese people are living, working, or studying in South Korea.

About the same number of South Koreans are living or working in Vietnam.
ST Photo Gallery
Photo News
Embassy Events
Econo People 2005
Fashion Images
New Movies
Travel Images
Nayan Sthankiya's Photo Features New
Abuses of Iraqi Prisoners of War
Academy Awards Photos 2004
Adolf Hitler
Aishwarya Rai-Indian actress
Buddha`s Birthday 2004
Cannes 2004 — 57th Cannes Film Festival
Choi Tae-Ji Photo Gallery
Comfort Woman Picture Gallery
Crown Prince Felipe of Spain
Dokdo Photo Gallery
Erotic Paintings of Hyewon and Danwon
Franz`s Art Exhibition
Gando Photo Gallery
Geisha in Japan
Gwangju Massacre
Jeju Island
Kim Jong-Il and Kim Il-Sung
Koguryo Murals
Korean War (1950-53)
Madonna
Miss Universe 2004
Miss World Contest 2003
Mt. Kumkang or Mt. Diamond New
Natural Beauty of Korea
Rape of Nanjing (Nanjing Massacre)
Rio Carnival 2004
Ronald Reagan`s Life in Pictures
ST Family
Sonia Gandhi and Gandhi Clan
Taj Mahal Photo Gallery
Ukrainian Embassy
World War Two
Photo Gallery of World Newspapers/Media
Times of India
Hindustan Times
SantaBanta.com
Straights Times (Singapore)
Chicago Sun-Times
Moscow Times