Embassy Events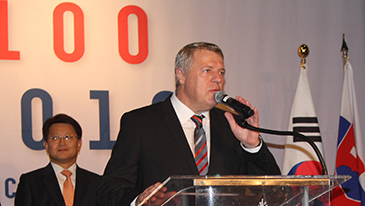 100th Anniversary of Independent Czechoslovakia Observed in Seoul, KoreaSlovak Ambassador Milan Lajčiak Hosts Reception

Slovak Ambassador to South Korea Milan Lajčiak and his spouse Madam Elena Lajčiaková hosted a reception in a Seoul Hotel in downtown Seoul on Oct. 30, 2018 on the occasion of the 100th anniversary of independent Czechoslovakia as a common state of Czechs and Slovaks.

The dinner reception was co-hosted by Czech Ambassador to South Korea Tomáš Husák and his wife Madam Margita Husáková.

The dinner reception took place at 6 p.m. on the day at the Grand Ballroom of the Four Seasons Hotel in Seoul's Gwanghwamun area, drawing a number of both local Korean and international guests including scores of top foreign envoys and their spouses.

Oh behalf of South Korean government came Mr. Park Sang-Hoon, deputy minister for public diplomacy, who delivered a congratulatory speech.

Slovak Republic came into being on Jan. 1, 1993 when the former Czechoslovakia split into the Czech Republic and Slovakia. The constitution of Slovakia was adopted in Bratislava on Sept. 1, 1992, making its Constitution Day the National Day of Slovak Republic.

Slovakia established diplomatic relations with South Korean in 1993. Slovakia also opened official ties with North Korea in the same year.

One year earlier before official relations, both Slovakia and South Korea signed an agreement for avoiding double taxation.

In 1995 Both Slovakia and South Korea signed a visa-free agreement, and an agreement for investment security. In 1989 both countries exchanged a trade office.

High-level exchanges between two nations are on the increase in recent years.

Earlier this year in April of 2018 Slovak President Andrej Kiska visited South Korea. Four years ago in July of 2014 South Korea's Foreign Minister Yun Byung-Se visited Slovakia.

Bilateral trade volume between Slovakia and South Korea reached 2.950 billion US dollars. Slovakia imported 2.773 billion US dollars' worth of goods from South Korea whereas it exported to her some 177 million worth of goods. It exported such items as cars, computers, and TV sets while it imported auto parts, synthetic fiber, and glassware.

Slovakia received 1.360 billion US dollars of investment from South Korea.

A total of 24 major South Korean corporations are operating in Slovakia presently. The number of South Koreans living in Slovakia now amount to 1,000.

Who Is Milan Lajčiak?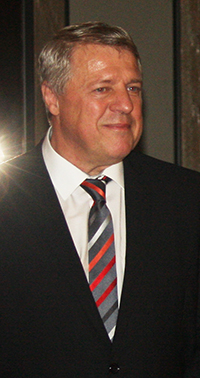 Slovak Ambassador to S. Korea
Milan Lajčiak

Slovak diplomat Milan Lajčiak, expert on China, has been serving as Slovak Ambassador to South Korea since September of 2014 he was appointed as the post.

He spent up to a decade as a Slovak diplomat in China's Beijing and Shanghai, the largest city in China called "economic capital of China." It was also in Chinese capital that he started his first overseas mission.

Lajčiak is the fluent speaker of Chinese, Russian, English as well his native language of Slovak tongue.

He attended University of Economics in Bratislava from 1977 till 1978. He went on to Moscow University, majoring in international relations from 1978 to 1984. After that he graduated from Charles University in Prague in 1985 with a degree of JUDR, or Doctor of Laws.

Lajčiak started his diplomatic career in 1984. He served as an office at Asia Department of Ministry of Foreign Affairs of the Czechoslovak Socialist Republic for two years.

In 1986 he was sent to China to serve as an attaché at the Embassy of the Czechoslovak Socialist Republic in Beijing until 1989.

In 1990 he came back home to serve as a secretary at Foreign Committee of Slovak National Council in Bratislava, the capital of Slovakia. He served for two years there.

In 1992 he was sent to Shanghai, nicknamed as "the Pearl of the Orient" or "the Paris of the East." He served as acting consul general at the Consulate General of Czech and Slovak Federal Republic in Shanghai.

Between 1993 and 1996 he served in Beijing at Embassy of the Slovak Republic first as its chargé d'affaires and as a counsellor later.

He served as head of Office of Cabinet State Secretary of Slovakia's Ministry of Foreign Affairs from 1996 to 1997. It was deputy minister's post.

In 1998 he served as minister counsellor at the Embassy of the Slovak Republic in London, U.K.

And in 1999 he was appointed as the ambassador to Indonesia, and later Malaysia in charge of may Southeast Asian nations.

Milan Lajčiak was born on Sep. 28, 1958 in Liptovsky Mikulas, a small city with some 33,000 population, in northern part of Slovak Republic.

His hobbies including listening to music, traveling, and playing tennis. He is married and has two children.

Since he came to Seoul on Sept. 12, 2014 as the Slovak ambassador, he has been serving as one of the most active ambassadors in Seoul's diplomatic society.

As part of wide varieties of his activities, Slovak Ambassador Milan Kajciak appointed South Korea's master conductor Gum Nanse as the honorary consul of the Slovak Republic on July 24, 2017.

Maestro Gum Nanse, the first Korean winner of the covetous prize at the prestigious Herbert von Karajan Conductors' Competition in Berlin, is serving as the artistic director of the Hankyung Philharmonic Orchestra (HKPO). Gum also leads the Seongnam Philharmonic Orchestra as its general and artistic director.

Gum founded New World Philharmonic Orchestra and serves as its artistic director. He is also the principal of Seoul Arts High School.

For detail or inquiries please call the Slovak Embassy in Seoul at 794-3981.
ST Photo Gallery
Photo News
Embassy Events
Econo People 2005
Fashion Images
New Movies
Travel Images
Nayan Sthankiya's Photo Features New
Abuses of Iraqi Prisoners of War
Academy Awards Photos 2004
Adolf Hitler
Aishwarya Rai-Indian actress
Buddha`s Birthday 2004
Cannes 2004 — 57th Cannes Film Festival
Choi Tae-Ji Photo Gallery
Comfort Woman Picture Gallery
Crown Prince Felipe of Spain
Dokdo Photo Gallery
Erotic Paintings of Hyewon and Danwon
Franz`s Art Exhibition
Gando Photo Gallery
Geisha in Japan
Gwangju Massacre
Jeju Island
Kim Jong-Il and Kim Il-Sung
Koguryo Murals
Korean War (1950-53)
Madonna
Miss Universe 2004
Miss World Contest 2003
Mt. Kumkang or Mt. Diamond New
Natural Beauty of Korea
Rape of Nanjing (Nanjing Massacre)
Rio Carnival 2004
Ronald Reagan`s Life in Pictures
ST Family
Sonia Gandhi and Gandhi Clan
Taj Mahal Photo Gallery
Ukrainian Embassy
World War Two
Photo Gallery of World Newspapers/Media
Times of India
Hindustan Times
SantaBanta.com
Straights Times (Singapore)
Chicago Sun-Times
Moscow Times