Embassy Events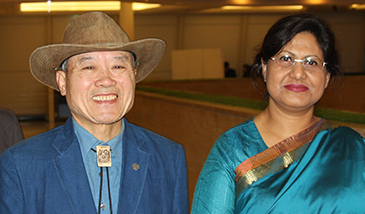 Han Sang-Cheol: Alpinist & Prolific Poet of SijoBank Official Becomes Alpinist and Mountain Poet

At the age of 71, he still enjoys mountain climbing. He used to be a serious alpinist scaling world's major peaks. He has been a highly productive poet of sijo, the three-verse traditional Korean poem. And his earthly vocation was a bank official.

"People should stop visiting mountains instead they should start visiting seaside to conserve the nature," Han Sang-Cheol emphasized in a recent interview with The Seoul Times. "Mountains have been polluted by so many mountain hikers"

He argued that nation's major mountains are getting contaminated by so many visitors to the mountains.

Indeed, South Koreans do love mountain hiking. Over weekends nearly every mountain in and around Seoul and other major cities get literally jam packed with a myriad of mountain hikers or holiday makers.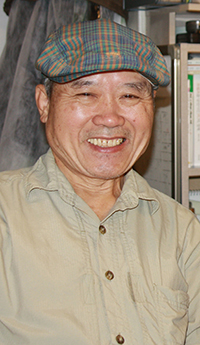 Poet Han Sang-Cheol is also a seasoned alpinist. He is the poet of Sijo (時調), the traditional three-line poem of Korea.

The other well-known mountains in the rural areas are also covered with countless number of visitors and holiday makers.

Out of 45 million of South Korea's population, more than 30 million of them consider them as the mountain hikers.

Han argued that the number of visitors to the mountain should be decreased to lower the level of contamination in nation's mountains.

"We should turn out attention to the seas because South Korea is the peninsula surround by the sea on three sides," Han stressed. "South Koreans should wake up to the importance and usefulness of the seas as a source of recreation"

Han went on to say that as the number of visitors to the sea grows the seaside village folks will get richer.

"They will spend money on the seaside villages as they visit the areas as the travellers," Han said.

His love of the mountain began in his mid-20s when he started working Kookmin Bank in Seoul.

"Back then Saturday was the half-holiday," he said. "I had to devote the whole day of Sunday to the mountain hiking"

Han became more serious about the mountains, joining nation's professional mountain clubs and associations.

He joined five well-known alpinist clubs in the nation including the authoritative Korean Alpine Federation (KAF) and the prestigious Himalayan Club of Korea and served its chairman or a director.


Poet Han Sang-Cheol (left) poses with Japanese Ambassador to S. Korea Yasumasa Nagamine at a recent diplomatic reception held in Seoul.



South Korea's alpine celebrities including Um Hong-Gil and the late Park Young-Seok were all members of the Himalayan Club of Korea. Han became a very close friends of them, often financing them for their overseas mountain climbing.

"It was Geosan Mountain Climbing Club that I met such great mountain climbers as Um Hong-Gil and the late Park Young-Seok," Ham recollected. "As you know the two are the world's famous mountaineers"

As a banking official Han provided both financial and spiritual support to such big-name climbers as Um and the late Park.

Han completed 1,500 times of mountain climbing by the year 2006. He visited Nepal and other neighboring countries 33 times for conquering world's highest peaks with his fellow climbers.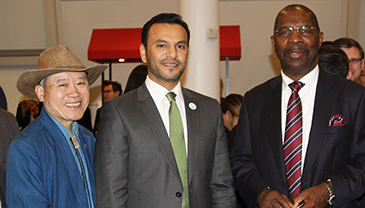 Poet Han Sang-Cheol (left) poses with UAE Ambassador to S. Korea Abdulla Saif Alnuaimi (center) and with Angola Ambassador to S. Korea Albino Malungo at a recent diplomatic recetion held in Seoul.



Whenever he was doing mountain climbing domestic or overseas, Han never forget to write sijo, the three-line traditional Korean poems.

So far Han has written a total of 1,300 sijo poems, publishing eight volumes. Most of his sijo poems are about mountains. He calls his sijo poems "mountain sijo."

Sijo (時調) is the traditional three-line poem of Korea that emerged in the middle of Goryeo period (918-1392) and flourished during the Joseon Dynasty (1392-1910). A handful of South Korean poets are still practicing the traditional poems.

Han has so far played a leading role in inheriting the sijo poems and in even developing them with his fellow sijo poets numbering in well over 50 or so.

For other hobbies Han practices tea ceremony, sipping all kinds of teas. He also grows and keeps indigenous Korean orchids.

After all, Han turns out to be the literary man who loves and respects nature.
ST Photo Gallery
Photo News
Embassy Events
Econo People 2005
Fashion Images
New Movies
Travel Images
Nayan Sthankiya's Photo Features New
Abuses of Iraqi Prisoners of War
Academy Awards Photos 2004
Adolf Hitler
Aishwarya Rai-Indian actress
Buddha`s Birthday 2004
Cannes 2004 — 57th Cannes Film Festival
Choi Tae-Ji Photo Gallery
Comfort Woman Picture Gallery
Crown Prince Felipe of Spain
Dokdo Photo Gallery
Erotic Paintings of Hyewon and Danwon
Franz`s Art Exhibition
Gando Photo Gallery
Geisha in Japan
Gwangju Massacre
Jeju Island
Kim Jong-Il and Kim Il-Sung
Koguryo Murals
Korean War (1950-53)
Madonna
Miss Universe 2004
Miss World Contest 2003
Mt. Kumkang or Mt. Diamond New
Natural Beauty of Korea
Rape of Nanjing (Nanjing Massacre)
Rio Carnival 2004
Ronald Reagan`s Life in Pictures
ST Family
Sonia Gandhi and Gandhi Clan
Taj Mahal Photo Gallery
Ukrainian Embassy
World War Two
Photo Gallery of World Newspapers/Media
Times of India
Hindustan Times
SantaBanta.com
Straights Times (Singapore)
Chicago Sun-Times
Moscow Times