Embassy Events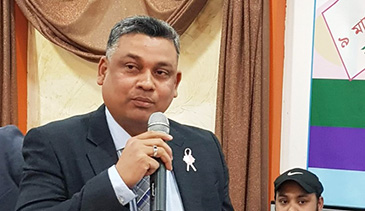 "You Will Get Opportunities Absolutely If You Work Harder than Others!"Bangladesh Businessman's Secrets of Success in Korea

"You will get opportunities absolutely if you work harder than others," a Bangladesh businessman says in recent interview with The Seoul Times.

The 48-year-old businessman emphasized the importance of the good ethics of hard work and sincerity while mentioning about his Korean dream he has made over the last 10 years or so.

Mr. Rafiqul Islam, president & CEO of "Grand JR Electric Company" in Gwangju City, Gyeonggi Province just south of Seoul, also serves as senior vice chairman of the Bangladesh people residing in South Korea "Bangladesh Awami League, South Korea."

He said that he worked harder than anyone here in South Korea in order to make a success as a business by using his major "electricity" and overcoming discriminations and other hurdles. The Seoul Times listened to him in the recent interview. Here are the secrets of his success in Korea.

Here is the full text of the questions and answers of his interview.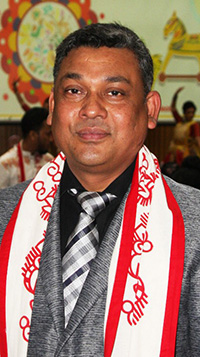 Mr. Rafiqul Islam, president & CEO of "Grand JR Electric Company"

Q1: First of all thank you very much for this interview. We also would to thank you for inviting a very meaningful event held at Seoul City Hall on April 14, 2019. What role did you play in this event? Could you tell us the characteristics and outcomes of this event?

A1: The event was hosted by the Bangladesh Embassy in Seoul and both Bangladesh nationals and local Koreans were able to enjoy this event celebrating the new year.

Q2: Could you tell us about your company "Grand JR Electrical Company?" What is the size of your company? What kinds of work do you do? Which services you and your company offer? Who are your customers? How many of your customers are Koreans or foreigners?

A2: I majored in electricity in Bangladesh. I came to Korea in 1999, starting electricity-related work. We, "Grand JR Electrical Company" have six full-time workers. Also about a dozen of free-lance workers are with us. We specialize in the electricity work at the exhibitions. We also do remodeling work, construction work, and other electricity work. Most of our customers are Koreans.

Q3: When and on what occasion did you establish your company and how did you develop it?

A3: I involved myself in the electricity work in the year 2001. It was about 10 years ago I set up my own private company. I turned it into a corporate body in June of 2017.

Q4: How did you come to Korea? Was there any reasons of your arrival in Korea? What did you do when you first got here?

A4: When I first came to Korea I was a traveler. My purpose was tourism. And I worked at the factory for a year. But soon I came to be involved in my own specialty. The electricity-related work as a part-timer soon.>

Q5: We believe that you have achieved a Korean dream. In the meanwhile we supposed that you have suffered from some difficulties including discrimination. How did you overcome it? When was your most difficult time?

A5: It was the most difficult part of my life that I had to live all alone without family and friends. I was not able to speak Korean language and Korean food was quite different to me when I first came here to Korea. Despite of such odds, I worked really hard to make a success in this beautiful country.

Q6: What advice do you want to give to Bangladesh folks who want to come to Korea to make a Korean dream? What message or advices do you wish to give to the young local Koreans or others in the world for their successful future?

A6: If you are honest and work hard you will get opportunities. You have to work really hard without any conditions. Without efforts, it is hard to achieve anything.

Q7: You are serving as vice chairman of the Bangladesh People in Korea. What is the official name of it? How many members there are in the association?

A7: The official name of our association is "Bangladesh Awami League, South Korea." And I am Senior Vice Chairman of Bangladesh Awami League South Korea. There are about 16,000 Bangladesh people living in South Korea including students and migrant workers.

Q8: What do you think are the advantages of Koreans? What are the demerits of the local Korean people and its culture?

A8: Korea is a very rich country. However, unlike other western countries, foreign workers are not easily accepted in the main stream business. Lack of cultural diversities in this country might be reason behind this. Fortunately, the new generations are very open minded towards the foreign cultures and accept them with open hearts. When I first arrived in Korea I was unable to speak Korean. The senior Koreans scolded me a lot for that. That was my unhappy memory.

Q9: Here in Korea you worked very hard, achieving your Korean dream. Congratulations. To maintain your health what kinds of exercise do you do? What are the sports or hobbies do you enjoy? Could you tell us about your family?

A9: I go to health club for my health. I am married to a Korean wife. We have one son aged nine.

Q10: What are you future plans in Korea or elsewhere?

A10: I will focus on my company in Korea, working even harder. If there are any good business chances in my own Bangladesh, I would like to make some investment for the development of my nation and people.
ST Photo Gallery
Photo News
Embassy Events
Econo People 2005
Fashion Images
New Movies
Travel Images
Nayan Sthankiya's Photo Features New
Abuses of Iraqi Prisoners of War
Academy Awards Photos 2004
Adolf Hitler
Aishwarya Rai-Indian actress
Buddha`s Birthday 2004
Cannes 2004 — 57th Cannes Film Festival
Choi Tae-Ji Photo Gallery
Comfort Woman Picture Gallery
Crown Prince Felipe of Spain
Dokdo Photo Gallery
Erotic Paintings of Hyewon and Danwon
Franz`s Art Exhibition
Gando Photo Gallery
Geisha in Japan
Gwangju Massacre
Jeju Island
Kim Jong-Il and Kim Il-Sung
Koguryo Murals
Korean War (1950-53)
Madonna
Miss Universe 2004
Miss World Contest 2003
Mt. Kumkang or Mt. Diamond New
Natural Beauty of Korea
Rape of Nanjing (Nanjing Massacre)
Rio Carnival 2004
Ronald Reagan`s Life in Pictures
ST Family
Sonia Gandhi and Gandhi Clan
Taj Mahal Photo Gallery
Ukrainian Embassy
World War Two
Photo Gallery of World Newspapers/Media
Times of India
Hindustan Times
SantaBanta.com
Straights Times (Singapore)
Chicago Sun-Times
Moscow Times