Embassy Events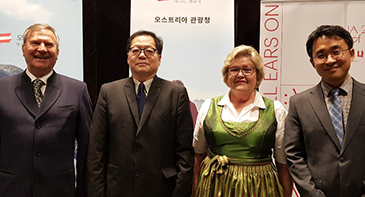 Austria's National Day Observed in SeoulAmb. Michael Schwarzinger Hosts Dinner Reception

A number of high-profile guests, both local and international, took part in the dinner reception hosted by the Austrian ambassadorial couple in a Seoul hotel in late October of 2019 on the occasion of its national day.

The dinner party, thrown by Austrian Ambassador to South Korea Michael Schwarzinger and his spouse Madam Rosemaria Schwarzinger, drew a host of number of both local Korean and international personalities including Austrian residents living in South Korea.

Among them were scores of top foreign envoys that included EU Ambassador Michael Reiterer. Madame Cho Hye-Ja, daughter in law of Madam Francesca Donner, wife of Soth Korea's founding President Shing-Man Rhee. Francesca was an Austrian national.
Again this year, the dinner reception was held at At JW Marriot Dongdaemun Hotel in downtown Seoul on Oct. 25 (Thursday), 2018 on the occasion of the Austrian National Day falling on October 26 every year since 1965.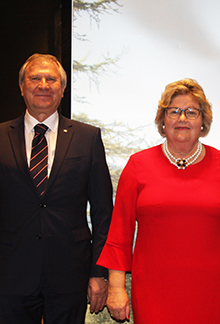 Austrian Ambassador to South Korea Michael Schwarzinger and his spouse Madam Rosemaria Schwarzinger

After WWII Austria was occupied by four Allied powers: Soviet Union, United States, Great Britain, and France. They divided Austria into four zones and its capital Vienna was also split into four. The whole Austria was controlled by the Allies.

But, the occupation ended by the Austrian State Treaty signed on May 15, 1955. On Oct. 26, 1955 the Austrian Parliament passed the constitutional law on permanent neutrality. And the day has been celebrated as the Austrian National Day since 1965.

By the treaty and its constitutional law on permanent neutrality, it cannot enter into any military alliances and any foreign military bases cannot be established on Austrian territory.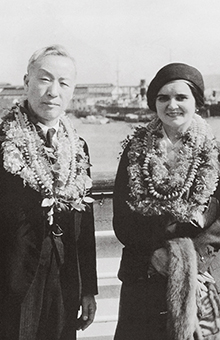 Then Korea's independence leader Syngman Rhee (875-1965) meets with Francesca Donner (1900-1992) in Geneva, Switzerland in 1933. Thy married in a New York hotel in 1934. A few years after Korea's liberation from Japan 1945, Lee became S. Korea founding president and Francesca, first lady.

The other neutral European countries are Switzerland, Sweden, Finland, and Ireland.

Austria established its official diplomatic ties with South Korea on May 22, 1963. It also opened official ties with North Korea in the same year.

Since then, mutual relations between Vienna and Seoul have been on the steady rise. The two nations have formed various agreements on trade, visa, and investment.

The exchanges of high-level personnel between the land-locked Austria and South Korea have been active particularly in recent years.

In May this year (2018), South Korea's Prime Minister Lee Nak-Yeon visited Austria whereas Austrian Vice Chancellor Heinz-Christian Strache came to Seoul three months earlier.

The bilateral trade volume reached 2.570 billion US dollars in 2017. Major import-exports items include semiconductors, automobiles, auto parts, TVs, and regenerated fibers.

Austria invested some 200 million US dollars into South Korea whereas South Korea's investment into the European country amounted 2.6 million US dollars.

As of 2017, a total of 2,553 South Koreans or people of its origin are living in Australia. Among them 440 people are holding Austrian citizenship.

However unofficial ties harks way back to early 1930s when Francesca Donner (Peurancheseuka Doneo: 1900-1992), a daughter of a wealthy Austrian businessman, met Korean politician Syngman Rhee in Vienna and married him soon.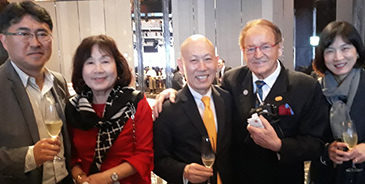 General Manager Bernhard Brender (2nd from right) of Grand Hilton Seoul poses with Millennium Hilton Driector Kim Jung-Ki (center), Representative Nancy Choi (2ndfrom left) of Salzburger Land Tourism at the reception of Austria's national day.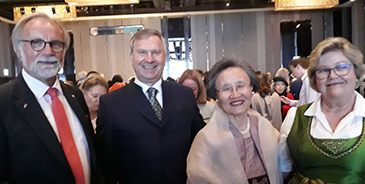 Austrian Ambassador to South Korea Michael Schwarzinger (2nd from left) and his spouse Madam Rosemaria Schwarzinger (right) pose with EU Ambassador Michael Reiterer (left). Second from right is Madame Cho Hye-Ja, daughter in law of Madame Francesca Donner, wife of late President Syngman Rhee.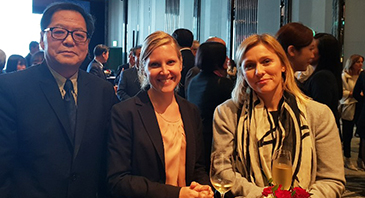 Ms.Anna Huovia, deputy of head of mission and ounsellor (center) of Embassy of Finland in Seoul poseswith Ms. Veslemoy Lothe Salvesen (right), deputy of head of mission and ounsellor of Norwegian Embassy in Seoul. At left is Mr.Joseph Joh, publisher of The Seoul Times.



It was in 1933 she met Dr. Rhee, who later became the first and founding president of the Republic of Korea. She became first lady.

But, back then Dr. Rhee, Korean independence fighter living in the US, was visiting Europe to attend a Viennese political gathering. They met in a restaurant. Soon Dr. Rhee, at age 59, proposed her at 34. She followed him to Washington DC and then New York where they married the following year.

She graduated with a Ph.D. in languages from the University of Vienna. She worked at the League of Nations in Geneva as an interpreter before he met Dr. Rhee.
ST Photo Gallery
Photo News
Embassy Events
Econo People 2005
Fashion Images
New Movies
Travel Images
Nayan Sthankiya's Photo Features New
Abuses of Iraqi Prisoners of War
Academy Awards Photos 2004
Adolf Hitler
Aishwarya Rai-Indian actress
Buddha`s Birthday 2004
Cannes 2004 — 57th Cannes Film Festival
Choi Tae-Ji Photo Gallery
Comfort Woman Picture Gallery
Crown Prince Felipe of Spain
Dokdo Photo Gallery
Erotic Paintings of Hyewon and Danwon
Franz`s Art Exhibition
Gando Photo Gallery
Geisha in Japan
Gwangju Massacre
Jeju Island
Kim Jong-Il and Kim Il-Sung
Koguryo Murals
Korean War (1950-53)
Madonna
Miss Universe 2004
Miss World Contest 2003
Mt. Kumkang or Mt. Diamond New
Natural Beauty of Korea
Rape of Nanjing (Nanjing Massacre)
Rio Carnival 2004
Ronald Reagan`s Life in Pictures
ST Family
Sonia Gandhi and Gandhi Clan
Taj Mahal Photo Gallery
Ukrainian Embassy
World War Two
Photo Gallery of World Newspapers/Media
Times of India
Hindustan Times
SantaBanta.com
Straights Times (Singapore)
Chicago Sun-Times
Moscow Times