Embassy Events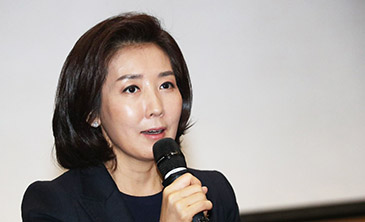 Rep. Na Kyung-Won, "S. Korea's Margret Thatcher," to Confront Lee Soo-Jin on April 15Madame Na at Forefront of Conservative Politics

South Korea's multi-term lawmaker, Na Kyung-Won, is running for her reelection in the National Assembly election slated for April 15, 2020. The judge-turned top conservative politician will vie liberal Lee Soo-Jin, who spent two decades as judge.

The two graduates of the elite Seoul National University will run in the Dongjak-Eul district of Seoul, representing the ruling Democratic Party and the main opposition United Future Party, respectively.

Opinion polls say the two politicians are doing nearly neck and neck although Rep. Na shows a light advantage over her new challenger.

However, the reform-minded former judge is up-and-rising politician called "dark horse" of the progressive ruling party according to the political pundits.

Situated right next to the affluent Seocho-gu districts, the Dongjak-Eul district is newly emerging as one of the key districts for both ruling and opposition parties alike.

The Dongjak-Eul district has been favorable to the liberal politicians traditionally as most residents are young voters.

But, the conservative political icon Rep. Na has been elected as lawmaker twice in recent years. She won at the 2014 by-election. And two years later she also got elected at regular National Assembly election.

Who Is Rep. Na Kyung-Won?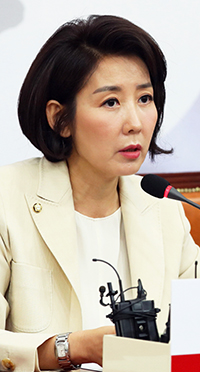 Rep. Na Kyung-Won

Rep. Na Kyung-Won is a South Korean four-term lawmaker who embraces the hard political attacks from the liberal politicians. The middle-aged politician's mild looks sharply contrasts with her tough political messages. Dubbed as "South Korea's Margaret Thatcher," Rep. Na has always been at the forefront of the conservative politics.

The judge-turned-politician has been a leading member of the main opposition conservative party "United Future Party (未來統合黨)," newly formed from the Liberty Korea Party, which was the harbinger of the Grand National Party or Saenuri Party. In South Korea politicians, both ruling or opposition alike, change their party names too frequently.

Na, the four-term congresswoman, became the first woman floor leader of then Liberty Korea Party, serving in its capacity from December of 2018 to December of 2019.

Na Kyung-Won was born on Dec. 6, 1963 in Seoul's Dongjak-dong area, South Korea. She was the oldest of four daughters born into a well-off family. Her father was the owner of Hongshin Academy that includes a kindergarten, a middle school, and a high school. Her ancestors were from Naju area of South Jeolla Province in South Korea.

She went through all of her schools in Seoul:
Gyeseong Primary School, Soongui Girl's Middle School, and Seoul Women's High School. In 1986 Na graduated from the prestigious Seoul National University (SNU), earning her bachelor of art, master's, and doctor's degrees from SNU with law major. Her PhD was on the international law.

She was at the top of her class of 557 students when in high school.

At age 30 Na took the cut-throat competitive bar exams in 1992, becoming a judge in 1995.
.
However, after four years of her life as a judge, she began to pay her attention to the politics. She began her political career working for one of the political big shots Lee Hoi-Chang who ran as a conservative candidate for presidency in 2002. She was the special aide for the unfortunate candidate.

In 2011 Na had a political chance to run for Seoul mayor. She ran for the Seoul mayoral by-election as then Mayor Oh Se-Hoon resigned his position as mayor. However, Na lost the election to the incumbent Mayor Park Won-Soon.

The multi-term lawmaker opted not to run 2011 National Assembly election over the political accusations from her political enemies over her husband's deeds.

But, she ran as a candidate for Dongjak-Eul district for July 2014 by-election, clinching a victory against the Justice Party's Roh Hoe-Chan.

Other than politics, Na has long been a leader of nation's sports field.

In 2005 Na started serving as the president of "Special Olympics Korea." She also became the president of the Korean Wheelchair Rugby Association in the following year.

From 2009 till 2013 Na had served as chairwoman of the Korean Paralympics Committee (KPC). In 2013 Na was elected as the leader of the International Paralympics Committee (IPC), being reelected in 2017.

Two years ago in December of 2018 Na became the first woman to be elected as the floor leader of the main opposition party in the history of South Korea's National Assembly.

It was in 2015 that Na was elected as chairwoman of Foreign Affairs and Unification Committee of South Korea's National Assembly. She was the first woman to be elected as the post in the history of South Korea.

Always at the forefront of political attacks from the liberal politicians and college students, Na has become a symbol of conservative politics in South Korea.

She has often been called "South Korea's Margaret Thatcher," Britain's first female prime minister nicknamed "Iron Lady" for her conservative and hard-line view of the politics. However Na displays much softer personal political attitude than the former British premier.

Former politician and now political commentator, Dr. Kim Dong-Gil, says of Na "Rep. Na is the virtuous politician with brilliant leadership to lead the future of South Korean politics."

"She is like South Korea's Margaret Thatcher," Dr. Kim praised Rep. Na in the past interview.

Although vociferous and manifest in her political views, Na has always been personally soft and gracious, according to her political supporters.

She has also been a victim of her political enemies over her children including her own daughter who is suffering from Down syndrome.
ST Photo Gallery
Photo News
Embassy Events
Econo People 2005
Fashion Images
New Movies
Travel Images
Nayan Sthankiya's Photo Features New
Abuses of Iraqi Prisoners of War
Academy Awards Photos 2004
Adolf Hitler
Aishwarya Rai-Indian actress
Buddha`s Birthday 2004
Cannes 2004 — 57th Cannes Film Festival
Choi Tae-Ji Photo Gallery
Comfort Woman Picture Gallery
Crown Prince Felipe of Spain
Dokdo Photo Gallery
Erotic Paintings of Hyewon and Danwon
Franz`s Art Exhibition
Gando Photo Gallery
Geisha in Japan
Gwangju Massacre
Jeju Island
Kim Jong-Il and Kim Il-Sung
Koguryo Murals
Korean War (1950-53)
Madonna
Miss Universe 2004
Miss World Contest 2003
Mt. Kumkang or Mt. Diamond New
Natural Beauty of Korea
Rape of Nanjing (Nanjing Massacre)
Rio Carnival 2004
Ronald Reagan`s Life in Pictures
ST Family
Sonia Gandhi and Gandhi Clan
Taj Mahal Photo Gallery
Ukrainian Embassy
World War Two
Photo Gallery of World Newspapers/Media
Times of India
Hindustan Times
SantaBanta.com
Straights Times (Singapore)
Chicago Sun-Times
Moscow Times