Embassy Events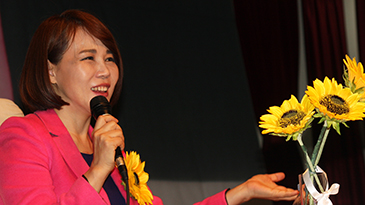 Dentist-Turned-Lawyer-Turned Lawmaker Practices Love in Gangnam Area of Seoul55-Year-Old High Brow Devotes Self to the Needy

Ms. Jeon Hyun-Heui, a dentist-turned-lawyer-turned lawmaker is poised again to gain her reelection in the affluent Gangnam Eul district, the conservative stronghold in Seoul.

For the past four years the high brow altruistic politician has been serving the relatively poor and working class urbanites.

Four years ago the reform-minded politician surprised the nation when she routed the mighty then ruling Saenuri Party candidate Rep. Kim Jong-Hoon, ex-trade minister in the 20th General Election held on April 13, 2016.

Among her achievements was the creation of the special law for victims of sterilizer within the humidifier. The law enabled the victims to receive compensations from the manufacturers. Nearly over 1,300 of 6,000 victims died of its aftermaths.

As part of her efforts for enhancing cultural activities of her residents, Ms. Jeon came up with a plan to build a "complex culture center" including a swimming pool and a library within Suseo area.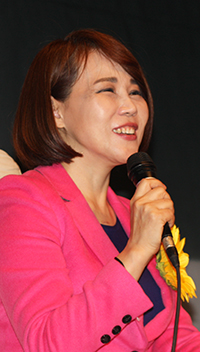 Ms. Jeon Hyun-Heui, dentist-turned-lawyer-turned lawmaker

Ms. Jeon became people's champion by winning their hearts. She helped rebuild and improve their aging apartments and other related facilities in Suseo-dong and Segok-dong areas.

Humble and thoughtful, Ms. Jeon has been rubbing her shoulders with average electorates on her turf, listening to their needs.

Four years ago before the National Assembly election, Ms. Jeon hosted her book signing event in the affluent Gangnam area of Seoul at the start of the general election.

Held at Residents' Hall of Daechi 2-dong in Gangnam-gu on Jan. 13 (Wednesday), 2016, the event drew a myriad of her friends, senior politicians, and media personalities as well as the villagers.

Among the high-profile participants were senior Rep. Park Jie-Won, senior politician Chung Dae-Chul, former US Congressman Kim Chang-Jun, and alpinist Um Hong-Gil.

During her book signing ceremony dubbed "Jeon Hyun-Heui Book Concert" then 51-year-old politician was lauded by the senior politicians who appeared on her stage.

"Jeon is widely received as a role model for middle-aged women in the Gangnam area," said Park, who served as chairman of the main opposition party. "They want to rear their daughters to become a figure like Jeon"

"She is really dedicated to helping the poor and needy people," Park added. "She is a warm-hearted politician ready to shed tears toward them"

"Jeon is the very righteous politician that I know of," commented Chung, who is her political mentor. "She is worth being trusted as the reliable politician"

Rep. Park is three-term opposition lawmaker while Chung served as opposition lawmaker five times in the past.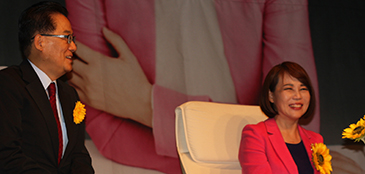 Ms. Jeon Hyun-Heui (right) is being praised by senior statesman Park Jie-Won in her book signing ceremony held in Seoul on Jan. 13, 2016.



"She is really dedicated to helping the poor and needy people," Park added. "She is a warm-hearted politician ready to shed tears toward them"

Korea-born former US Congressman Kim Chang-Jun, also known as Jay Kim, came to her event all the way from the United States to praise and encourage her.

Kim became the first Korean-American congressman in 1992 when he was elected to the House of Representatives on the ticket of Republican Party.

"Jeon is the genuine politician and she is always willing to offer a helping hand to the needy," Kim praised her. "I used to hobnob with Jeon when she was in the States"

"She decided to become a politician on the occasion that she helped leukemia patients some 10 years ago as a lawyer," added Kim. "She chose to spend her life for the underprivileged folks"

In her newly released book "Not to Be Weary in Life" Ms. Jeon revealed that being a politician is her calling and fate.

"I made up my mind to spend the rest of my life for others," she spoke to the audience. "I was in deep sorrow a year ago when I lost my husband in the traffic accident"

"I lost all hopes for a little while after my husband was killed in the tragic traffic accident," she continued. "But soon I realized that there are so many people out there who need my help"

"This is why I am running for this general election," she added.

As aforementioned, Ms. Jeon defeated one of the conservative big shots, ex-Trade Minister Kim Jong-Hoon in 20th General Election for National Assembly, taking the whole nation by surprise.

Ms. Jeon Hyun-Heui, the beautiful and mild-mannered multi-term lawmaker was dentist, and lawyer before she became the politician in 2008.

In that year she was elected lawmaker on the ticket of then main opposition Democratic Party for the 18th National Assembly.

Soon she was appointed floor leader and spokeswoman of the party.

Born in scenic port of Tongyoung, South Korea's Naples, on Nov. 4, 1964 she grew up in the southern coastal cities of Tongyoung and Busan.

After graduation from high school in Busan she went to prestigious Seoul National University's Dental School. She also graduated from the Law School of Korea University.
ST Photo Gallery
Photo News
Embassy Events
Econo People 2005
Fashion Images
New Movies
Travel Images
Nayan Sthankiya's Photo Features New
Abuses of Iraqi Prisoners of War
Academy Awards Photos 2004
Adolf Hitler
Aishwarya Rai-Indian actress
Buddha`s Birthday 2004
Cannes 2004 — 57th Cannes Film Festival
Choi Tae-Ji Photo Gallery
Comfort Woman Picture Gallery
Crown Prince Felipe of Spain
Dokdo Photo Gallery
Erotic Paintings of Hyewon and Danwon
Franz`s Art Exhibition
Gando Photo Gallery
Geisha in Japan
Gwangju Massacre
Jeju Island
Kim Jong-Il and Kim Il-Sung
Koguryo Murals
Korean War (1950-53)
Madonna
Miss Universe 2004
Miss World Contest 2003
Mt. Kumkang or Mt. Diamond New
Natural Beauty of Korea
Rape of Nanjing (Nanjing Massacre)
Rio Carnival 2004
Ronald Reagan`s Life in Pictures
ST Family
Sonia Gandhi and Gandhi Clan
Taj Mahal Photo Gallery
Ukrainian Embassy
World War Two
Photo Gallery of World Newspapers/Media
Times of India
Hindustan Times
SantaBanta.com
Straights Times (Singapore)
Chicago Sun-Times
Moscow Times