Embassy Events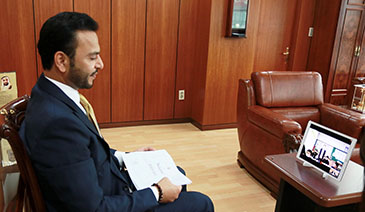 UAE Ambassador Abdulla Saif Al Nuaimi Chats Online with a Local Korean Elementary StudentUAE Envoy Makes Efforts to Overcome COVID-19 Fear

His Excellency Abdulla Saif Al Nuaimi, the ambassador of the United Arab Emirates to the Republic of Korea, held a virtual meeting with students of Gyerim Elementary School in Gyeongju, North Gyeongsang Province, on Oct. 16 (Friday), 2020, in response to a letter he received from one of the school students.

During the meeting, the ambassador gave an introductory presentation about the UAE and its culture and the country's tourist attractions as well as the cultural activities that the embassy carry out with various groups of Korean school students with the aim of introducing the culture of the UAE.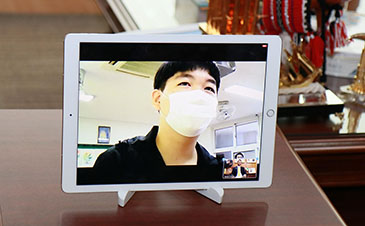 One of the students of Gyerim Elementary School in Gyeongju, North Gyeongsang Province in online conference with UAE Ambassador Abdulla Saif Al Nuaimi in Seoul, South Korea



Student Kim Yoo-hyun sent a letter to the ambassador in which he showed interest in learning more about the UAE and its culture and expressed his wish to visit the Gulf country in the future to sight-see its diversified tourist attractions and have in-site cultural experience.

The ambassador also presented to the student a "dallah," a traditional Arabic coffee pot used for centuries to brew and serve coffee, as a gift that symbolizes the UAE culture. He thanks the student for his interest in the UAE.

Who Is Abdulla Saif Al Nuaimi?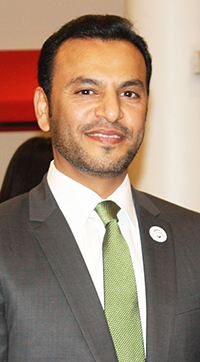 UAE Ambassador to S. Korea Abdulla Saif Al Nuaimi

H.E. Abdulla Saif Al Nuaimi serves as UAE ambassador to South Korea. He was appointed to this post in November, 2016. He specialized in economy particularly in capital investment before he became a UAE official.

He graduated from UAE University with a BS degree in Management in 1992. He completed several graduate courses in the United States and in France before he became UAE official.

Upon completion of his education overseas, he joined the Abu Dhabi Investment Authority (ADIA) as senior analyst specializing in the US market in 1992.

For fiver years between 1992 and 1997, he was in charge of analyzing US companies for investment opportunities and preparing recommendations for selling and buying shares.

In 1997, Al Nuaimi was transferred to the Privatization Committee for the Water & Electricity Sector in the Abu Dhabi Emirate. He was the director of Independent Water and Power Producers Projects (IWPP).

He became the first Emirati to preside over a unique UAE privatization enterprise aimed at producing water and electricity in one integrated project.

His success with the project was recognized with a number of awards, including the MENA Energy Sector's coveted Power Personality of the Year for 2014.

In 2011, he was appointed as managing director of the Abu Dhabi Water and Electricity Authority (ADWEA), where he continued to serve as an advisor.

He also served as chairman of the board for many public and private enterprises including the Abu Dhabi Distribution Company and Al Ain Distribution Company; the Abu Dhabi Transmission & Dispatch Company (TRANSCO); Abu Dhabi Water and Electricity Company (ADWEC); Al Wathbah Central Services Company; and Taweelah Asia Power Company (TAPCO).

He has served as vice chairman of the First Energy Bank; The Abu Dhabi National Energy Company; and the International Energy and Water Company, TAQA.

The UAE envoy has been a board member for Sohar Aluminium Company LLC; the Federal Electricity and Water Authority; Abu Dhabi Sewerage Services Company and Oman Insurance Company.

He was a member of the Follow-up UAE President's Initiatives Committee until 2014 and President of the Canadian Emirati Businessmen council.

Al Nuaimi was recommended for Abu Dhabi Excellence Award, administrative sector (2008/2009).

As of Oct. 19, 2020 he is serving as the UAE Ambassador Extraordinary and Plenipotentiary to the Republic of Korea. He has assumed the duty since November, 2016.

Al Nuaimi was in Al Ain, the UAE on Feb. 19, 1969. He is married and father to five children.
ST Photo Gallery
Photo News
Embassy Events
Econo People 2005
Fashion Images
New Movies
Travel Images
Nayan Sthankiya's Photo Features New
Abuses of Iraqi Prisoners of War
Academy Awards Photos 2004
Adolf Hitler
Aishwarya Rai-Indian actress
Buddha`s Birthday 2004
Cannes 2004 — 57th Cannes Film Festival
Choi Tae-Ji Photo Gallery
Comfort Woman Picture Gallery
Crown Prince Felipe of Spain
Dokdo Photo Gallery
Erotic Paintings of Hyewon and Danwon
Franz`s Art Exhibition
Gando Photo Gallery
Geisha in Japan
Gwangju Massacre
Jeju Island
Kim Jong-Il and Kim Il-Sung
Koguryo Murals
Korean War (1950-53)
Madonna
Miss Universe 2004
Miss World Contest 2003
Mt. Kumkang or Mt. Diamond New
Natural Beauty of Korea
Rape of Nanjing (Nanjing Massacre)
Rio Carnival 2004
Ronald Reagan`s Life in Pictures
ST Family
Sonia Gandhi and Gandhi Clan
Taj Mahal Photo Gallery
Ukrainian Embassy
World War Two
Photo Gallery of World Newspapers/Media
Times of India
Hindustan Times
SantaBanta.com
Straights Times (Singapore)
Chicago Sun-Times
Moscow Times