Embassy Events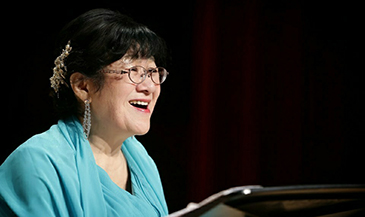 Authored by Prof. Kim Han of Dongguk Univ. "Listening to Shakespeare" Released in SeoulFor Those Visually Handicapped & Figuratively Blind

Madame Prof. Kim Han, professor emeritus of Dongguk University in Seoul, released her book "Listening to Shakespeare" on the occasion of the 457th anniversary of the birth of William Shakespeare (1564-1616).

The 200-page volume of Prof. Kim Han's latest masterpiece was published on May 7 (Friday) 2021 by the local printing company Dongin.

The "Listening to Shakespeare" was edited by Dr. Kim Sang-Mi, researcher of the Institute for English Culture Studies of Dongguk University.

Both translation of the lyrics of the songs and the interpretation of the meaning of the songs were contributed by two local Korean professors.

They are Honorary Prof. Kim Hae-Ryong of Hanil University & Presbyterian Theological Seminary, and Prof. Lee Young-Joo of Jangan University.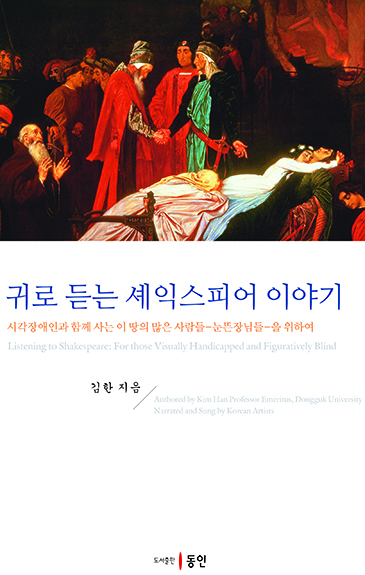 "Listening to Shakespeare: For Those Visually Handicapped and Figuratively Blind" authored by Prof. Kim Han of Dongguk Univ.



The 72-year-old expert on Shakespeare said that she wants to make people listen to the greatest dramatist of England instead of reading him.

"I decided to plan and author 귀로 듣는 셰익스피어 (Listening to Shakespeare for those visually handicapped and figuratively blind, Prof. Kim said."I want all the people to try and enjoy Shakespeare"

"Listening to Shakespeare" is her first volume that readers can enjoy listening to her book as well as reading it.

For the volume, Prof. Kim invited scores of local Korean singers and actors and actresses. The Korean classical musicians sang the famous songs from Shakespeare's dramas and actors narrated lyrics of the songs.

Prof. Kim taught Shakespeare on the campus of Dongguk University for nearly 34 years, serving as the editor of "Shakespeare Review" as well as the executive officer of the Shakespeare Association of Korea (SAK) for a number of years.

'"Listening to Shakespeare" is the gist of her expertises and experience accumulated for over three decades," commented Prof. Hwang Hyo-Sik, SAK president. "Her entire life was imbued into her volume"

Prof. Hwang is the dean of College of Humanities of Chungbuk National University.

He added that Prof. Kim Han's new book "Listening to Shakespeare" is meaningful in that the author is very considerate of others with eye problems.

In actuality, Prof. Kim's late father, who was an independence fighter, lost his eyesight in torture by Japanese imperialists.

He said that in the era of Shakespeare those who enjoyed dramas were listening to the actors as well as seeing them.

He explained that the spectators used to be and still are called "audience," emphasizing the importance of listening to rather than viewing.

"Back then, dramas were for listening to instead of viewing," he added.

"In the era of Shakespeare, people went to theatre in order' to listen to rather than to see,"argued an authority on the British dramatist. "and theatergoers were called audience rather than spectators back then"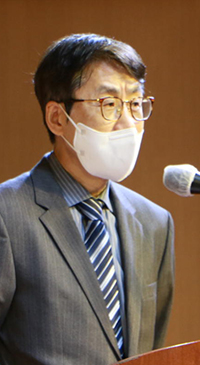 Prof. Park Woo-Soo of English at Hankuk University of Foreign Studies

Prof. Park Woo-Soo, an eminent scholar with profound knowledge of the Renaissance and playwrights of the 16th century England, leads the readers to penetrate into the essence of the culture of English Renaissance in his recent review on Prof. Kim Han's Listening to Shakespeare."

"Through the very informative and interesting book review we also meet the insightful and one of the most comprehensive minds — it is the mind of the author as well as of Shakespeare," he added.

He said that Prof. Han's new book is not only for her own deceased father, who lost eyesight, but also for the visually handicapped and figuratively blind readers and audience.

"Her approach is the first try of its kind in the history of Shakespeare Studies," he stressed. "She employed outstanding professional actors and actresses and opera singers to make her readers to listen to her book as well," he went on.

Prof. Park also serves as the editor in chief for the Journal of the English Language and Literature, the top and the representative journal in the field in South Korea.

Who Is Prof. Kim Han?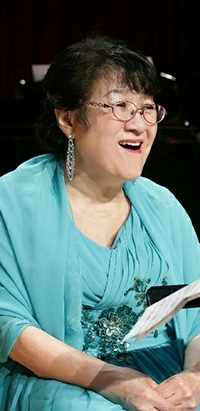 Prof. Kim Han of Dongguk Univ.

Madame Prof. Kim Han, professor emeritus of Dongguk University in Seoul, has produced thousands of students while serving as a faculty member of Dongguk's department of English literature over the last 34 years.

In particular she staged a number of dramas of English literature including Shakpeare's "Hamlet" and "As You Like It," "the Winters Tale," and John Millington Synge's "Rider to the Sea."

The English-language dramas staged by her and her students drew a huge attention from both its campus and from the society in general.

Staging one drama requires a year of meticulous preparations and hard training. In the process students' ability to speak the English language gets enhanced by leaps and bounds.

"When I was a freshman I took part in the drama Hamlet," I did the player's role," said Kim Mi-Haeng of the class of 1985. "I had to practice even on the weekend for the play and we all acted as if we were real actors"

Kim, director of an English teaching academy "SLP Eunpyeong," said that she still remembers and recites the phrases of Hamlet even after 20 years later.

"Prof. Kim is a true professor who trained us the hard way but we all loved her," Kim said.

Prof. Kim has been teaching on Dongguk campus since 1981. Dubbed the "authority" on Shakespeare in South Korea she has dedicated herself to the study of the "Swan of Avon" and to his dramas over the last four decades.

Her lecture on the national poet of England was not confined to the university campuses alone.

Prof. Kim is widely regarded as one of the most famous experts on Shakespeare in the nation.

Frequently she is asked to lecture on Shakespeare off campus. She wants to continue to preach about one of the greatest writers in human history even long after her official retirement in August of 2014.

Kim Han was born in Incheon west of Seoul on April 21, 1949. Her parents came to Seoul from Pyeongyang, North Korea. She grew up in Seoul.

Kim graduated from Ewha Women's University in Seoul in 1971. She received a master's degree in English literature in 1973.

Kim also graduated from the graduate school of the University of La Verne in the United States on the program of the International Peace Scholarship Student. She was the recipient of 1974 scholarship.

Kim served as a visiting professor at Cambridge University and at King's College London.

She also served as a visiting professor at Birmingham University's Shakespeare Institute in UK's Stratford-upon-Avon, the birthplace of Shakespeare.

Since 2005 Kim has served as the research professor at Folger Shakespeare Library in Washington DC.

Prof. Kim dedicated more than three decades at Dongguk University, teaching Shakespeare.

She has authored a dozen books by herself or in cooperation with others regarding Shakespeare and Greek dramas.

Her volumes include "Shakespeare's Story about Man and the Word," "English Renaissance Drama II," and "The World of Greek and Roman Drama," a recipient of an award from the Korean government.

Over the last three decades Prof. Kim has written over 50 theses on her areas of academic activities.

The following is the full text of all the participants in Prof. Kim Han's "Listening to Shakespeare."

Shakespeare's Story on Man and World (셰익스피어의 인간과 세상이야기)
Director (연출): Park Cheong-Euy (Cho-in Theatre)
Narration (Actor): Koh Dong-Up (Theatre of Sin-Hwa)
Narration (Actress): Lee Sang-Hee (Cho-in Theatre)
Narration (Actor): Kim Su-Won (BaeWooRi Company)
Narration (Actress): Lee Bit-Na (Free-lancer)

Listening to Songs and Music in Shakespeare's plays (귀로 듣는 셰익스피어 이야기)
Art Director & producer (예술감독, 기획) : Prof. Lee Kyu-Seong (Dongguk Universty Conservatory)
Music Director, Tenor Solo: Park Seung-Hee (Korea National University of Arts)
Baritone Solo: Roh Son-Ho (Seoul Women's University)
Soprano Solo: Jo Hye-Jin (College of Music Seoul National University)
cembalo: Kim Hyun-Ai (Chamber Orchestra of Seoul Motet Choir)
Recorder: Lee Hyo-Won (Korea National University of Arts)

Who's Shakespeare (셰익스피어, 그는 누구인가)
Director: Park Cheong-Euy (Cho-in Theatre)
Narration (Actress): Lee Sang-Hee (Cho-in Theatre)
Narration (Actor): Jeong Gwang-Deok (Cho-in Theatre)
Narration (Actor): Lee Dong-In (Cho-in Theatre)
Narration (Actress): Kim Seo-Yeon (Cho-in Theatre)
Narration (Actress): Han Da-Hee (Cho-in Theatre)
Narration (Actress): Jang Hee-Jung (Cho-in Theatre)
Narration (Actor): Eom Min-Uk (Cho-in Theatre)
Narration (Actor): Kim Young-Gun (Cho-in Theatre)

Recording, Mixing, Mastering: Lee Kun-Hee (A-tone Music)
ST Photo Gallery
Photo News
Embassy Events
Econo People 2005
Fashion Images
New Movies
Travel Images
Nayan Sthankiya's Photo Features New
Abuses of Iraqi Prisoners of War
Academy Awards Photos 2004
Adolf Hitler
Aishwarya Rai-Indian actress
Buddha`s Birthday 2004
Cannes 2004 — 57th Cannes Film Festival
Choi Tae-Ji Photo Gallery
Comfort Woman Picture Gallery
Crown Prince Felipe of Spain
Dokdo Photo Gallery
Erotic Paintings of Hyewon and Danwon
Franz`s Art Exhibition
Gando Photo Gallery
Geisha in Japan
Gwangju Massacre
Jeju Island
Kim Jong-Il and Kim Il-Sung
Koguryo Murals
Korean War (1950-53)
Madonna
Miss Universe 2004
Miss World Contest 2003
Mt. Kumkang or Mt. Diamond New
Natural Beauty of Korea
Rape of Nanjing (Nanjing Massacre)
Rio Carnival 2004
Ronald Reagan`s Life in Pictures
ST Family
Sonia Gandhi and Gandhi Clan
Taj Mahal Photo Gallery
Ukrainian Embassy
World War Two
Photo Gallery of World Newspapers/Media
Times of India
Hindustan Times
SantaBanta.com
Straights Times (Singapore)
Chicago Sun-Times
Moscow Times