Embassy Events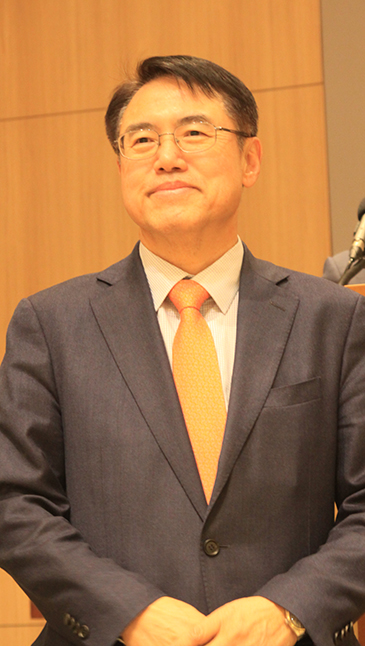 "Get Ready to Change, Adapt to Environment!"More than half century ago in 1960s there were Dongmyeong Timber Co. and Chungju Fertilizer Co. two of the 10 major business companies in South Korea.

Now the two companies stopped being existed, disappearing from our memories long ago.

Presently, South Korea's major companies are dominating domestic and global business scenes. Such business giants as Samsung, Hyundai, SK, and LG are boosting South Korea's image across the globe.

A question came into my mind. can they survive and be still dominant some 40 years from now?

The answer to the question is how they quickly and successfully adapt to the fast changing exterior environment.

The same is true in case of the United States as well. Once mighty corporations has disappeared into the history over the span of several decades or so.


| | |
| --- | --- |
| | Thomas Edison, Founder of GE — General Electric (GE) was called "Edison General Electric" in 1889 when Thomas A. Edison (1847-1931) founded the conglomerate. GE sold appliances to helped free America's housewives from the kitchen. In the 1980s, its CEO Jack Welch expanded GE into media and Wall Street. The "inventor of the light bulb" said "Genius is 1% inspiration, 99% perspiration." |


The only exception is GE (General Electric) founded by Thomas Edison some 130 years ago. The "inventor of the modern light bulb" co-founded GE in 1892 by merging his company "Edison General Electric Company" with Thomson-Houston Electric Company.

The American conglomerate has long kept its status as top company over the years before the start of the Internet era. GE, an American multinational conglomerate, is still placed at 21 among Fortune 500 companies.

Once GE was named the Most Admired Company in the World by Fortune Magazine. There are many factors that has kept GE as the major company thus far.

However, I would like to point out its will to adapt to the fast changing business environment.

Whether it is individual, business, school, nation they cannot succeed or even survive without the innovation or strong will to change for the better.

Particularly in this fast changing world no one or nothing can survive without change or innovation.
With the development of the technology, particularly telecommunication, internet technology, the world is changing by leaps and bounds.

In the 1960s Canadian scholar Marshall McLuhan coined the term "global village" to describe the future world "tied together into a single globalized marketplace and village" due to the development of communication technology.

In this global village, everything around you is changing rapidly. That is why we have to change in order not to lag behind. We should always be ready to change and adapt to the new environment!
ST Photo Gallery
Photo News
Embassy Events
Econo People 2005
Fashion Images
New Movies
Travel Images
Nayan Sthankiya's Photo Features New
Abuses of Iraqi Prisoners of War
Academy Awards Photos 2004
Adolf Hitler
Aishwarya Rai-Indian actress
Buddha`s Birthday 2004
Cannes 2004 — 57th Cannes Film Festival
Choi Tae-Ji Photo Gallery
Comfort Woman Picture Gallery
Crown Prince Felipe of Spain
Dokdo Photo Gallery
Erotic Paintings of Hyewon and Danwon
Franz`s Art Exhibition
Gando Photo Gallery
Geisha in Japan
Gwangju Massacre
Jeju Island
Kim Jong-Il and Kim Il-Sung
Koguryo Murals
Korean War (1950-53)
Madonna
Miss Universe 2004
Miss World Contest 2003
Mt. Kumkang or Mt. Diamond New
Natural Beauty of Korea
Rape of Nanjing (Nanjing Massacre)
Rio Carnival 2004
Ronald Reagan`s Life in Pictures
ST Family
Sonia Gandhi and Gandhi Clan
Taj Mahal Photo Gallery
Ukrainian Embassy
World War Two
Photo Gallery of World Newspapers/Media
Times of India
Hindustan Times
SantaBanta.com
Straights Times (Singapore)
Chicago Sun-Times
Moscow Times