Embassy Events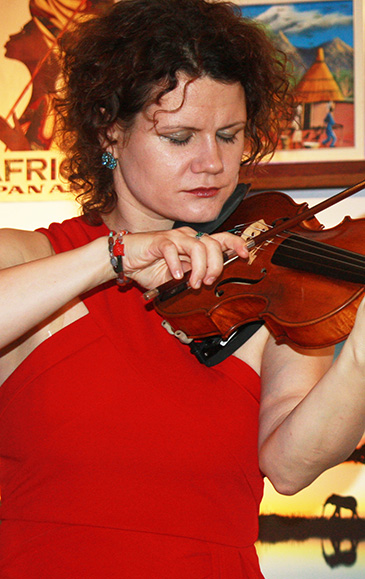 Eurasian Flow – Concertos and Music for Violin & OrchestraVictoria & Virtuosi

Renowned violin soloist, composer, and artistic director Viktoria Elisabeth Kaunzner of music ensemble UKOREVV "Universal Korean Organic Ensemble — Viktoria & Virtuosi" from Berlin
initiated a historic unique concert tour, "Eurasian Flow," of five German cities (Munich: Herkulessaal, Dresden: Palace of Culture, Berlin: Philharmonic, Hamburg: Laeiszhalle, and Neumarkt: Historic Reitstadel) plus a concert in the city hall in Viechtach (Bavarian forest) for the benefit of the Youth Orchestra of Ukraine in September and October 2022.

The concert marathon included six concerts in eight days. The members of the orchestra, UKOREVV — Viktoria & Virtuosi, were 30 outstanding musicians especially selected from 15 nations. Invited guest conductor was Juan Pablo Hellín of the Conservatorio Superior de Musica de Valencia, Spain, who was as an excellent interpreter of the music.

It was Kaunzner´s intention to found an ensemble of musicians between the ages of 18 and 45 with some at the beginning of their careers and others who were top prize winners or distinguished professors.


Viktoria Elisabeth Kaunzner performs.



Step by step, the ensemble was able to develop a homogeneous sound. Kaunzner envisioned that the tour would also serve as an educational experience with the younger musicians learning from older ones and from each other to create an inspirational and congenial atmosphere.

Viktoria Elisabeth Kaunzner performed every work on the program as soloist with orchestra, dedicated this international program to the 100th birthday of her legendary mentor, Ivry Gitlis
(1922-2020), and to the 60th birthday of composer Claudia Montero (1962-2021), who sadly passed away last year.

The program included three works composed and performed by Kaunzner: Saiga Antilope, a highly energetic and rhythmic powerful as well as melodic music accompanied by a
documentary silent film about the endangered Eurasian antelope. Next, Seidenstrasse (Silk Road) was performed and after the concert, it was displayed on a chocolate record.

Both Seidenstrasse and the following work, Jasmine Rice – an homage about the journey of a rice grain — included traditional Korean and Arab instruments such as Daegeum, Saenghwang, Oud, as well as improvisation.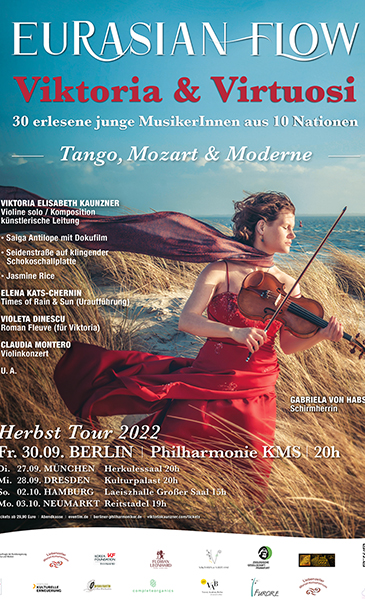 Viktoria Elisabeth Kaunzner performs with Berlin Phiharmonie.



A highlight on the program was the world premiere of the enchanting piece, Times of Rain & Sun by world famous Australian Elena Kats-Chernin scored for violin solo and orchestra,
including a Korean gayageum.

Elena Kats-Chernin says: "Times of Rain and Sun" for solo violin and ensemble was written for the incredible soloist Viktoria Kaunzner, who has inspired me immensely with her humanity, incredible searching mind, her musicality, virtuosity and velvety glorious violin sound. She is one rare pure talent that has impressed me from the moment I met her a few years ago. It was a privilege to have been asked by Viktoria to write for these 2022 EurAsian Flow concerts. I wanted to give Viktoria an uplifting, hopeful as well as joyful work."

Roman Fleuve, by Violeta Dinescu and dedicated to Kaunzner, is a violin concerto in which a soloist also sings and acts. During the performance, a fascinating calligraphed music manuscript
was projected on the wall. The third premiere was a Violin Concerto featuring the passion of tango by Claudia Montero. One work from the classical era was on the program: Mozart´s
Adagio in E major for violin and orchestra.

Kaunzner, for seven years, was the youngest Western professor in South Korea. Upon her return to Germany, she has been trying to develop an innovative, transcultural, interdisciplinary
yet classical way to integrate European, East-Asian, and Western cultures.

The patron of the tour "EurAsian Flow" was Archduchess Gabriela von Habsburg, sculptor, professor, and former ambassador from Georgia to Germany. Viktoria Elisabetz Kaunzner had
received generous funding provided by a top prize from the German Music Council, the Korea Foundation, the Munich Foundation for Cultural Renewal and the Frankfurt Zoological Society.

Viktoria Elisabeth Kaunzner hopes to perform the same formata in an Asian-concert tour in 2023. Fundings can be donated to UKOREVV via email to viktoriavirtuosi.de or mor info about
the tour at: https://www.viktoriakaunzner.com/tickets
ST Photo Gallery
Photo News
Embassy Events
Econo People 2005
Fashion Images
New Movies
Travel Images
Nayan Sthankiya's Photo Features New
Abuses of Iraqi Prisoners of War
Academy Awards Photos 2004
Adolf Hitler
Aishwarya Rai-Indian actress
Buddha`s Birthday 2004
Cannes 2004 — 57th Cannes Film Festival
Choi Tae-Ji Photo Gallery
Comfort Woman Picture Gallery
Crown Prince Felipe of Spain
Dokdo Photo Gallery
Erotic Paintings of Hyewon and Danwon
Franz`s Art Exhibition
Gando Photo Gallery
Geisha in Japan
Gwangju Massacre
Jeju Island
Kim Jong-Il and Kim Il-Sung
Koguryo Murals
Korean War (1950-53)
Madonna
Miss Universe 2004
Miss World Contest 2003
Mt. Kumkang or Mt. Diamond New
Natural Beauty of Korea
Rape of Nanjing (Nanjing Massacre)
Rio Carnival 2004
Ronald Reagan`s Life in Pictures
ST Family
Sonia Gandhi and Gandhi Clan
Taj Mahal Photo Gallery
Ukrainian Embassy
World War Two
Photo Gallery of World Newspapers/Media
Times of India
Hindustan Times
SantaBanta.com
Straights Times (Singapore)
Chicago Sun-Times
Moscow Times