Embassy Events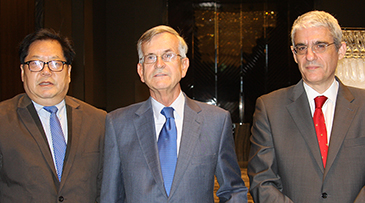 Spanish Ambassador Gonzalo Ortiz Marks Its National Day in SeoulSpanish Ambassador to South Korea Gonzalo Ortiz hosted a reception at JW Marriott Dongdaemun Square Hotel in downtown Seoul on Oct. 12 (Friday), 2018 on the occasion of its national day "The Fiesta Nacional de España."

Spain's national holiday or "The Fiesta Nacional de España" is celebrated annually on October 12, the day they commemorates the anniversary of Christopher Columbus' first arrival in the Americas.

Many other countries in the world also celebrate Oct. 12, 1492, the day when Columbus landed in the New World. The United States calls the day Columbus Day.

The dinner reception, held at the Grand Ballroom on the basement of the hotel, attracted a number of both local Korean and international guests including scores of top foreign envoys and their spouses serving in the capital city of South Korea.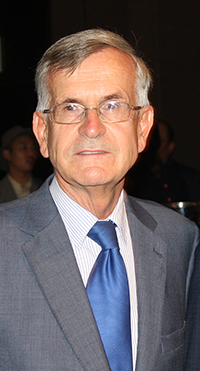 Spanish Ambassador to S. Korea Gonzalo Ortiz

Ambassador Ortiz has been quite active with his ambassadorial duty since his arrival in Seoul in 2014. He was appointed by his government as the new Spanish ambassador to Seoul in August in 2014.

As a career diplomat Gonzalo Ortiz has been serving a host of countries in Latin America, Asia as well as in Europe.

As an expert specializing in the free trade agreement (FTA) he has worked in European countries including Germany, dealing with bilateral economic ties with them. His positions included general deputy director.

He served as consul general in ío de Janeiro and in Sydney. He also served as vice president of the Spanish Section of the Permanent Hispanic-North American Committee.

He also served in such Asian countries as Japan, China, Vietnam, and India. He was the deputy head of mission at Spanish Embassy in India.

In 2002, he was appointed ambassador and served in Vietnam.

Gonzalo Ortiz was born in Madrid, Spain in 1948. He started his diplomatic career in 1973.

Spain established the diplomatic ties with South Korea in March, 1950, just three months earlier before the outbreak of the Korean War (1950-53). It opened the official ties with North Korea in 2001.

But the first contact between Spain and Korea harks all the way back to the late 1600s when a Spanish Jesuit priest Gregorio de Cespedes (1551-1611) visited the Korean Peninsula on a missionary work. He was the first Spanish to visit Korea.

He arrived in Busan, the southern port city, on Dec. 27, 1593, accompanying Japanese invasion forces commanded by Konishi Yukinaga, himself a Kirishitan (Christian) daimyō, at the height of the Hydeyoshi Invasion of Korea (1592-1598). He proselytize Japanese soldiers and Korean prisoners as well.

Spain is the 5th largest economy in Europe, only after Germany, England, France, and Italy, and world's 12th biggest economy. For South Korea too Spain is the strategic point to advance to Europe, Central America, and North African regions.

Spain imported 2.1 billion US dollars' worth of goods from South Korea in 2015. It stopped short of exporting to South Korea 1.16 billion US dollars' worth of goods.

Automobiles, auto parts, and pharmaceuticals are the main import items from South Korea whereas it exports to South Korea its abundant natural gas.

The bilateral trade volume has been on the steady rise since 2011 when it signed the free trade agreement (FTA) with South Korea.

Currently such South Korean companies as Samsung, LG, Ssangyong, Hyundai & Kia Motors, Korean Air, and Hanjin Shipping are operating in Spain. Smaller Korean companies are also very active in Spain.

Now, close to 4,000 Koreans are working, living, or studying in Spain and in its overseas territories
including Las Palmas. Among them are 700 who acquired Spanish citizenship.

Spain maintains sisterhood relations with six South Korean cities.

For details or inquiries call the Spanish Embassy in Seoul at 02-794-3581/2 or leave an Email at isabel.lee@maec.es
ST Photo Gallery
Photo News
Embassy Events
Econo People 2005
Fashion Images
New Movies
Travel Images
Nayan Sthankiya's Photo Features New
Abuses of Iraqi Prisoners of War
Academy Awards Photos 2004
Adolf Hitler
Aishwarya Rai-Indian actress
Buddha`s Birthday 2004
Cannes 2004 — 57th Cannes Film Festival
Choi Tae-Ji Photo Gallery
Comfort Woman Picture Gallery
Crown Prince Felipe of Spain
Dokdo Photo Gallery
Erotic Paintings of Hyewon and Danwon
Franz`s Art Exhibition
Gando Photo Gallery
Geisha in Japan
Gwangju Massacre
Jeju Island
Kim Jong-Il and Kim Il-Sung
Koguryo Murals
Korean War (1950-53)
Madonna
Miss Universe 2004
Miss World Contest 2003
Mt. Kumkang or Mt. Diamond New
Natural Beauty of Korea
Rape of Nanjing (Nanjing Massacre)
Rio Carnival 2004
Ronald Reagan`s Life in Pictures
ST Family
Sonia Gandhi and Gandhi Clan
Taj Mahal Photo Gallery
Ukrainian Embassy
World War Two
Photo Gallery of World Newspapers/Media
Times of India
Hindustan Times
SantaBanta.com
Straights Times (Singapore)
Chicago Sun-Times
Moscow Times