Embassy Events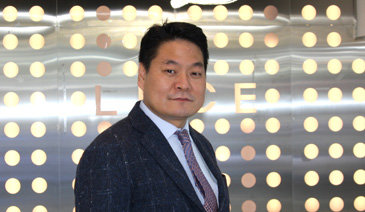 "Luce Cosmetics" to Cause a Great SensationCEO Han Seok-Sang to Revolutionalize Its Marketing

Luce Cosmetics, a new cosmetics outlet, will create a great sensation in the global cosmetics market in 2017, Han Seok-Sang, CEO of the company said recently.

"Amid a rapid globalization of the 'made-in Korea' cosmetics brands, Luce will build an international distribution system through the sales of domestic and foreign cosmetics products and offering of tourism convenience services at home and abroad for foreign tourists," said Han.

The up and rising business executive revealed his grandios plans for his future business at the interview with The Seoul Times he recently had at the spacious Lucent outlet at the UNESCO building in Myongdong in most downtown Seoul.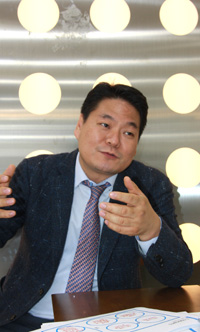 Luce CEO Han Seok-Sang interviewed by The Seoul Times

"We established Luce in 2013 with a paid-in capital of 3 billion won to export domestic and foreign cosmetics goods to foreign countries, including China, Southeast Asia, Vietnam, Myanmar and the Philippines," Han said.

Asked about the company's major business projects, Han said, "There are major five projects to be pushed for. The first is retail & wholesale and general distribution of cosmetics at home and abroad.

"Whenever I visited China, many Chinese people asked me about Korean-made cosmetics goods, showing keen interest in them. At that time, I have realized that cosmetics are emerging as a cash cow business.

According to the Ministry of Food and Drug Safety, the domestic cosmetics goods market reached 8.2 trillion won in 2015. Despite the MERS aftermath, Amore Pacific and LG Household Health Care surpassed 5 trillion won in an annual sales in 2015 respectively thanks to brisk sales in the Chinese market.

"Riding on the Hallyu wave (Korean wave), we plan to ship out domestic and foreign cosmetics goods to China and Southeast Asian countries.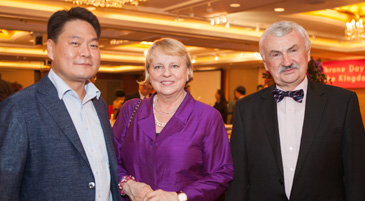 Luce CEO Han Seok-Sang poses with Polish Ambassador to Seoul Krzysztof Ignacy Majka at a recent diplomatic event in Seoul.



"Secondly, we will push for general trade and opening of franchise in the world's 131 countries. Thirdly, we will actively propel the piggy marketing through globally big distribution channels such as duty free shops, department stores and chain stores.

"Fourth, we will make a strong push for global online sales and construction of home shopping. And the finally, we will open the cosmetics broadcasting station in a bid to create profits through advertisements."

Noting that Luce combined the merits of duty free shops like Lotte Duty Free Shop and those of franchises such as Olive Young, Lobs and Watsons, Han said, "For instance, Luce is armed with the
competitiveness of world-famous brands at duty free shops and reasonable price competitive power of beauty store franchises.

"At the same time, we will build the global online and offline shops through franchise. We will bolster our purchasing power through mass purchase of domestic and foreign cosmetics goods and strive to minimize marketing, promotion and maintenance expenses to the maximum."

On the basic concepts, the born businessman who started a business at the age of 27, said, "The cosmetics outlet Luce pursues the construction of confidence through offline and convenience and low price through online.

"In particular, we are now operating a shopping mall and will soon open a cosmetics broadcasting station. Through the operation of the shopping mall and the cosmetics broadcasting program, we are now pushing for the franchise business with some 200,000 beauty parlors affiliated with National Cosmetology Association."

Commenting that Luce is aimed at becoming a global cosmetics brand outlet, he said, "To the end, we will secure 3,700 kinds of Korean cosmetic products from 500 Korean cosmetics makers and sellers, while seeking import or sales partnership with world-famous cosmetics producers.

"The cosmetics trend in the domestic market has been shifting from world-famous cosmetics brands such as Louis Vuitton to Korean-made ones such as Whoo and Sulwhasoo.

"For instance, the top three cosmetics brands at Lotte Duty Free Shop in Sogong-dong changed from Louis Vuitton, Chanel and Cartier in 2013 to Whoo, Sulwhasoo and Louis Vuitton in terms of sales amount.

"In 2013, Louis Vuitton topped the sales list of 93.1 billion won in 2013, followed by Chanel with 76.9 billion won and Cartier with 69.8 billion won. In the first half of 2015, Whoo ranked first with 62.2
billion won, followed by Sulwhasoo with 48.2 billion won and Louis Vuitton with 34.5 billion won.

"Along with this, we will try to sign a sales partnership pact with travel agencies or travel guides in Korea and foreign countries and
engage in PR activities through broadcasting companies, newspapers and celebrities."

Han said, "At the same time, we are moving to list Luce stocks on the over-the-counter market in 2017 in an effort to develop the cosmetics outlet into a top-class company in the global market.

"In a nutshell, I will do my best to secure more franchise shops in the world than Watsons, creating a new culture in the cosmetics circulation market with Luce," he stressed.

Luce Cosmetics (Tel: 82-2-8585-119) is located at the 8th floor of the UNESCO Building, 26, Myeongdong-gil, Jung-gu, Seoul.
ST Photo Gallery
Photo News
Embassy Events
Econo People 2005
Fashion Images
New Movies
Travel Images
Nayan Sthankiya's Photo Features New
Abuses of Iraqi Prisoners of War
Academy Awards Photos 2004
Adolf Hitler
Aishwarya Rai-Indian actress
Buddha`s Birthday 2004
Cannes 2004 — 57th Cannes Film Festival
Choi Tae-Ji Photo Gallery
Comfort Woman Picture Gallery
Crown Prince Felipe of Spain
Dokdo Photo Gallery
Erotic Paintings of Hyewon and Danwon
Franz`s Art Exhibition
Gando Photo Gallery
Geisha in Japan
Gwangju Massacre
Jeju Island
Kim Jong-Il and Kim Il-Sung
Koguryo Murals
Korean War (1950-53)
Madonna
Miss Universe 2004
Miss World Contest 2003
Mt. Kumkang or Mt. Diamond New
Natural Beauty of Korea
Rape of Nanjing (Nanjing Massacre)
Rio Carnival 2004
Ronald Reagan`s Life in Pictures
ST Family
Sonia Gandhi and Gandhi Clan
Taj Mahal Photo Gallery
Ukrainian Embassy
World War Two
Photo Gallery of World Newspapers/Media
Times of India
Hindustan Times
SantaBanta.com
Straights Times (Singapore)
Chicago Sun-Times
Moscow Times