Embassy Events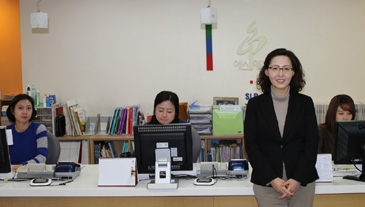 Seoul Language School Director Hits Out at S. Korean Government Policy on English TeachingMichelle Kim Dedicated to English Education for Kids

David Phillips
Associate Editor

The director of a Seoul language school has criticised the South Korean government for their "crazy" policies towards English teaching in the national public education system.

Sogang Language Program (SLP) Director Michelle Kim (or Kim Mi-Haeng) has been head of the Eunpyeong branch for 13 years. She hits out at the problems she sees in South Korea's public schools.

"There are serious issues. In public schools they should teach English, using the four skills, speaking , listening, writing, and reading," she explained. "Students in public schools only learn reading and grammar, not speaking and listening."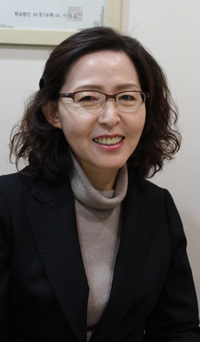 Director Michelle Kim (Kim Mi-Haeng) of Sogang Language Program (SLP)'s Eunpyoung-gu School

"Also when they get to university, they cannot use English properly," Director Kim said. "Even after 20 years, students are facing the same problems. Government should consider real English education, not just for the tests."

Director Kim has also seen her own role as an educator in the private sector under attack by unfair legislation.

"The government pressures this English institute constantly. They crack down on us because they consider private education money will create inequality," she said. "People do not trust this lie."

According to the director, government English legislation is flawed. "It's crazy," she stated. "They should consider their policy. They give very sweet words at elections."

Even though SLP's 250,000 won (230 US dollar) monthly fees are out of reach for most parents in the region, Mrs Kim understands the need for local community outreach programs in Eunpyoung-gu district. This became particularly important to her after a visit to Eunpyoung Angel's Haven, an orphanage for disabled children.

"I will offer them an education service from next January as I wanted to help," she said. "I offered English education to them and they were so happy."

The experienced educator will provide classes twice a week for the disadvantaged youngsters.

"There are 80 students and we will start with the first grade and then expand from there," she explained. "As an English educator I have to support this project as this district is one of the poorest in Seoul."

And Mrs Kim's focus is not always within Seoul, or even South Korea. She also raises money to help improve Nepalese education.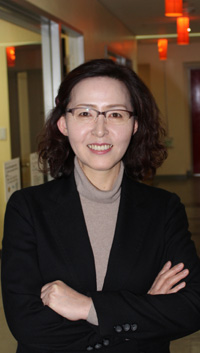 Director Michelle Kim (Kim Mi-Haeng) of Sogang Language Program (SLP)'s Eunpyoung-gu School

This was inspired after her graduation in 1989 when she volunteered to teach in Nepal for two years through the Korea International Cooperation Agency (KOICA). She regularly visits the country to help teach at their partner schools.

"I've been there 12 times in the last eight years. I love Nepal and the Nepalese people," she said. "They are very open-minded and peaceful. If a beggar asks them for something, they believe the beggar can help them into a proper state of being."

And Director Kim welcomes how each visit is a change in pace from her busy home town.
"If you take a flight there, it is another world," she said. "Seoul is very congested and Nepal is somewhere peaceful."

As a well-travelled education expert, she shares her experiences in Nepal with the 500 kindergarten, elementary, and middle school students that attend SLP with its 17 classrooms and state-of-the-art facilities.

"Here we also consider personal education as well as English language," she said. "They will think about Nepal. At least they will consider what they can do for the Nepalese."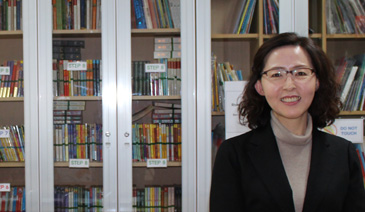 Director Michelle Kim (Kim Mi-Haeng) of Sogang Language Program (SLP)'s Eunpyoung-gu School stands in the school's library.



The students are already helping with fundraising by taking part in a charity full moon walk along Seoul city wall on Saturday Nov. 8.

As well as involvement in projects such as this, Mrs Kim believes that English education itself can be of great benefit to students.

"I think English can be a window to the world or the bridge to be connected to the world," she claimed. "If I could use English better than I have learned, I could have done something more."

The director thinks that the next generation should be prepared for the modern world.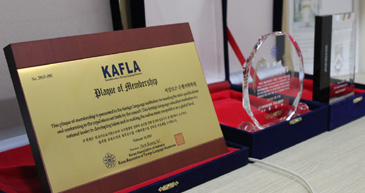 A series of awards Director Michelle Kim has received



"When I graduated in 1989, it was free for Koreans to study abroad," she said. "Students are facing new things every day, on the internet, in newspapers, and on their phones. They should learn English to reflect the current states and the current world. That is why I am teaching English."

And she has a stark message for the South Korean authorities' inaction over their English education policy.

"We are right and they are wrong. We should share many things with the general neighbourhood," she warned. "When I visited neighbouring countries, without English we could not communicate. I now realise this more and more."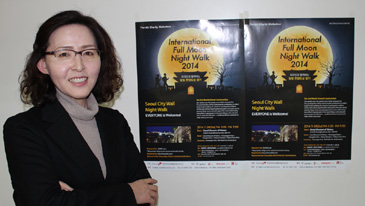 SLP Director Michelle Kim poses by the poster of the upcoming event she organized to help raise funds to build a school in rural Nepal.



SLP (Songang Language Program)

There are over 60 Sogang Language Program schools in South Korea. They are private English academies (Hagwons) that provide immersion and intensive training to children from elementary to advanced level.

Their language teaching is based around the four principles of responsibility, research, respect, and reflection.

KOICA (Korea International Cooperation Agency)

The Korea International Cooperation Agency is a government department which helps deliver South Korea's grant aid and technical cooperation programs to developing countries.

They facilitate education development by building schools, colleges, universities, and training centers; shaping curriculums, improving education policies, and training teachers.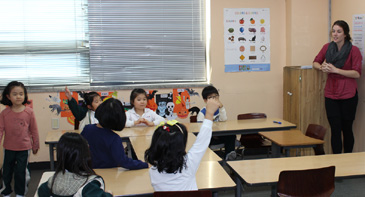 Sogang Language Program (SLP)'s Eunpyoung-gu School



Nepal

The Federal Democratic Republic of Nepal is a landlocked country in South Asia with a population of around 27 million. It has eight of 10 of the world's highest mountains, including Mount Everest, or Sagarmatha in the Nepali language.

Nepal is currently ranked 145th out 187 countries in the Human Development Index with an average literacy rate of around 70%, as of 2011.

International Full Moon Night Walk 2014

This charity event hopes to raise funds to build a school in rural Nepal for children lacking in educational opportunities.

It starts at 5 p.m. on Nov. 8 (Saturday), 2014 at the Seoul Museum of History.

The entrance fee is 10,000 won (some nine US dollars) and all proceeds will go to the school construction charity.

The event is sponsored by Chosun Biz magazine and the Korean Association of Foreign Language Academies (KAFLA).
ST Photo Gallery
Photo News
Embassy Events
Econo People 2005
Fashion Images
New Movies
Travel Images
Nayan Sthankiya's Photo Features New
Abuses of Iraqi Prisoners of War
Academy Awards Photos 2004
Adolf Hitler
Aishwarya Rai-Indian actress
Buddha`s Birthday 2004
Cannes 2004 — 57th Cannes Film Festival
Choi Tae-Ji Photo Gallery
Comfort Woman Picture Gallery
Crown Prince Felipe of Spain
Dokdo Photo Gallery
Erotic Paintings of Hyewon and Danwon
Franz`s Art Exhibition
Gando Photo Gallery
Geisha in Japan
Gwangju Massacre
Jeju Island
Kim Jong-Il and Kim Il-Sung
Koguryo Murals
Korean War (1950-53)
Madonna
Miss Universe 2004
Miss World Contest 2003
Mt. Kumkang or Mt. Diamond New
Natural Beauty of Korea
Rape of Nanjing (Nanjing Massacre)
Rio Carnival 2004
Ronald Reagan`s Life in Pictures
ST Family
Sonia Gandhi and Gandhi Clan
Taj Mahal Photo Gallery
Ukrainian Embassy
World War Two
Photo Gallery of World Newspapers/Media
Times of India
Hindustan Times
SantaBanta.com
Straights Times (Singapore)
Chicago Sun-Times
Moscow Times