Embassy Events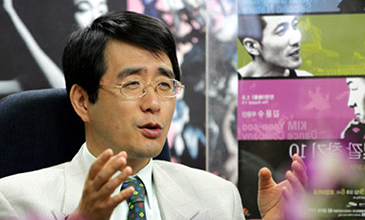 Oh Se-Hoon Returns as Seoul MayorOh Urged to Prepare for Next Presidential Election

Park Soung-Jin
Staff Reporter & Editor

He has come back. Oh Se-Hoon just returned proudly as the head of Seoul with 10 million residents.

Over the last 10 years Oh had to endure all the hardships, loneliness, helplessness, and perhaps humility after his unexpected defeat over referendum on free meal for school children.

Back then Oh demanded that only the poor kids have free lunches while his political opponents clamored for "universal" free meals for all the kids.

He staked his mayor's post for his plan and he lost his mayoral post in the referendum on Aug. 24, 2011. Two days later Oh resigned as mayor.

Nearly 10 years later Oh has revived. On April 7, 2021 Oh won the by-election for Seoul mayor by a landslide.

Oh of the main opposition People Power defeated Park Young-Sun of the ruling Democratic Party.

Oh garnered 57.5 % of the votes while Park earned 39.18 % in the Seoul mayor's by-election.

Political analysts argue that Oh's victory appeared to be backed decisively by a series of blunders made by President Moon Jae-In's regime.

They say that Oh was victorious on the strength of the electorate who are getting increasingly tired of Moon's government.

In actuality, Oh's steep rise in popularity owes much to the changing minds of the people.

Sex scandals of both ex-Seoul Mayor Park Won-Soon and ex-Busan Mayor Oh Keo-Don greatly disappointed people. They both belong to the ruling Democratic Party.

In earlier March of 2021 as many as 10 officials of the government-run Korea Land & Housing Corporation (LH) purchased large chunks of lands by using inside information.

The semi-government officials' infamous land speculation infuriated people. They became disillusioned with the government. People called the government-run organization "a den of thieves."

Political pundits say that President Moon's lame duck session has already started.

"Moon is now declining," one local journalist was quoted as saying. "Moon's days are nearly numbered"

Moon's presidency terminates in May 2022.

For Mayor Oh he seems to have a number of tasks in front of him. He has to tackle a lot of problems left by the late Mayor Park. Among them is the impending issue of the corona virus pandemic.

However, one of the urgent issues he has to tackle is for him to change the current slogan of Seoul city as early as possible.

Both foreigners and locals say that the catchphrase of Seoul — "I Seoul You" — does not make sense at all. They argue that the motto is the worst ever.

Yet, analysts point to the fact that time is running for the next presidential election.

With Moon's reign a little over one year, people are turning their back away from Moon and his Democratic Party.

Analysts say that Oh has to prepare running for presidency as quickly as possible. He has to take advantage of his high popularity he enjoys now.

Who Is Oh Se-Hoon?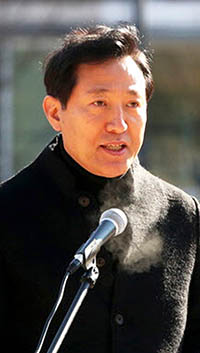 Seoul Mayor Oh Se-Hoon (çïá¦ý³)

Oh Se-Hoon (çïá¦ý³) is the lawyer-turned South Korean politician.

As of April 13, 2021 the 60-year-old Oh serves as the mayor of Seoul, capital of South Korea. On April 7, 2021 he clinched his victory at the by-election of Seoul mayor, defeating his powerful rival Park Young-Sun of the ruling Democratic Party. Oh was the candidate of the main opposition party of People Power.
This is Oh's third mayorship. He served as the Seoul mayor from 2006 till 2011.

On June 3, 2010, Oh was reelected as the Seoul mayor of but resigned due to his defeat over the referendum on free lunch for school children. He had to spend over 10 years without holding any public posts.

He became a lawmaker from lawyer in 2000. In the year he was elected representative of the National Assembly on the ticket of the right-wing Grand National Party, predecessor of People Power. He served his four-year term as the people's deputy.

Prior to his career as a politician Oh enjoyed a huge popularity for several years as a TV personality. As the celeb lawyer he presided over nationally televised TV discussion program.

Born on Feb. 18, 1961 in then dilapidated shanty town of Oksu-dong area of Seoul. Oh grew up in poverty. He lived and attended schools all in Seoul.

Oh graduated from Daeil High School in Seoul. He studied law at the Hankook University of Foreign Studies (HUFS) and moved on to Korea University, where he majored in law.

Oh passed the cut-throat bar exam as a university student, becoming a lawyer.

He served his military duty from 1988 to 1991 as the first lieutenant in the Army.

Oh's religion is Roman Catholic and his Christian name is Stephen.

Oh is married to Prof. Song Hyeon-Ok of Sejong University. Oh met her on campus when they were university student. They have two daughters.

The above article was copyedited by Robert Frauenthal, senior editor of The Seoul Times.
ST Photo Gallery
Photo News
Embassy Events
Econo People 2005
Fashion Images
New Movies
Travel Images
Nayan Sthankiya's Photo Features New
Abuses of Iraqi Prisoners of War
Academy Awards Photos 2004
Adolf Hitler
Aishwarya Rai-Indian actress
Buddha`s Birthday 2004
Cannes 2004 — 57th Cannes Film Festival
Choi Tae-Ji Photo Gallery
Comfort Woman Picture Gallery
Crown Prince Felipe of Spain
Dokdo Photo Gallery
Erotic Paintings of Hyewon and Danwon
Franz`s Art Exhibition
Gando Photo Gallery
Geisha in Japan
Gwangju Massacre
Jeju Island
Kim Jong-Il and Kim Il-Sung
Koguryo Murals
Korean War (1950-53)
Madonna
Miss Universe 2004
Miss World Contest 2003
Mt. Kumkang or Mt. Diamond New
Natural Beauty of Korea
Rape of Nanjing (Nanjing Massacre)
Rio Carnival 2004
Ronald Reagan`s Life in Pictures
ST Family
Sonia Gandhi and Gandhi Clan
Taj Mahal Photo Gallery
Ukrainian Embassy
World War Two
Photo Gallery of World Newspapers/Media
Times of India
Hindustan Times
SantaBanta.com
Straights Times (Singapore)
Chicago Sun-Times
Moscow Times