Embassy Events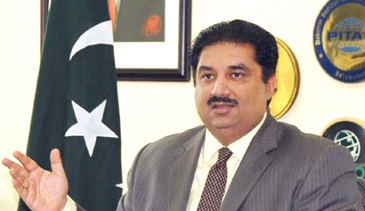 Pakistan Commerce Minister Khurram Dastgir Khan in Seoul to Boost Trade Ties with S. KoreaPakistan's Commerce Minister Khurram Dastgir Khan is currently visiting Seoul to boost its developing economic ties with South Korea on July 7-8, 2015, the Embassy of Pakistan in Seoul announced recently.

The Pakistan minister's visit to South Korea is aimed at boosting bilateral trade and investment cooperation with Seoul government and with private sectors of South Korea.

While in South Korea, Minister Khan will meet with his counterpart, Trade Minister Yoon Sang-Jick of South Korea's Ministry of Trade, Industry, and Energy (MOTIE) to discuss the proposed free trade agreement (FTA).

Minister Khan will also meet with several other key Korean officials and heads of private sector organizations in his efforts to draw investment from South Korea.

The Pakistan minister will hold a number of meetings with leaders and CEOs of business-related organizations and private businesses.

They include Korea Chamber of Commerce and Industry (KCCI), Export-Import Bank of Korea, Korea Importers Association, Korea Trade-Investment Promotion Agency, Korea Trade Insurance Corporation, and Korean Air.

"South Korea has a lot to offer to Pakistan in terms of trade facilitations and investments," the minister told the local Pakistani media before departing for Seoul. "the inaugural meeting of Joint Trade Committee would be the right step to increasing our bilateral trade"

The minister expressed his firm resolve to the Pakistani local media that the proposed FTA will be signed between Pakistan and South Korea after the due process.

He also expressed his hope that the FTA would open windows of opportunities in several emerging sectors of his country.

Minister Khan will meet with a group of South Korean journalists at breakfast event arranged by Pakistani Ambassador to Seoul Zahid Nasrullah Khan at Lotte Hotel in downtown Seoul on July 8, 2015.

He will have a briefing for the local journalists on Pakistan's business friendly policies and the new business opportunities in Pakistan with 180 million population located at the crossroads of Asia, Europe, and Far East.

Who Is Khurram Dastgir Khan?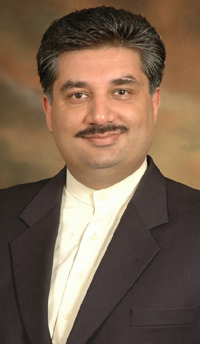 Pakistan's Commerce Minister Khurram Dastgir Khan

Khurram Dastgir Khan, the incumbent commerce minister of Pakistan, is a Pakistani politician, electrical engineer, and economist. He was appointed commerce minister on Jan. 12, 2014.

Khurram Dastgir Khan is also currently Central Deputy Secretary Information of the Party. He was elected as member of the National Assembly in 2008 and re-elected in 2013.

He is a life member of Pakistan Engineering Council affiliated with Pakistan Muslim League-N, Engr.

Engr. Khurram Dastgir Khan was trained as an engineer at California Institute of Technology and also holds a degree in Economics from Bowdoin College, both in the United States.

During the 2008-13 Parliament, Engr. Khurram Dastgir Khan earned distinction as Chair of the Standing Committee on Commerce and as a member of the Public Accounts Committee and the Special Parliamentary Committee on Kashmir.

Engr. Khurram Dastgir Khan was Pakistan co-Chair of the Pakistan-India Parliamentary Dialogue held in New Delhi in August 2012 and also participated in three previous Indo-Pak Parliamentary Dialogues held in 2011-12.

He has travelled to Brussels and Washington, DC to visit NATO and observe national security strategy formation. He has also represented PML-N leadership at the Commonwealth.

As Minister for Commerce, Engr. Khurram Dastgir Khan spearheaded the successful effort in economic diplomacy to obtain GSP+ trade preferences for Pakistan from the European Union. He holds the responsibility for parliamentary business of the Ministry of Foreign Affairs.

Since taking oath of office as Minister, Khurram Dastgir Khan has also served in the Ministry of Science & Technology and the Ministry of Privatisation as well as Chairman, Privatisation Commission.

For details or inquiries:
Asad Abbas Awan, TI
Head of Chancery
Embassy of Pakistan in Seoul
asadabbas3932@gmail.com
ST Photo Gallery
Photo News
Embassy Events
Econo People 2005
Fashion Images
New Movies
Travel Images
Nayan Sthankiya's Photo Features New
Abuses of Iraqi Prisoners of War
Academy Awards Photos 2004
Adolf Hitler
Aishwarya Rai-Indian actress
Buddha`s Birthday 2004
Cannes 2004 — 57th Cannes Film Festival
Choi Tae-Ji Photo Gallery
Comfort Woman Picture Gallery
Crown Prince Felipe of Spain
Dokdo Photo Gallery
Erotic Paintings of Hyewon and Danwon
Franz`s Art Exhibition
Gando Photo Gallery
Geisha in Japan
Gwangju Massacre
Jeju Island
Kim Jong-Il and Kim Il-Sung
Koguryo Murals
Korean War (1950-53)
Madonna
Miss Universe 2004
Miss World Contest 2003
Mt. Kumkang or Mt. Diamond New
Natural Beauty of Korea
Rape of Nanjing (Nanjing Massacre)
Rio Carnival 2004
Ronald Reagan`s Life in Pictures
ST Family
Sonia Gandhi and Gandhi Clan
Taj Mahal Photo Gallery
Ukrainian Embassy
World War Two
Photo Gallery of World Newspapers/Media
Times of India
Hindustan Times
SantaBanta.com
Straights Times (Singapore)
Chicago Sun-Times
Moscow Times