Fashion Images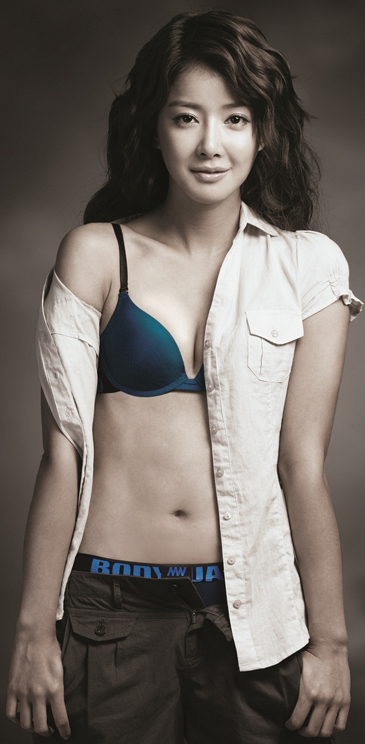 S. Korean Actress Lee Shi-YoungCute and sexy South Korean actress Lee Shi-Young poses for the camera in a recent event promoting a local inner wear fashion brand "Bodyguard MW."

The 29-year-old boxer-turned actress also works as a singer.

Lee was born on April 17, 1982.

After gaining popularity for her role as Oh Min-Ji in "Boys Over Flowers," Shi Young joined the cast of MBC variety reality show "We Got Married" where she is paired up with Jun Jin of Shinhwa.

As of June 2009, they have become the first couple to officially have a real relationship outside the show. However, they broke up after a six-month relationship.

Along with these television shows, she has starred in a numerous amount of music videos, most notably alongside Jun Jin after they both left "We Got Married."

Her vocals were also featured on his second album. She has done modeling for Maxim Magazine Korea. She was nominated for a Rookie Actor/Actress KBS Drama Award for her work on "Birth of a Rich."
ST Photo Gallery
Photo News
Embassy Events
Econo People 2005
Fashion Images
New Movies
Travel Images
Nayan Sthankiya's Photo Features New
Abuses of Iraqi Prisoners of War
Academy Awards Photos 2004
Adolf Hitler
Aishwarya Rai-Indian actress
Buddha`s Birthday 2004
Cannes 2004 — 57th Cannes Film Festival
Choi Tae-Ji Photo Gallery
Comfort Woman Picture Gallery
Crown Prince Felipe of Spain
Dokdo Photo Gallery
Erotic Paintings of Hyewon and Danwon
Franz`s Art Exhibition
Gando Photo Gallery
Geisha in Japan
Gwangju Massacre
Jeju Island
Kim Jong-Il and Kim Il-Sung
Koguryo Murals
Korean War (1950-53)
Madonna
Miss Universe 2004
Miss World Contest 2003
Mt. Kumkang or Mt. Diamond New
Natural Beauty of Korea
Rape of Nanjing (Nanjing Massacre)
Rio Carnival 2004
Ronald Reagan`s Life in Pictures
ST Family
Sonia Gandhi and Gandhi Clan
Taj Mahal Photo Gallery
Ukrainian Embassy
World War Two
Photo Gallery of World Newspapers/Media
Times of India
Hindustan Times
SantaBanta.com
Straights Times (Singapore)
Chicago Sun-Times
Moscow Times