Fashion Images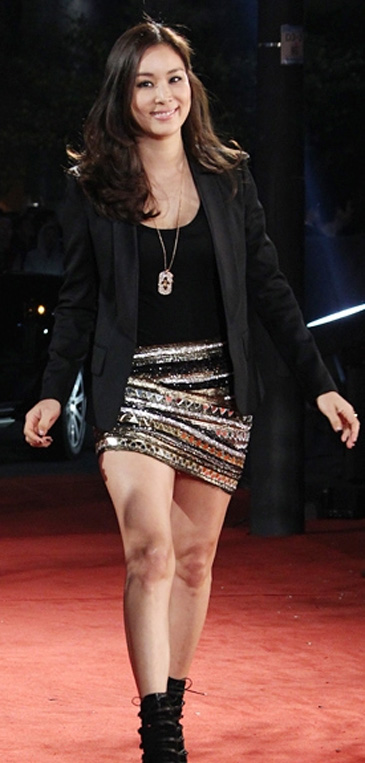 S. Korean Actress Ko So-YoungSouth Korean actress and model Ko So-Young
poses for camera at the "2011 Style Icon Awards" ceremony held at CJ E&M Center in Seoul's Sangam-dong on Nov. 3, 2011.

A number of actors and actresses and other entertainers took part in the event.

Ko So-young was born on Oct. 6, 1972. She graduated from Chung-Ang University with a major in Drama & Cinema. She was known as one of South Korea's "ideal women".

Ko was born in Seoul, South Korea. She attended an all-female high school before gaining early admission to Chung-Ang University, where she studied computer science.

Ko debuted in the TV drama Love Tomorrow in 1993 and quickly established herself as a representative star of her generation. She made her film debut opposite Jung Woo-sung in The Fox with Nine Tails in 1994, which ranked as the first Korean film ever to use computer-generated images. However, it failed to make an impression on audiences or critics.

Ko first achieved wide recognition through her role in Beat (again with Jung Woo-sung), a film that caught the imagination of many South Korean high school students. Since then she has acted in a series of successful melodramas, portraying a young model in If the Sun Rises in the West, a Jeju Island tour guide in Love Wind, Love Song, and a Korean American adoptee in Love.

In 2001, Ko teamed up with actor Lee Seong-jae in A Day, about a married couple who have trouble conceiving a child. Her acting in the film was much praised and garnered the Best Actress prize from the local Grand Bell Awards ceremony.

Then, after two years off, Ko returned in 2003 opposite Han Suk-kyu in the spy thriller Double Agent; however, the film failed to live up to the expectations of most viewers and critics. She then shot two films in 2006: the horror film APT by director Ahn Byeong-ki, and the romantic comedy Project Makeover by debut director Jeon Young-gap.

Ko married actor Jang Dong-gun in a star-studded wedding ceremony held at Seoul's Shilla Hotel on May 2, 2010, while five months pregnant. The couple's first child, a son Jang Min-jun, was born on October 4, 2010.
ST Photo Gallery
Photo News
Embassy Events
Econo People 2005
Fashion Images
New Movies
Travel Images
Nayan Sthankiya's Photo Features New
Abuses of Iraqi Prisoners of War
Academy Awards Photos 2004
Adolf Hitler
Aishwarya Rai-Indian actress
Buddha`s Birthday 2004
Cannes 2004 — 57th Cannes Film Festival
Choi Tae-Ji Photo Gallery
Comfort Woman Picture Gallery
Crown Prince Felipe of Spain
Dokdo Photo Gallery
Erotic Paintings of Hyewon and Danwon
Franz`s Art Exhibition
Gando Photo Gallery
Geisha in Japan
Gwangju Massacre
Jeju Island
Kim Jong-Il and Kim Il-Sung
Koguryo Murals
Korean War (1950-53)
Madonna
Miss Universe 2004
Miss World Contest 2003
Mt. Kumkang or Mt. Diamond New
Natural Beauty of Korea
Rape of Nanjing (Nanjing Massacre)
Rio Carnival 2004
Ronald Reagan`s Life in Pictures
ST Family
Sonia Gandhi and Gandhi Clan
Taj Mahal Photo Gallery
Ukrainian Embassy
World War Two
Photo Gallery of World Newspapers/Media
Times of India
Hindustan Times
SantaBanta.com
Straights Times (Singapore)
Chicago Sun-Times
Moscow Times