Fashion Images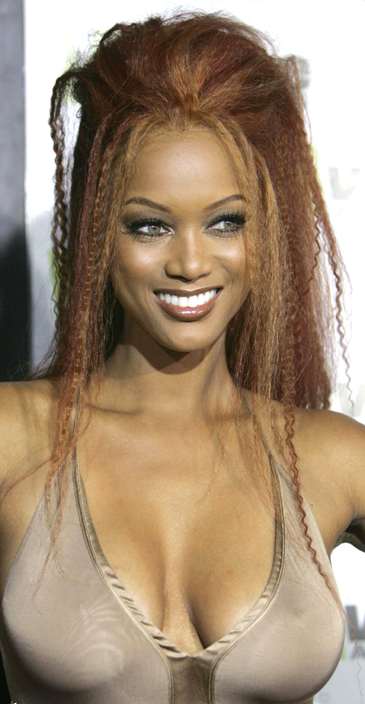 Tyra Banks Discusses Her Legendary DismissalThe following is fashion writer Jordan Crucchiola's story about her published on Vulture magazine.

Think for a second about when the last time was that you deployed a "Be quiet, Tiffany" or a "We were all rooting for you!" gif in either a heated internet exchange, or just some friendly text fire between pals. The Tiffany we were all rooting for, of course, was Tiffany Richardson, a contestant on cycle four of America's Next Top Model in 2005. Upon being dismissed from the show, she was read a riot act the likes of which we had never seen before and have never seen since from original ANTM host Tyra Banks. After 12 years of silence, BuzzFeed has rolled out a feature on Richardson, who's breaking down her whole experience with the reality TV smoke-and-mirror show. And it is rich.

According to Richardson, she was given a psychological exam to assess her emotional stability, and after missing the cut to become a finalist in season three, she says she lied on her answers to appear more favorable for casting in season four. She describes the feedback sessions that preceded elimination as the judges "roasting the fuck out of us" for 15 to 20 minutes per model. Former contestants who were also interviewed spoke about how even with everyone struggling to adapt to the strange environment, Richardson seemed especially alienated from everyone else; in her own words, Richardson said she often felt "humiliated."

Then, of course, there was the matter of her dismissal, which she characterizes as "1,000 times worse" in real life than it was on TV, and says that the worst of Banks's feedback — which she wouldn't elaborate on — was left on the cutting-room floor. "I didn't think she cared. I don't think she gave a fuck about none of us, except for the ones who made it big," says Richardson. "But hey, it is what it is."

The former Top Model hopeful says she's made peace with the show, Banks, and that time in her life, and that she has no ill will regarding how everything played out. She has a second child now, a stable job, and only dabbles in modeling from time to time, and she says her time on ANTM "made me who I am right now." And that's great to hear, because like Tyra said, we were all rooting for her.
ST Photo Gallery
Photo News
Embassy Events
Econo People 2005
Fashion Images
New Movies
Travel Images
Nayan Sthankiya's Photo Features New
Abuses of Iraqi Prisoners of War
Academy Awards Photos 2004
Adolf Hitler
Aishwarya Rai-Indian actress
Buddha`s Birthday 2004
Cannes 2004 — 57th Cannes Film Festival
Choi Tae-Ji Photo Gallery
Comfort Woman Picture Gallery
Crown Prince Felipe of Spain
Dokdo Photo Gallery
Erotic Paintings of Hyewon and Danwon
Franz`s Art Exhibition
Gando Photo Gallery
Geisha in Japan
Gwangju Massacre
Jeju Island
Kim Jong-Il and Kim Il-Sung
Koguryo Murals
Korean War (1950-53)
Madonna
Miss Universe 2004
Miss World Contest 2003
Mt. Kumkang or Mt. Diamond New
Natural Beauty of Korea
Rape of Nanjing (Nanjing Massacre)
Rio Carnival 2004
Ronald Reagan`s Life in Pictures
ST Family
Sonia Gandhi and Gandhi Clan
Taj Mahal Photo Gallery
Ukrainian Embassy
World War Two
Photo Gallery of World Newspapers/Media
Times of India
Hindustan Times
SantaBanta.com
Straights Times (Singapore)
Chicago Sun-Times
Moscow Times