Fashion Images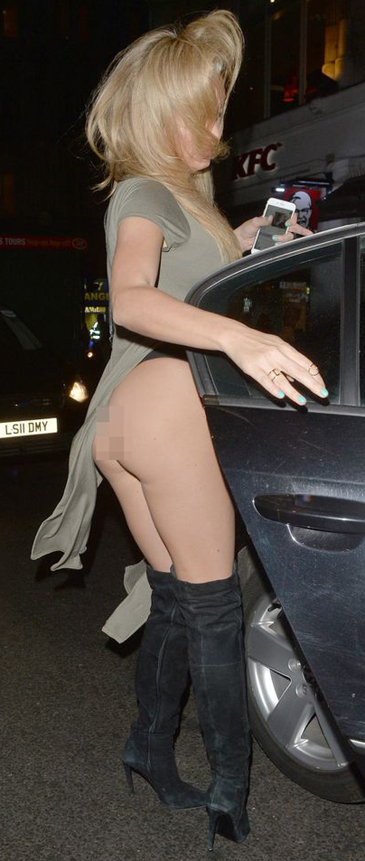 Aisleyne Horgan-Wallace flashes her bumTHE blonde beauty really let her hair down with the TOWIE babe after completing her second stint on Big Brother.

AISLEYNE HORGAN-WALLACE hasn't wasted time celebrating her freedom.

The reality star, who left the Big Brother house on Friday, painted the town red with Maria Fowler on Wednesday.

Heading to the W Hotel in London, Aisleyne put on a very cheeky display for the outing as she dropped a major leg bomb wearing a khaki-coloured dress.

The design was so risky that even the slightest bit of wind caused it to blow up and reveal the blonde's bum.

Which, coincidentally, is just what happened as Aisleyne exited the venue and jumped in her ride home.

Meanwhile her purple-haired partner in crime managed to protect some of her own modesty in a tight-fitting grey dress.

Towards the end of the night Aisleyne shared a picture on Twitter in which she thanked her TOWIE pal for helping her re-adjust to the outside world.

She wrote: "Feeling as free as a bird thanks @MariaFowler j'adore."

Nights out and wardrobe malfunctions? Looks like everything is back to normal.

Aisleyne was kicked out the Big Brother house after her second stint in the show's history.

The busty Londoner was part of some entertaining moments and was romantically linked to hunk Danny Wisker.

But her time will most likely be remembered for butting heads with Marc O'Neill and Helen Wood.
ST Photo Gallery
Photo News
Embassy Events
Econo People 2005
Fashion Images
New Movies
Travel Images
Nayan Sthankiya's Photo Features New
Abuses of Iraqi Prisoners of War
Academy Awards Photos 2004
Adolf Hitler
Aishwarya Rai-Indian actress
Buddha`s Birthday 2004
Cannes 2004 — 57th Cannes Film Festival
Choi Tae-Ji Photo Gallery
Comfort Woman Picture Gallery
Crown Prince Felipe of Spain
Dokdo Photo Gallery
Erotic Paintings of Hyewon and Danwon
Franz`s Art Exhibition
Gando Photo Gallery
Geisha in Japan
Gwangju Massacre
Jeju Island
Kim Jong-Il and Kim Il-Sung
Koguryo Murals
Korean War (1950-53)
Madonna
Miss Universe 2004
Miss World Contest 2003
Mt. Kumkang or Mt. Diamond New
Natural Beauty of Korea
Rape of Nanjing (Nanjing Massacre)
Rio Carnival 2004
Ronald Reagan`s Life in Pictures
ST Family
Sonia Gandhi and Gandhi Clan
Taj Mahal Photo Gallery
Ukrainian Embassy
World War Two
Photo Gallery of World Newspapers/Media
Times of India
Hindustan Times
SantaBanta.com
Straights Times (Singapore)
Chicago Sun-Times
Moscow Times