New Movies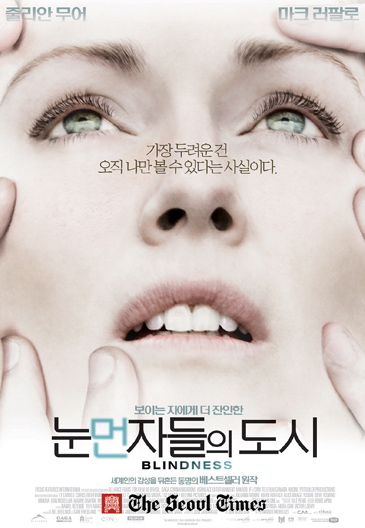 Blindness (눈먼자들의 도시)Synopsis

An epidemic causes many people to become blind, resulting in the collapse of society. They, as well as the doctor's wife (Julianne Moore) who pretends to be blind, are quarantained in a government makeshift prison. The people in one of the wards have control over the food and have a gun, and use this to demand valuables from the others, and even sexual services by the women. The doctor's wife kills the leader of this group. After a fire the people discover that the guards have left, so the people are free now. One of them recovers from his blindness, giving the others hope.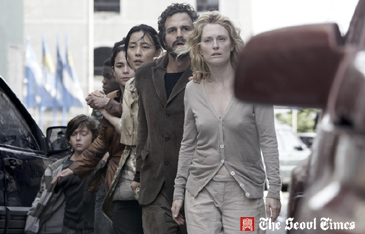 Blindness (눈먼자들의 도시)


About the Movie

A 2008 dramatic thriller film that is an adaptation of the 1995 novel of the same name by José Saramago about a society suffering an epidemic of blindness. The film is written by Don McKellar and directed by Fernando Meirelles with Julianne Moore and Mark Ruffalo as the stars. The novel's author originally refused to sell rights for a film adaptation, not wanting it to fall into the wrong hands. Meirelles was able to acquire rights with the condition that the film would be set in an unrecognizable city. Blindness premiered as the opening film at the Cannes Film Festival on May 14, 2008, and the film was released in the United States on October 3, 2008.

Filming and casting

Meirelles chose São Paulo as the primary backdrop for Blindness, though scenes were also filmed in Osasco, São Paulo, Ontario, Canada and Montevideo, Uruguay. With all the characters aside from Julianne Moore's character being blind, the cast was trained to simulate blindness. The director also stylized the film to reflect the lack of point-of-view that the characters would experience. Meirelles said several actors he talked to were intimidated by the concept of playing characters without names: "I offered the film to some actors who said, 'I can't play a character with no name, with no history, with no past. With Gael (García Bernal), he said, "I never think about the past. I just think what my character wants."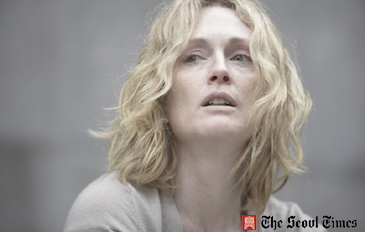 Blindness (눈먼자들의 도시)


Cast & Crew

Directed by Fernando Meirelles
Produced by Niv Fichman, Andrea Barata Ribeiro,
Sonoko Sakai
Written by Don McKellar
Narrated by Danny Glover
Starring Julianne Moore, Mark Ruffalo,
Gael Garcia Bernal
Danny Glover, Alice Braga
Music by Uakti
Cinematography by César Charlone
Editing by Daniel Rezende
Distributed by Miramax Films (USA), Alliance Films (CAN)
Release date(s): October 3, 2008
Running time: 121 min.
Countries: Japan, Canada, Brazil
Language: English

Synopsis

전 인류가 눈이 먼 세상.. 오직 나만이 볼 수 있다.

평범한 어느 날 오후, 앞이 보이지 않는다며 한 남자가 차도 한 가운데에서 차를 세운다. 이후 그를 집에 데려다 준 남자도, 그를 간호한 아내도, 남자가 치료받기 위해 들른 병원의 환자들도, 그를 치료한 안과 의사도 모두 눈이 멀어버린다. 시야가 뿌옇게 흐려져 앞이 보이지 않는 정체불명의 이상현상.. 눈먼 자들의 수가 기하급수적으로 늘어나면서 정부는 그들을 병원에 격리수용하고, 세상의 앞 못 보는 자들이 모두 한 장소에 모인다.
그리고.. 남편을 지키기 위해 눈먼 자처럼 행동하는 앞을 볼 수 있는 한 여인(줄리안 무어 분)이 있다. 아수라장이 되어버린 병동에서 오직 그녀만이 충격의 현장을 목격하는데..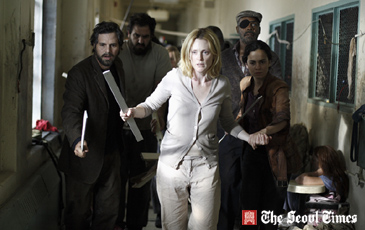 Blindness (눈먼자들의 도시)


About the Movie

미국,캐나다,브라질,일본등 각국을
대표하는 글로벌 스탭들이 한자리에!

포르투갈, 브라질, 일본, 캐나다 등 다국적 스텝들이 모여 <눈먼자들의 도시>가 완성됐다. 포르투갈 출신의 원작자 주제 사라마구를 중심으로 뛰어난 감각으로 영화사의 새 지평을 연 브라질 감독 페르난도 메이렐레스, 끈질긴 설득 끝에 이 작품의 영화화를 성공시킨 캐나다 출신의 극작가이자 배우, 감독인 돈 맥켈러, 그리고 오스카를 수상한 영화의 극작가인 캐나다 출신 니브 피치맨. 그리고 특유의 국제적 감각으로 <실크> 등을 제작한 일본계 미국인 소노코 사카이, 세계 영화산업에서 영향력 있는 인물로 알려진 제작자인 안드레아 바라타 리베이로 등 세계 각국의 스텝들이 이 한편의 영화를 위해 뭉친 것이다. 또한, <시티 오브 갓>에서 메이렐레스 감독과 호흡을 맞춘 바 있는 브라질 배우 앨리스 브라가, 우리에게 <허니와 클로버>로 잘 알려진 이세야 유스케, <사쿠란>, <실락원>의 기무라 요시노 등 일본계 배우들이 출연해 줄리안 무어, 마크 러팔로 등의 할리우드 배우들과 호흡을 맞췄다. 이처럼 <눈먼자들의 도시>는 동, 서양을 모두 아우르는 다국적 프로젝트로서 바람직한 선례를 남기게 되었다.

'성경에 버금 가는 대작'으로 평가된 최고의 작품

조지 오웰의 '1984', 카프카의 '심판', 카뮈의 '페스트'를 능가하는 환상적 리얼리즘 대작으로, 국내 온,오프 서점 베스트셀러 차트를 석권하며 한국 독자들에게 큰 울림을 전달했던 소설 '눈먼자들의 도시(Blindness)'. 유럽에서 더 친근한 포르투갈 출신의 작가 주제 사라마구가 노벨 문학상을 수상하며 전세계가 인정한 작가로 거듭나는 데에 결정적인 역할을 한 소설이 바로 '눈먼자들의 도시'였다. 1995년 포르투갈어로 출간된 이후 폭발적인 반향을 불러 일으키며 2년 뒤 영문버전으로 출간, 전세계 130여 개국으로 빠르게 번역, 소개되며 '성경에 버금가는 대작'으로 평가 받기 시작했다. '만약 세상 모든 사람들의 눈이 멀고, 단 한 사람만 이 모두를 볼 수 있다면..'이라는 가정 하에 혼란에 휩싸인 인간의 모습을 생경하게 담아낸 작품인 만큼 극적인 상황에 대한 디테일한 묘사가 읽는 이로 하여금 큰 충격을 주었다. 때문에 스크린에 옮기기 어려울 것이라는 우려와 함께 주제 사라마구 스스로가 영화화를 원치 않았지만, <시티 오브 갓>, <콘스탄트 가드너>로 연출력을 인정받은 페르난도 메이렐레스 감독이 이 작품의 열렬한 지지자임을 주장하며 적극적으로 설득, 베스트셀러의 스크린 진출을 극적으로 성공시켰다. 단지 소설을 통해 상상으로만 목격했던 눈먼자들의 충격적인 실상을 2008년 11월 당신의 눈으로 똑똑히 목격하게 될 것이다.


Cast & Crew

제 목: 눈먼자들의 도시
원 작: 주제 사라마구의 'BLINDNESS'
감 독: 페르난도 메이렐레스
주 연: 줄리안 무어, 마크 러팔로, 가엘 가르시아 베르날, 대니 글로버
수 입: CM엔터테인먼트
배 급: 싸이더스 FnH
러닝타임: 121분
장 르: 미스터리, 스릴러
개 봉: 2008년 11월 20일

홈페이지: http://www.blindness.kr
ST Photo Gallery
Photo News
Embassy Events
Econo People 2005
Fashion Images
New Movies
Travel Images
Nayan Sthankiya's Photo Features New
Abuses of Iraqi Prisoners of War
Academy Awards Photos 2004
Adolf Hitler
Aishwarya Rai-Indian actress
Buddha`s Birthday 2004
Cannes 2004 — 57th Cannes Film Festival
Choi Tae-Ji Photo Gallery
Comfort Woman Picture Gallery
Crown Prince Felipe of Spain
Dokdo Photo Gallery
Erotic Paintings of Hyewon and Danwon
Franz`s Art Exhibition
Gando Photo Gallery
Geisha in Japan
Gwangju Massacre
Jeju Island
Kim Jong-Il and Kim Il-Sung
Koguryo Murals
Korean War (1950-53)
Madonna
Miss Universe 2004
Miss World Contest 2003
Mt. Kumkang or Mt. Diamond New
Natural Beauty of Korea
Rape of Nanjing (Nanjing Massacre)
Rio Carnival 2004
Ronald Reagan`s Life in Pictures
ST Family
Sonia Gandhi and Gandhi Clan
Taj Mahal Photo Gallery
Ukrainian Embassy
World War Two
Photo Gallery of World Newspapers/Media
Times of India
Hindustan Times
SantaBanta.com
Straights Times (Singapore)
Chicago Sun-Times
Moscow Times