Photo News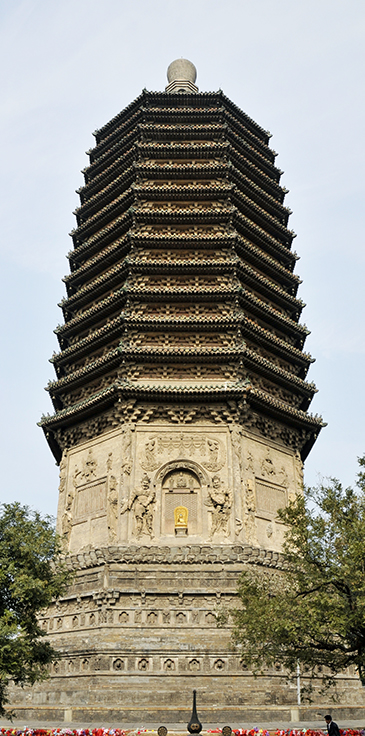 900-Year-Old Tianning Pagoda Built by Khitan EmpireThe majestic Tianning Pagoda (ô¸宁ÞÑ 辽÷²) is part of the Tianning Temple (ô¸宁ÞÑ) build by Khitan Empire or Liao Dynasty (ÓÞס: 916-1125) around 1100, shortly before the Liao Dynasty was conquered by the Jin (ÑÑ) dynasty.

This 13-story octagonal-based Khitan pagoda is made of brick and stone. It is 57.8 meters (189 feet) tall. The Buddhist temple complex now located in Xicheng District of Beijing, in northern China.

The 900-year-old 8-sided brick and stone pagoda was constructed by Khitan Empire which ruled the vast northwestern part of East Asia from the 10th to 12th century.

The Tianning Temple (ô¸宁ÞÑ), called "Temple of Heavenly Rest," imitates the design of wooden-constructed pagodas from the era by featuring ornamental dougong (bracket supports).

The temple rests on a large square platform, with the bottom portion of the pagoda taking on the shape of a sumeru pedestal.

The pagoda features a veranda with banisters, yet is entirely solid with no hollow inside or staircase as some pagodas feature.

Other ornamental designs include arched doorways and heavenly Buddhist guardians. Its design inspired that of later pagodas, such as the similar Ming Dynasty era Pagoda of Cishou Temple of Beijing built in 1576.

The structure and ornamentation have remained the same since the pagoda was built, but the 1976 Tangshan earthquake caused the original pearl-shaped steeple of the pagoda to break off and fall.

It has since been restored. The temple grounds surrounding the pagoda have also been renovated and rebuilt several times over the course of the Ming and Qing dynasties.

The architectural historian Liang Sicheng (1901–1972)—known for discovering and documenting the oldest existent wooden structures still standing in China—lauded the Pagoda of Tianning Temple as a pristine architectural design of antiquity.
ST Photo Gallery
Photo News
Embassy Events
Econo People 2005
Fashion Images
New Movies
Travel Images
Nayan Sthankiya's Photo Features New
Abuses of Iraqi Prisoners of War
Academy Awards Photos 2004
Adolf Hitler
Aishwarya Rai-Indian actress
Buddha`s Birthday 2004
Cannes 2004 — 57th Cannes Film Festival
Choi Tae-Ji Photo Gallery
Comfort Woman Picture Gallery
Crown Prince Felipe of Spain
Dokdo Photo Gallery
Erotic Paintings of Hyewon and Danwon
Franz`s Art Exhibition
Gando Photo Gallery
Geisha in Japan
Gwangju Massacre
Jeju Island
Kim Jong-Il and Kim Il-Sung
Koguryo Murals
Korean War (1950-53)
Madonna
Miss Universe 2004
Miss World Contest 2003
Mt. Kumkang or Mt. Diamond New
Natural Beauty of Korea
Rape of Nanjing (Nanjing Massacre)
Rio Carnival 2004
Ronald Reagan`s Life in Pictures
ST Family
Sonia Gandhi and Gandhi Clan
Taj Mahal Photo Gallery
Ukrainian Embassy
World War Two
Photo Gallery of World Newspapers/Media
Times of India
Hindustan Times
SantaBanta.com
Straights Times (Singapore)
Chicago Sun-Times
Moscow Times