Photo News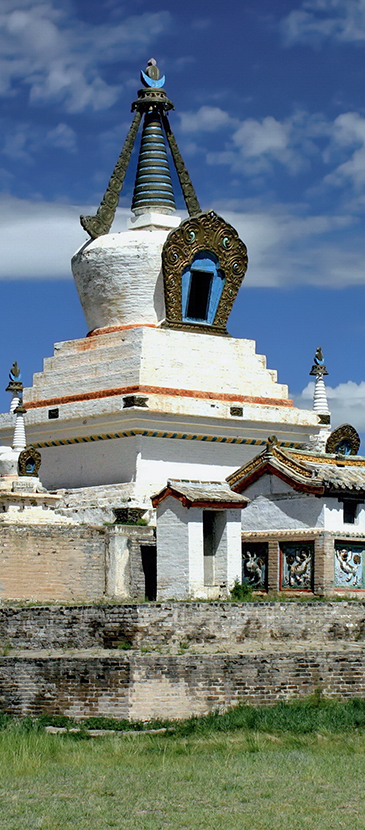 The Oldest Buddhist Temple in MongoliaErdene Zuu Monastery, located in the center of the present Mongolia, is not the remnant of the Jengis Khan who with his sons built the largest land empire in human history. It stands alone in the middle of Mongolia when nearly all Jengis Khan-era buildings are gone.

The "Jewel Temple," Chinese-style Buddhist temple, was built between 1586 and 1586 on the order of Abtai Sain Khan, ruler of the Khalkha Mongols. He ordered its construction after he met with the 3rd Dalai Lama.

The Mongolian Khan declared Tibetan Buddhism as the state religion of Mongolia.

The oldest Buddhist monastery of Mongolia is located in the province of Ovorkhangai, about 2 kilometres (1,2 mile) Northeast Kharkhorin, adjacent to Krakorum, the ancient capital of Mongolian Empire.

The monastery is inscribed on the UNESCO World Heritage List in the category "cultural landscape of Orkhon Valley."

Stones from the nearby ruins of the ancient Mongol capital of Karakorum were used in its construction.

Planners attempted to create a surrounding wall that resembled a Tibetan Buddhist rosary featuring 108 stupas (108 is the sacred number in Buddhism), but this objective was probably never achieved. The monastery's temple walls were painted, and the Chinese-style roof covered with green tiles.

The monastery was damaged in 1688 during one of the many wars between Dzungars and Khalkha Mongols.

Locals dismantled the wooden fortifications of the abandoned monastery. It was rebuilt in the 18th century and by 1872 had a full 62 temples and housed up to 1000 monks.

According to tradition, in 1745 a local Buddhist disciple named Bunia made several unsuccessful attempts to fly with a device he invented similar to parachute.

In 1939 the Communist leader Khorloogiin Choibalsan ordered the monastery destroyed, as part of a purge that obliterated hundreds of monasteries in Mongolia and killed over 10,000 monks.

Three small temples and the external wall with the stupas survived the initial onslaught and by 1944 Joseph Stalin pressured Choibalsan to maintain the monastery (along with Gandantegchinlen Monastery in Ulaanbaatar) as a showpiece for international visitors, such as U.S. Vice President Henry Wallace, to prove that the communist regime allowed freedom of religion.

In 1947 the temples were converted into museums and for the four decades that followed Gandantegchinlen Khiid Monastery became Mongolia's only functioning monastery.

After the fall of Communism in Mongolia in 1990, the monastery was turned over to the lamas and Erdene Zuu again became a place of worship. Today Erdene Zuu remains an active Buddhist monastery as well as a museum that is open to tourists.

On a hill outside the monastery sits a stone phallus called Kharkhorin Rock. The phallus is said to restrain the sexual impulses of the monks and ensure their good behavior.
ST Photo Gallery
Photo News
Embassy Events
Econo People 2005
Fashion Images
New Movies
Travel Images
Nayan Sthankiya's Photo Features New
Abuses of Iraqi Prisoners of War
Academy Awards Photos 2004
Adolf Hitler
Aishwarya Rai-Indian actress
Buddha`s Birthday 2004
Cannes 2004 — 57th Cannes Film Festival
Choi Tae-Ji Photo Gallery
Comfort Woman Picture Gallery
Crown Prince Felipe of Spain
Dokdo Photo Gallery
Erotic Paintings of Hyewon and Danwon
Franz`s Art Exhibition
Gando Photo Gallery
Geisha in Japan
Gwangju Massacre
Jeju Island
Kim Jong-Il and Kim Il-Sung
Koguryo Murals
Korean War (1950-53)
Madonna
Miss Universe 2004
Miss World Contest 2003
Mt. Kumkang or Mt. Diamond New
Natural Beauty of Korea
Rape of Nanjing (Nanjing Massacre)
Rio Carnival 2004
Ronald Reagan`s Life in Pictures
ST Family
Sonia Gandhi and Gandhi Clan
Taj Mahal Photo Gallery
Ukrainian Embassy
World War Two
Photo Gallery of World Newspapers/Media
Times of India
Hindustan Times
SantaBanta.com
Straights Times (Singapore)
Chicago Sun-Times
Moscow Times