Photo News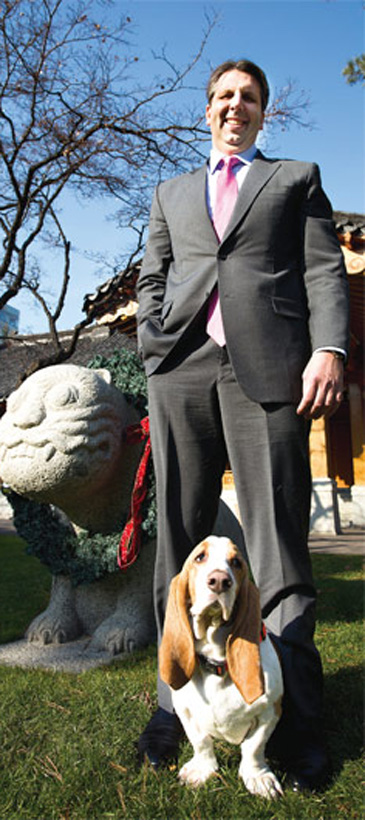 US Envoy Seen Walking His Dog at Protest AreaUS Ambassador Mark W. Lippert Urged by Blogger to Pressure Seoul to End Brutal Dog Meat Trade

Did US Ambassador to Korea Mark W. Lippert take part in the massive anti-Park Guen-Hye Protest held at Gwanghwamun Plaza in Seoul on Nov. 5, 2016?

The US envoy was seen walking his companion dog "Grigsby," his beloved Bassett Hound on streets of Gwanhwamun in downtown Seoul, where as many as 200,000 South Koreans gathered in candle vigil demonstration where they clamored for Park's step down from power.

Related sources said the US envoy's appearance is his usual walking while others said Rippert wanted to see with his own eyes the anti-Park demonstration.

But, South Korea news media have already taken photos of the US envoy's walking on the street with his dog several times.

At the time of Nov. 5 appearance Ambssador Rippert was wearing his baseball uniform he won at a local baseball game.

The photo of US envoy and his dog is now circulating on the internet sites including social network service (SNS).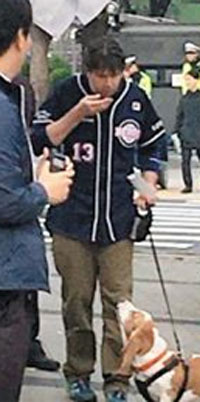 US Ambassador to Seoul Mark W. Lippert seen walking his dog on street of Gwanhwamun area in Seoul where 200,000 South Koreans took part in the candle light vigil anti-Park Geun-Hye demonstration on Nov. 5, 2016.

Usually, the US envoy enjoy jogging or walking, often accompanied by his bodyguards or his dog, on streets of Gwanghwamun near his embassy building.

At seeing the US envoy's picture one Netizen commented "This means that US government is paying keen attention the current situation of South Korea."

"US government has just delivered a "mute" message to South Korea," the Netizen went on.

South Korea's mass circulation daily quoted a 29-year-old protester as saying "The protest proceed so peacefully that US envoy can enjoy waling nearby in comfortable clothe."

The elite paper quoted a Foreign Ministry source as saying "I do not think that US envoy went out to the demonstration area to see them himself."

The paper reported that a US Embassy source as saying "It seems like just Ambassador Rippert's personal behavior, and I do not know the intention of his behavior."

Meanwhile, US envoy and his spouse Robyn are known as the true lover of dogs.

One of dog protection internet blog site created by Tina Overgaard shows stresses Rippert's role in both bilateral ties and in anti-dog meat campaign.

The site says "Seoul maintains diplomatic relations with 190 states. However, few are as important as that of the U.S. Ambassador to the Republic of Korea, who has played a key role during pivotal moments in the country's 68 year history."

It further says "Ambassador Lippert declared that his beloved Bassett Hound, Grigsby, "will be a key part of our embassy team in Seoul."

It went on to say that Grigbsy even has his own Twitter account and Facebook page. Although Ambassador Lippert is a self declared and evidenced dog lover, no attempts have been made to raise the issue of the severe torture and cruelty inflicted upon dogs and cats in South Korea.

It urges the US envoy to take action to pressure Seoul government to terminate cruel dog meat trade.

"Please ask Ambassador Lippert to urge the South Korean government to end this cruel trade, immediately! Thank you for acting on this urgent matter."
ST Photo Gallery
Photo News
Embassy Events
Econo People 2005
Fashion Images
New Movies
Travel Images
Nayan Sthankiya's Photo Features New
Abuses of Iraqi Prisoners of War
Academy Awards Photos 2004
Adolf Hitler
Aishwarya Rai-Indian actress
Buddha`s Birthday 2004
Cannes 2004 — 57th Cannes Film Festival
Choi Tae-Ji Photo Gallery
Comfort Woman Picture Gallery
Crown Prince Felipe of Spain
Dokdo Photo Gallery
Erotic Paintings of Hyewon and Danwon
Franz`s Art Exhibition
Gando Photo Gallery
Geisha in Japan
Gwangju Massacre
Jeju Island
Kim Jong-Il and Kim Il-Sung
Koguryo Murals
Korean War (1950-53)
Madonna
Miss Universe 2004
Miss World Contest 2003
Mt. Kumkang or Mt. Diamond New
Natural Beauty of Korea
Rape of Nanjing (Nanjing Massacre)
Rio Carnival 2004
Ronald Reagan`s Life in Pictures
ST Family
Sonia Gandhi and Gandhi Clan
Taj Mahal Photo Gallery
Ukrainian Embassy
World War Two
Photo Gallery of World Newspapers/Media
Times of India
Hindustan Times
SantaBanta.com
Straights Times (Singapore)
Chicago Sun-Times
Moscow Times