Photo News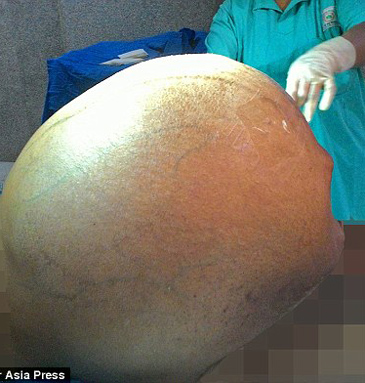 Indian Woman Has Her 97-kg Tumour RemovedAn Indian woman had an incredible 97-kg tumour removed from her abdomen after five years of agony.

Devi Kamlesh, from Meerut, in Uttar Pradesh, northern India, coped with the massive growth for so long because her husband said the family were too poor for her to see a doctor.

The 45-year-old said she followed her husband's wishes even though the pain was unbearable.

But after his death six months ago she decided to finally see a doctors about the tumour - which weighed as much as a newborn elephant.

Dr. A S Jaggi, at Lokpriya Hospital, Meerut, agreed to operate on Ms Kamlesh without charge as part of a scheme which helped impoverished people access healthcare.

The operation lasted three hours and the tumour was finally removed from her right ovary.

Doctors were shocked after they put the huge growth on the scales and discovered it weighed 213lb (97kg) - meaning Ms Kamlesh was carrying around the equivalent of 28 average-weight newborn babies.

Dr. Jaggi, 60, said: 'She was in severe pain when she came to the hospital.

'The tumour had started leaking and it would have killed her if there was any further delay.

'Three units of blood were infused during the surgery and then the patient was kept in intensive care for a day.'

He added Ms Kamlesh is recovering well and they have sent the tumour to a lab to be analysed.

Dr Jaggi, who has been a doctor for more than 25 years, said he was amazed to see a tumour.

He said: 'I've never seen such a tumor in my whole career. Ovarian tumors are common but never this big.

'It must be three feet in length and two feet in width, it's huge. The tumor has now has been sent to a pathology lab for tests.'

The hospital has also contacted India's Limca Book of Records to see if the tumour should be recognised in the records books.

Earlier this month, Mail Online reported on the story of a Chinese man who lived with a tumour so big he looked heavily pregnant for a decade.

The 33-year-old said he let the mass increase for 10 years as he believed it could be treated with traditional remedies.

Eventually it had grown so huge it weighed 2st 5lbs (33lbs or 15kg) - and made him appear as though he was expecting a child.
ST Photo Gallery
Photo News
Embassy Events
Econo People 2005
Fashion Images
New Movies
Travel Images
Nayan Sthankiya's Photo Features New
Abuses of Iraqi Prisoners of War
Academy Awards Photos 2004
Adolf Hitler
Aishwarya Rai-Indian actress
Buddha`s Birthday 2004
Cannes 2004 — 57th Cannes Film Festival
Choi Tae-Ji Photo Gallery
Comfort Woman Picture Gallery
Crown Prince Felipe of Spain
Dokdo Photo Gallery
Erotic Paintings of Hyewon and Danwon
Franz`s Art Exhibition
Gando Photo Gallery
Geisha in Japan
Gwangju Massacre
Jeju Island
Kim Jong-Il and Kim Il-Sung
Koguryo Murals
Korean War (1950-53)
Madonna
Miss Universe 2004
Miss World Contest 2003
Mt. Kumkang or Mt. Diamond New
Natural Beauty of Korea
Rape of Nanjing (Nanjing Massacre)
Rio Carnival 2004
Ronald Reagan`s Life in Pictures
ST Family
Sonia Gandhi and Gandhi Clan
Taj Mahal Photo Gallery
Ukrainian Embassy
World War Two
Photo Gallery of World Newspapers/Media
Times of India
Hindustan Times
SantaBanta.com
Straights Times (Singapore)
Chicago Sun-Times
Moscow Times