Photo News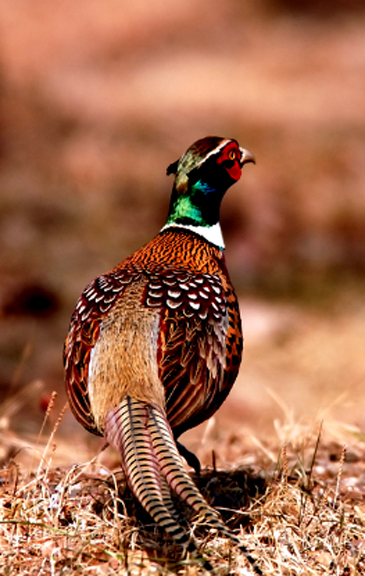 Pheasants in Danger on Ulneung IslandAs many as over 3,000 pheasants on the remote island of Ulneung-do in East Sea are on the verge of being shot to death as hunters and their dogs moved to the island from the mainland South Korea, according to local Korean dailies.

A dozen of hunters and their dongs were recently invited to the island by the Ulenung-do local government, as the number of pheasants on the island rose sharply, and as the complaints of farmers became stronger.

The farmers complained that pheasants are destroying the agricultural products on their farms. The pheasant hunting was all started on Jan. 16, 2015.

The hunters were brought from the mainland as the island hunters alone were not able to eliminate the pheasants on their own.

So far up to 100 pheasants have been hunted down by them over three-day period.

"The body of pheasants here on the island is much smaller than that of pheasants on the mainland," one of the hunters was quoted as saying. "They seemd to eat only poor sprouts, not enough rich food such as corns and grains"

He said that there is nearly no predaters for the pheasants, no wild boars, no snakes, resulting in the drastic increase in the number of the beautiful birds.
ST Photo Gallery
Photo News
Embassy Events
Econo People 2005
Fashion Images
New Movies
Travel Images
Nayan Sthankiya's Photo Features New
Abuses of Iraqi Prisoners of War
Academy Awards Photos 2004
Adolf Hitler
Aishwarya Rai-Indian actress
Buddha`s Birthday 2004
Cannes 2004 — 57th Cannes Film Festival
Choi Tae-Ji Photo Gallery
Comfort Woman Picture Gallery
Crown Prince Felipe of Spain
Dokdo Photo Gallery
Erotic Paintings of Hyewon and Danwon
Franz`s Art Exhibition
Gando Photo Gallery
Geisha in Japan
Gwangju Massacre
Jeju Island
Kim Jong-Il and Kim Il-Sung
Koguryo Murals
Korean War (1950-53)
Madonna
Miss Universe 2004
Miss World Contest 2003
Mt. Kumkang or Mt. Diamond New
Natural Beauty of Korea
Rape of Nanjing (Nanjing Massacre)
Rio Carnival 2004
Ronald Reagan`s Life in Pictures
ST Family
Sonia Gandhi and Gandhi Clan
Taj Mahal Photo Gallery
Ukrainian Embassy
World War Two
Photo Gallery of World Newspapers/Media
Times of India
Hindustan Times
SantaBanta.com
Straights Times (Singapore)
Chicago Sun-Times
Moscow Times