Photo News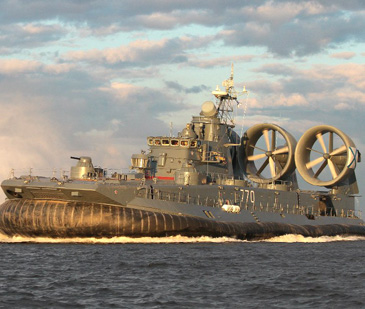 China to Produce World's Largest Military Hovercraft"RFS Evgeniy Kocheshkov 770," the world's largest military hovercraft or officially Landing Craft Air Cushion (LCAC) owned by Russian Navy, participates in "IMDS-2015" recently held in St. Petersburg. IMDS stands for International Maritime Defence Show.

The hovercraft will be produced in China as Beijing government has recently agreed to observe previous licence agreement with Russia.

The Zubr-class (Project 1232.2, NATO reporting name "Pomornik") is a class of air-cushioned landing craft or
officially Landing Craft Air Cushion (LCAC).

This class of military hovercraft is, as of 2012, the world's largest, with a standard full load displacement of 555 tons.

The hovercraft is designed to sealift amphibious assault units (such as marines and tanks) from equipped/non-equipped vessels to non-equipped shores, as well as transport and plant naval mines.

There are currently seven Zubr-class hovercraft in active service worldwide with several pending delivery. There are two vessels in service with the Russian Navy, one in service with the Ukrainian Navy, and four with the Hellenic Navy.

In 2009, China placed an order for four vessels from Ukraine as part of a deal worth 315 million USD.

Two updated versions of the vessels will be built at Crimea's Feodosia Shipbuilding Company followed by two advanced models of the surface warship.

The purchase of Kefallinia (L-180) for the Hellenic Navy marked the first time a Soviet-designed naval craft had been built from new for a NATO member.
ST Photo Gallery
Photo News
Embassy Events
Econo People 2005
Fashion Images
New Movies
Travel Images
Nayan Sthankiya's Photo Features New
Abuses of Iraqi Prisoners of War
Academy Awards Photos 2004
Adolf Hitler
Aishwarya Rai-Indian actress
Buddha`s Birthday 2004
Cannes 2004 — 57th Cannes Film Festival
Choi Tae-Ji Photo Gallery
Comfort Woman Picture Gallery
Crown Prince Felipe of Spain
Dokdo Photo Gallery
Erotic Paintings of Hyewon and Danwon
Franz`s Art Exhibition
Gando Photo Gallery
Geisha in Japan
Gwangju Massacre
Jeju Island
Kim Jong-Il and Kim Il-Sung
Koguryo Murals
Korean War (1950-53)
Madonna
Miss Universe 2004
Miss World Contest 2003
Mt. Kumkang or Mt. Diamond New
Natural Beauty of Korea
Rape of Nanjing (Nanjing Massacre)
Rio Carnival 2004
Ronald Reagan`s Life in Pictures
ST Family
Sonia Gandhi and Gandhi Clan
Taj Mahal Photo Gallery
Ukrainian Embassy
World War Two
Photo Gallery of World Newspapers/Media
Times of India
Hindustan Times
SantaBanta.com
Straights Times (Singapore)
Chicago Sun-Times
Moscow Times