Photo News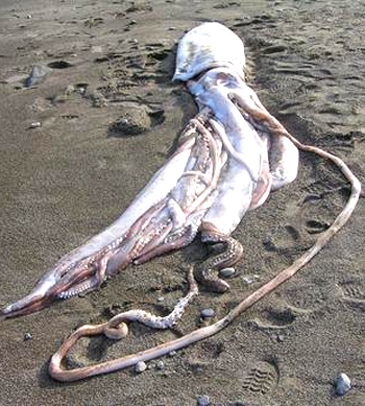 Colossal Squids Found in S. KoreaA dead body of 100-kg squid was found by a villager in sand beach in South Korea's Pohang on Jan. 2, 2015 after the giant squid was apparently washed up from the deep sea in East Sea, the sea between Korea and Japan, a local police announced on the day.

The 3.7-meter-long squid was spotted by the villager in the beach in Heunghwan-ri, Donghae-myon, Nam-gu in Pohang in North Gyeongsang Province around 11:30 a.m. on the day. The villager reported it to the local maritime police station immediately.

Earlier in July of 2011 even bigger squid was washed up in the nearby industrial city of Ulsan, North Gyeongsang Province. It was measured up to 7.7 meters long.

Similarly large squids were found dead on beaches near Pohang in 2006 and in 2007 respectively.

The giant squid (genus Architeuthis) is a deep-ocean dwelling squid in the family Architeuthidae.

Giant squid can grow to a tremendous size due to deep-sea gigantism: recent estimates put the maximum size at 13 meters (43 feet) for females and 10 meters (33 feet) for males from the posterior fins to the tip of the two long tentacles (second only to the colossal squid at an estimated 14 meters (46 feet), one of the largest living organisms).

The mantle is about 2 meters (6.6 feet) long (more for females, less for males), and the length of the squid excluding its tentacles is about 5 meters (16 feet).

Claims of specimens measuring 20 meters (66 feet) or more have not been scientifically documented.

The number of different giant squid species has been debated, but recent genetic research suggests that only one species exists.
ST Photo Gallery
Photo News
Embassy Events
Econo People 2005
Fashion Images
New Movies
Travel Images
Nayan Sthankiya's Photo Features New
Abuses of Iraqi Prisoners of War
Academy Awards Photos 2004
Adolf Hitler
Aishwarya Rai-Indian actress
Buddha`s Birthday 2004
Cannes 2004 — 57th Cannes Film Festival
Choi Tae-Ji Photo Gallery
Comfort Woman Picture Gallery
Crown Prince Felipe of Spain
Dokdo Photo Gallery
Erotic Paintings of Hyewon and Danwon
Franz`s Art Exhibition
Gando Photo Gallery
Geisha in Japan
Gwangju Massacre
Jeju Island
Kim Jong-Il and Kim Il-Sung
Koguryo Murals
Korean War (1950-53)
Madonna
Miss Universe 2004
Miss World Contest 2003
Mt. Kumkang or Mt. Diamond New
Natural Beauty of Korea
Rape of Nanjing (Nanjing Massacre)
Rio Carnival 2004
Ronald Reagan`s Life in Pictures
ST Family
Sonia Gandhi and Gandhi Clan
Taj Mahal Photo Gallery
Ukrainian Embassy
World War Two
Photo Gallery of World Newspapers/Media
Times of India
Hindustan Times
SantaBanta.com
Straights Times (Singapore)
Chicago Sun-Times
Moscow Times