Photo News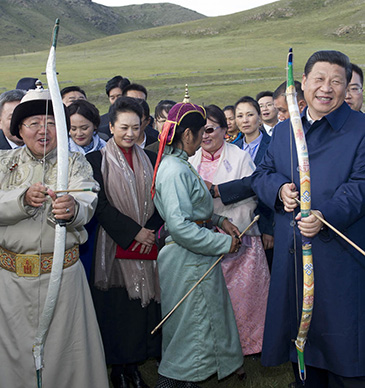 Chinese President Xi Jinping in MongoliaAccompanied by his Mongolian counterpart Tsakhiagiin Elbegdorj Chinese President Xi Jinping is trying traditional Mongolian archery in "Nadam Fair," a traditional Mongolian pageant for entertainment and games in Ulan Bator on August 22, 2014.

The Chinese leader and his spouse were treated by the Mongolian leader on his two-day state visit. He is the first Chinese president to visit the inland nation in over a decade.

This year marks the 65th anniversary of the establishment of diplomatic ties between the two countries. And the visit is expected to bring the two countries even closer.

The Nadam Fair usually includes seven days' events of archery, wrestling, horse racing, dancing and acrobatics, which represent the traditional Mongolian culture.

The fair the two leaders and their wives watched was held in a relatively smaller scale, as a special treatment for distinguished guests with performances of wrestling, horse racing, archery and dancing.

Xi and his wife Peng Liyuan were also invited by the couple of Elbegdorj to present awards to winners in the races.

Two Mongolian horses, given to the Chinese president and his wife as gifts of goodwill, were named after Altay Mountains and Kherlen River respectively, an indication of China-Mongolia neighborliness blessed by border mountains and rivers.

Xi arrived in Ulan Bator Thursday for a two-day state visit to Mongolia, the first visit in 11 years by a Chinese head of state to Mongolia, and also the second time for him to make a one-country foreign trip since he took office in March 2013.

During the visit, the leaders of the two countries announced the upgrading of their relations to a comprehensive strategic partnership, and pledged to almost double their annual trade to 10 billion U.S. dollars by 2020.
ST Photo Gallery
Photo News
Embassy Events
Econo People 2005
Fashion Images
New Movies
Travel Images
Nayan Sthankiya's Photo Features New
Abuses of Iraqi Prisoners of War
Academy Awards Photos 2004
Adolf Hitler
Aishwarya Rai-Indian actress
Buddha`s Birthday 2004
Cannes 2004 — 57th Cannes Film Festival
Choi Tae-Ji Photo Gallery
Comfort Woman Picture Gallery
Crown Prince Felipe of Spain
Dokdo Photo Gallery
Erotic Paintings of Hyewon and Danwon
Franz`s Art Exhibition
Gando Photo Gallery
Geisha in Japan
Gwangju Massacre
Jeju Island
Kim Jong-Il and Kim Il-Sung
Koguryo Murals
Korean War (1950-53)
Madonna
Miss Universe 2004
Miss World Contest 2003
Mt. Kumkang or Mt. Diamond New
Natural Beauty of Korea
Rape of Nanjing (Nanjing Massacre)
Rio Carnival 2004
Ronald Reagan`s Life in Pictures
ST Family
Sonia Gandhi and Gandhi Clan
Taj Mahal Photo Gallery
Ukrainian Embassy
World War Two
Photo Gallery of World Newspapers/Media
Times of India
Hindustan Times
SantaBanta.com
Straights Times (Singapore)
Chicago Sun-Times
Moscow Times