Photo News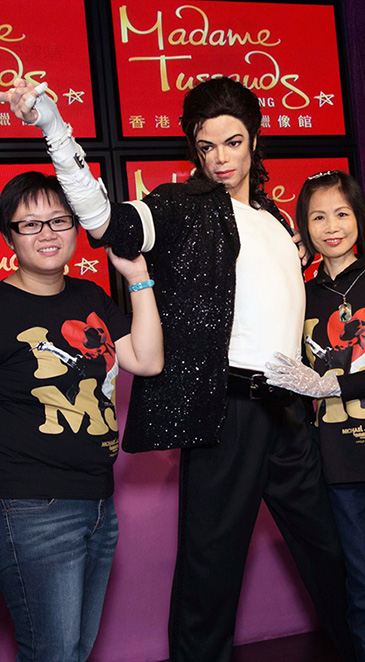 Fans Pay Tribute to Michael Jackson at Madame Tussauds Hong KongHONG KONG (24 June 2014) – Michael Jackson fans paid tribute to the King of Pop at Madame Tussauds Hong Kong, visiting his wax figure to mark the fifth anniversary of the superstar's death tomorrow.

The Michael Jackson wax figure was first unveiled in 2012, and is depicted in the classic performance pose of the singer's "This Is It" tour poster. Positioned alongside other greats in the Music Icons zone at Madame Tussauds Hong Kong, the figure is one of a number of wax likenesses of the King of Pop produced by Madame Tussauds around the world, with only Queen Elizabeth II being portrayed more often.

With over 750 million record sales, Michael Jackson was one of the most creative and popular music icons in the industry across the world. Among all the albums of Michael Jackson that were sold, "Thriller" topped the sales chart. The same album remained number one on the 'Billboard 200' album chart for 37 weeks, and also a record of 80 consecutive weeks, an equivalent of over 1.5 years, in the Top 10 of the 'Billboard 200'.

Fans from different corners of the world can now visit Madame Tussauds Hong Kong to see their idol up close, to moonwalk with Michael Jackson, or simply snap photos with this music legend!
ST Photo Gallery
Photo News
Embassy Events
Econo People 2005
Fashion Images
New Movies
Travel Images
Nayan Sthankiya's Photo Features New
Abuses of Iraqi Prisoners of War
Academy Awards Photos 2004
Adolf Hitler
Aishwarya Rai-Indian actress
Buddha`s Birthday 2004
Cannes 2004 — 57th Cannes Film Festival
Choi Tae-Ji Photo Gallery
Comfort Woman Picture Gallery
Crown Prince Felipe of Spain
Dokdo Photo Gallery
Erotic Paintings of Hyewon and Danwon
Franz`s Art Exhibition
Gando Photo Gallery
Geisha in Japan
Gwangju Massacre
Jeju Island
Kim Jong-Il and Kim Il-Sung
Koguryo Murals
Korean War (1950-53)
Madonna
Miss Universe 2004
Miss World Contest 2003
Mt. Kumkang or Mt. Diamond New
Natural Beauty of Korea
Rape of Nanjing (Nanjing Massacre)
Rio Carnival 2004
Ronald Reagan`s Life in Pictures
ST Family
Sonia Gandhi and Gandhi Clan
Taj Mahal Photo Gallery
Ukrainian Embassy
World War Two
Photo Gallery of World Newspapers/Media
Times of India
Hindustan Times
SantaBanta.com
Straights Times (Singapore)
Chicago Sun-Times
Moscow Times