Photo News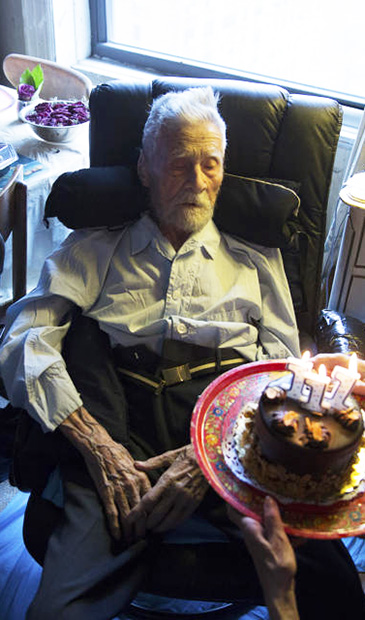 111-year-old New Yorker is oldest man in worldCurrently world's oldest man is found out to be a New Yorker, who is 111 years old,Daily Mail of England reported recently.

It said that the man who has officially become the oldest in the world admits that he has no idea how it's happened,

Alexander Imich, from New York's Upper West Side, has reached the grand old age of 111.

The supercentenarian, someone older than 110, became the oldest man in the world when Arturo Licata of Italy died on April 24, 2014 just one week before his 112th birthday.

Mr. Imich was born on Feb. 4, 1903, the year the first Teddy Bear went on sale in America and the Wright brothers took to the skies in the first airplane.

He was born in Poland and eventually became a chemistry professor. He emigrated to the U.S in 1951 with his wife, Wela, settling at first in Waterbury, Connecticut.

He moved to New York when she passed away in 1986.

Mr. Imich thinks his longevity can be partly explained by his sensible diet – he has never drunk alcohol and has always eaten chicken and fish regularly.

He also maintained an active lifestyle when he was younger, being a keen gymnast and swimmer.

He added that a lack of children may have helped, too.

There are currently 66 women older than Mr. Imich, according to the Gerontology Research Group in California.

The oldest person in the world is Misao Okawa from Japan, who is five years older than Mr. Imich.
ST Photo Gallery
Photo News
Embassy Events
Econo People 2005
Fashion Images
New Movies
Travel Images
Nayan Sthankiya's Photo Features New
Abuses of Iraqi Prisoners of War
Academy Awards Photos 2004
Adolf Hitler
Aishwarya Rai-Indian actress
Buddha`s Birthday 2004
Cannes 2004 — 57th Cannes Film Festival
Choi Tae-Ji Photo Gallery
Comfort Woman Picture Gallery
Crown Prince Felipe of Spain
Dokdo Photo Gallery
Erotic Paintings of Hyewon and Danwon
Franz`s Art Exhibition
Gando Photo Gallery
Geisha in Japan
Gwangju Massacre
Jeju Island
Kim Jong-Il and Kim Il-Sung
Koguryo Murals
Korean War (1950-53)
Madonna
Miss Universe 2004
Miss World Contest 2003
Mt. Kumkang or Mt. Diamond New
Natural Beauty of Korea
Rape of Nanjing (Nanjing Massacre)
Rio Carnival 2004
Ronald Reagan`s Life in Pictures
ST Family
Sonia Gandhi and Gandhi Clan
Taj Mahal Photo Gallery
Ukrainian Embassy
World War Two
Photo Gallery of World Newspapers/Media
Times of India
Hindustan Times
SantaBanta.com
Straights Times (Singapore)
Chicago Sun-Times
Moscow Times