Photo News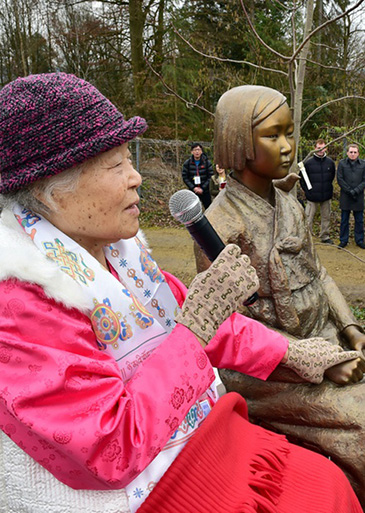 "Tears Are Still Streaming Out of My Eyes," Says Ex-South Korean Comfort WomanOne of 33 Survivors of Sex Slavery Marks 90th Birthday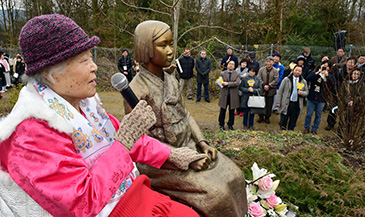 Former comfort woman Ahn Jeom-Soon attends the dedication ceremony of "Comfort Woman Statue" held on March 8, 2017 at the Nepal Himalaya Pavilion, a park in Wiesent in the district of Regensburg in Bavaria.



"Tears are still streaming out of my eyes," said the former sex slave of the Imperial Japanese solders in an interview with the local South Korean news media. On. Dec. 13, 2017 she was celebrating her 90th birthday as she told the media about her past experience.

Ahn Jeom-Soon, one of the last 33 survivors of the former comfort women forced to serve the Japanese soldiers during the Pacific War.

Ahn said that she was not weeping not because of her old age, but because of her lingering pains and sorrows.

She argued that she wants to see Japanese government to make a sincere and official apology to her and other ex-comfort women before they die.

Ahn was born in Seoul in 1928. She was captured by the Japanese and taken to the military truck in a village in today's Mapogu area in Seoul. She was only 14 years of age.

At that time she never thought that she would be taken to become a comfort woman.

She said that she went out to the village plaza after she heard a broadcast message that only women should come out to the plaza.

Ahn recollected that she was taken to the several places in China including Beijing and Tianjin.

She was forced to serve the Japanese soldiers as their sex slave in the remote Chinese places and even in the Inner Mogolian areas.

Korean people were liberated from the Japanese colonial yoke on August, 1945 as the Tokyo surrendered unconditionally to the United States.

But, Ahh was not able to come back to Seoul immediately. It was in the spring of the following year that she visited her hometown in Seoul.

In April 1946 Ahn and her fellow comfort women left Tianjin in separate ships and arrived in the port of Incheon west of Seoul.

Returning home, she was bed-ridden at home for three months.

Like many of the other comfort women Ahn was not able to get married out of her deep scars she had for years of sexual slavery. She never married during 90 years of her life.

She had to take up various chores to survive throughout her life.

Currently, her nephew is taking care of her at his house in Suwon south of Seoul. She has been living there for the last 25 years.

For many decades she had to hide her past as ex-sex slave.

It was only 1993 that Ahn came out to the public to reveal her past. She formerly registered with the South Korean government as the ex-comfort woman.

Many of the other former comfort women summoned up their courage like Ahn because of the late Kim Hak-Soon.

After several decades of painful silence in August of 1991 Kim made a surprising announcement that she was the former sex slave for the Japanese soldiers. Kim was the first former comfort women to announce her past as sex slave in South Korea.

Ahn has since been involved in a number of social activities related to the comfort women.

In November of 2017 Ahn was awarded by a civic group a "Human Rights Award for Women" for her activities.

In March of 2017 Ahn went to Germany to attend the dedication ceremony of Comfort Woman Statue held at the Nepal Himalaya Pavilion, a park in Wiesent in the district of Regensburg in Bavaria.

She was one of the 42 South Korea representatives including other ex-comfort women who took part in the erection ceremony of the first Comfort Woman Statue ever set up in European soils.

Like other ex-sex slaves Ahn has refused to receive any "comfort money" offered by the Japanese government, saying that the Japanese should first make an official apology to them.

Experts argue that Tokyo government should apology to the surviving former comfort women before they all die.

The above stroy was written by Joseph Joh, staff writer of The Seou Times.
ST Photo Gallery
Photo News
Embassy Events
Econo People 2005
Fashion Images
New Movies
Travel Images
Nayan Sthankiya's Photo Features New
Abuses of Iraqi Prisoners of War
Academy Awards Photos 2004
Adolf Hitler
Aishwarya Rai-Indian actress
Buddha`s Birthday 2004
Cannes 2004 — 57th Cannes Film Festival
Choi Tae-Ji Photo Gallery
Comfort Woman Picture Gallery
Crown Prince Felipe of Spain
Dokdo Photo Gallery
Erotic Paintings of Hyewon and Danwon
Franz`s Art Exhibition
Gando Photo Gallery
Geisha in Japan
Gwangju Massacre
Jeju Island
Kim Jong-Il and Kim Il-Sung
Koguryo Murals
Korean War (1950-53)
Madonna
Miss Universe 2004
Miss World Contest 2003
Mt. Kumkang or Mt. Diamond New
Natural Beauty of Korea
Rape of Nanjing (Nanjing Massacre)
Rio Carnival 2004
Ronald Reagan`s Life in Pictures
ST Family
Sonia Gandhi and Gandhi Clan
Taj Mahal Photo Gallery
Ukrainian Embassy
World War Two
Photo Gallery of World Newspapers/Media
Times of India
Hindustan Times
SantaBanta.com
Straights Times (Singapore)
Chicago Sun-Times
Moscow Times