Photo News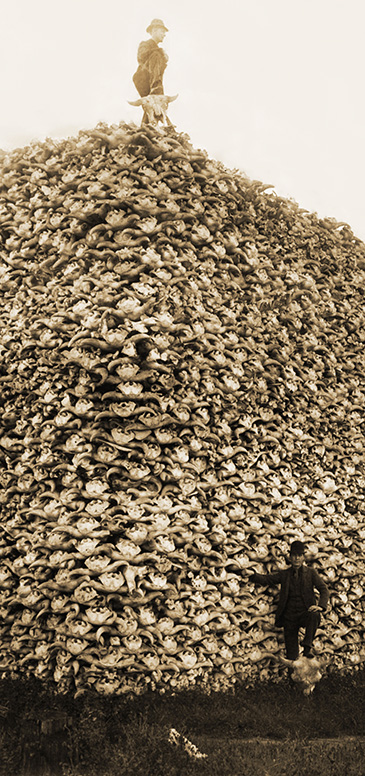 Sad History of American BisonSeen in this file photo a pile of American bison (buffalo) skulls to be used for fertilizer in the mid-1870s.

The American buffalo called "bison," once roamed in the wild American continent in the number of 60 million.

But, as settlers from Europe set foot on the continent, the iconic American animal butchered by the newly arrived Europeans.

Equally, the same number of native American Indians were also massacred by the European and by the disease they brought to the new continent.

The main staple for the native Indians, who depended on the animal for everything including food and clothes, disappeared as did the fate of the Indians.

Once nearly extinct, the American buffaloes could be able to return to its national parks. Now the number of wild American buffaloes is not known.

During the American Indian War period the African-American soldiers particularly at the US Cavalry regiments were called "buffalo soldiers" by the native American tribes.

In North America there are two types of bisons: Plains bisons and wood bisons. Wood bisons are larger than plains bisons. During Ice Age both came to North America from Asia through the Bering Strait.

Unlike American bison, their cousins on the Black Continent is called "African buffalo, and the one in Asia is called "water buffalo."
ST Photo Gallery
Photo News
Embassy Events
Econo People 2005
Fashion Images
New Movies
Travel Images
Nayan Sthankiya's Photo Features New
Abuses of Iraqi Prisoners of War
Academy Awards Photos 2004
Adolf Hitler
Aishwarya Rai-Indian actress
Buddha`s Birthday 2004
Cannes 2004 — 57th Cannes Film Festival
Choi Tae-Ji Photo Gallery
Comfort Woman Picture Gallery
Crown Prince Felipe of Spain
Dokdo Photo Gallery
Erotic Paintings of Hyewon and Danwon
Franz`s Art Exhibition
Gando Photo Gallery
Geisha in Japan
Gwangju Massacre
Jeju Island
Kim Jong-Il and Kim Il-Sung
Koguryo Murals
Korean War (1950-53)
Madonna
Miss Universe 2004
Miss World Contest 2003
Mt. Kumkang or Mt. Diamond New
Natural Beauty of Korea
Rape of Nanjing (Nanjing Massacre)
Rio Carnival 2004
Ronald Reagan`s Life in Pictures
ST Family
Sonia Gandhi and Gandhi Clan
Taj Mahal Photo Gallery
Ukrainian Embassy
World War Two
Photo Gallery of World Newspapers/Media
Times of India
Hindustan Times
SantaBanta.com
Straights Times (Singapore)
Chicago Sun-Times
Moscow Times